On November 17, 2012, we joined our Meet-Up group for a hike to Cherry Creek Falls. Near Duvall, Washington, a 6 mile hike to three small waterfalls, about 25 feet tall. Out of the way, not many people hike there. We had a DELICIOUS meal afterward, at Ixtapa Mexican Grill, in Duvall.
The first thing I saw on the trail was a huge banana slug, just trying to cross the path without being stepped on.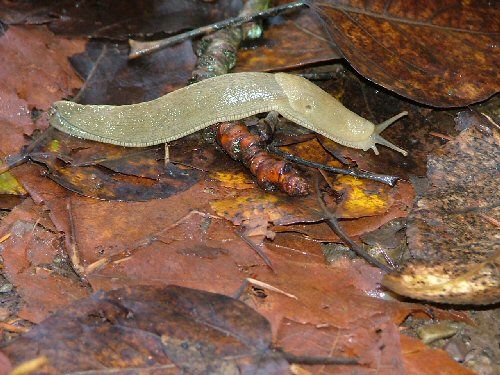 Part of our group, walking and chatting. I started out with a jacket on. It took about 5 minutes, before I took that hot thing off. The weather was cloudy and 54 degrees. We expected rain, but it didn't come until we were almost done. Then it just drizzled and spit a little.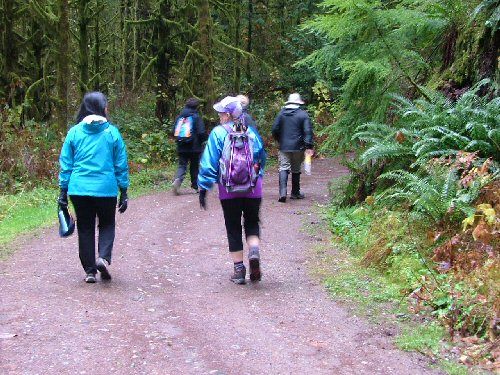 From left, Vicki, Dich, Stef, Ann, Linda, Janice, Conner, Rick, Bill (Holding Dodger) and Cyn. Jay was missing in this shot! =(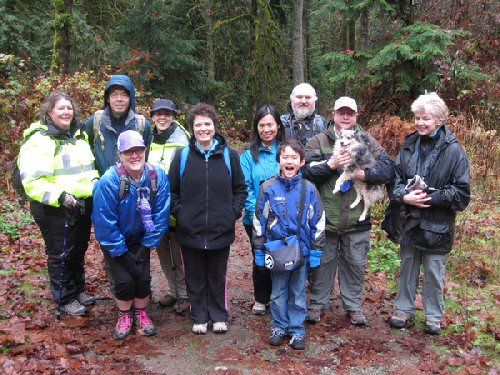 Dodger and Conner.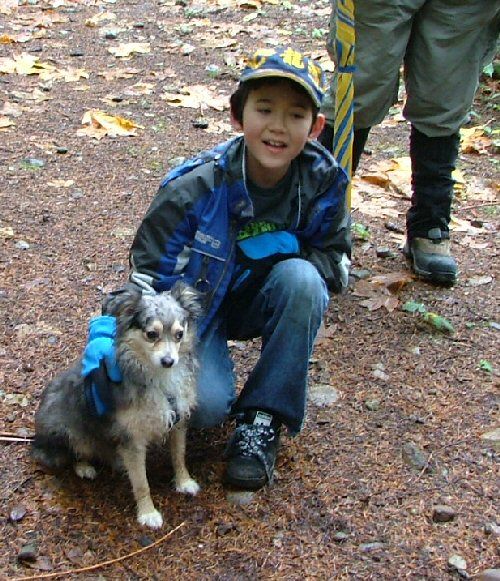 There's just something so cool about the forests of Washington, I just love the moss covered trees.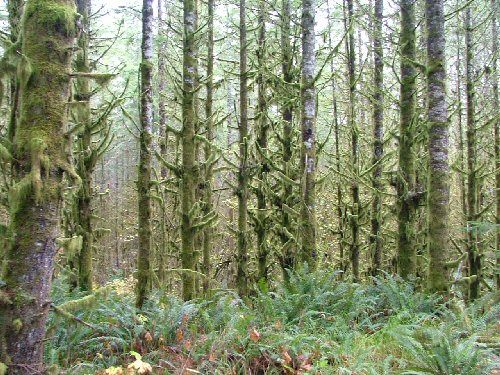 Dich, Elf Ann and Vicki.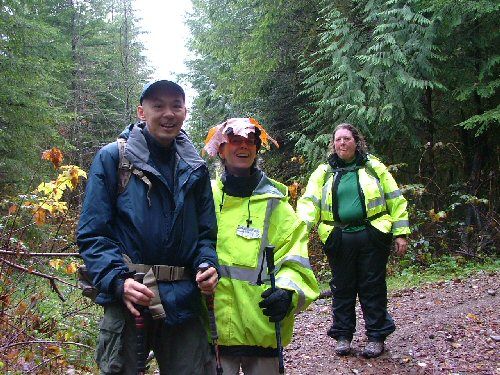 Elf Ann.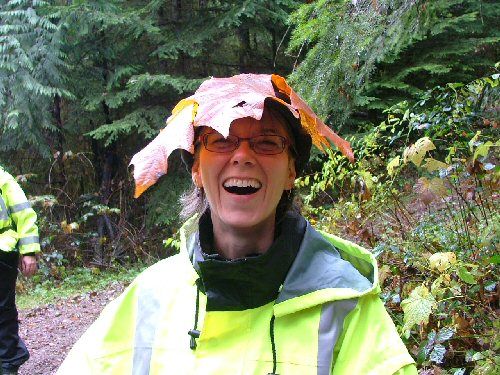 We came across an OLD car, just in the middle of nowhere. Dich, checking it out.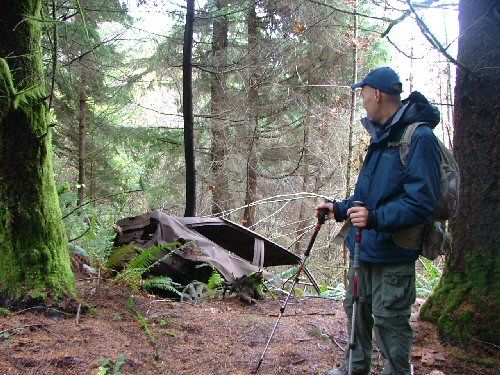 It wasn't long before we came across another one. This one was an old Barracuda, covered in moss. Conner and Rick checked it out.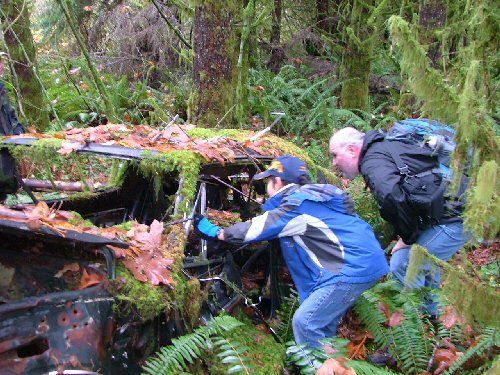 Ann (and Dodger), begging for some of Janice's snacks. I think she even barked a few times! Haha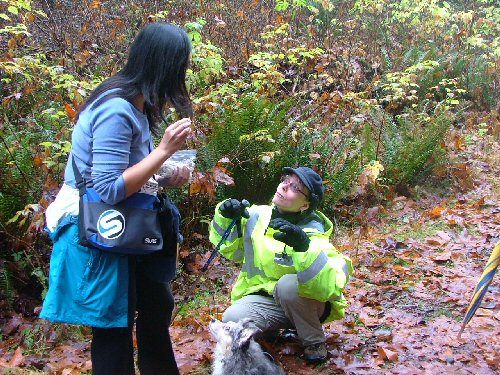 We came to a spot that required crossing the creek on wet, slippery logs. There were actually three spots that we had to cross water, this was the most difficult one. At this point, we lost Linda, Janice, Vicki and Conner. They headed back to the trail head, fearing they would get wet. The remaining 7 of us pushed onward, nobody got wet. Well, except Ann's feet.
We saw small waterfalls along the way.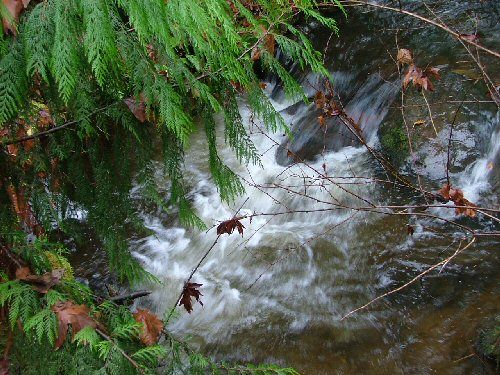 As we approached Cherry Creek Falls, we were above them.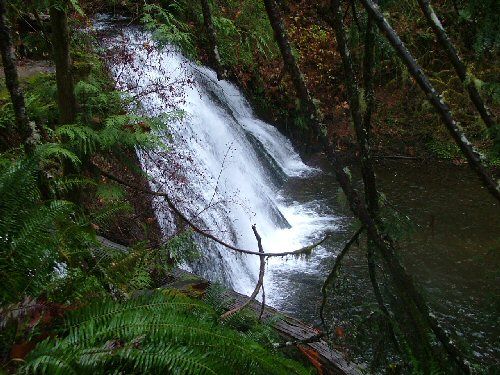 Dodger, enjoying himself.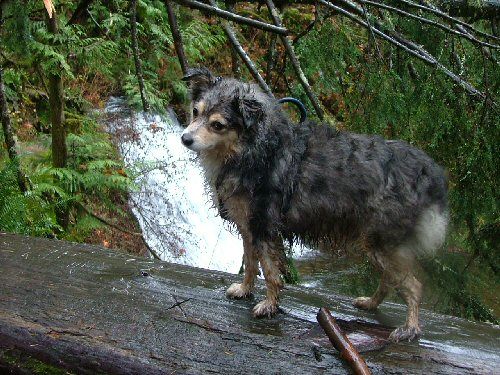 The path down to the falls. It was quite steep and slippery in spots.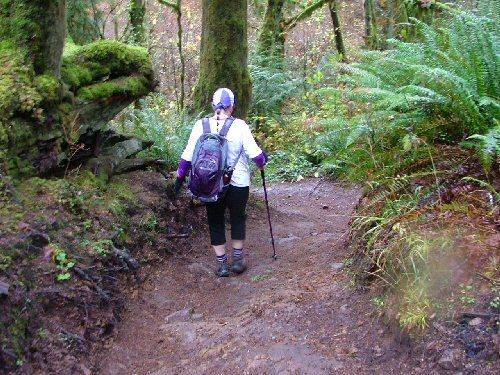 Bill, Stef and Cyn, enjoying their first view of the falls, up close.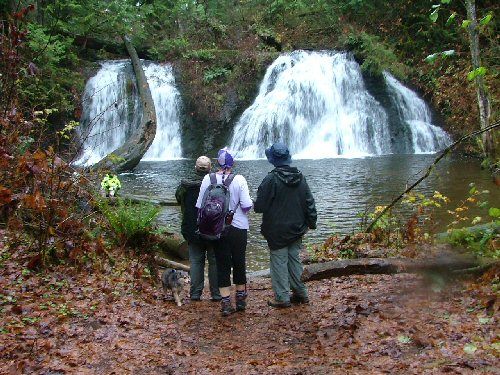 Rick called us to turn around. Wonder why? — at Cherry Creek Falls
Our fearless leader, Jay. =D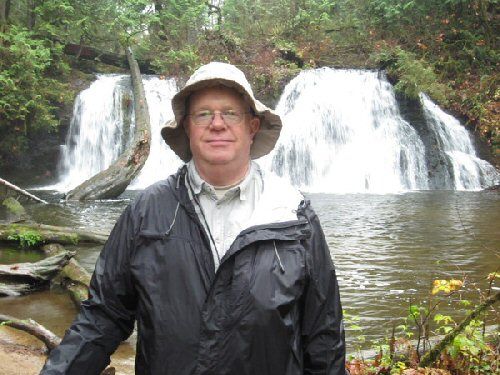 Bill with Dodger, Cyn, Rick, Stef, Ann, Jay and Dich.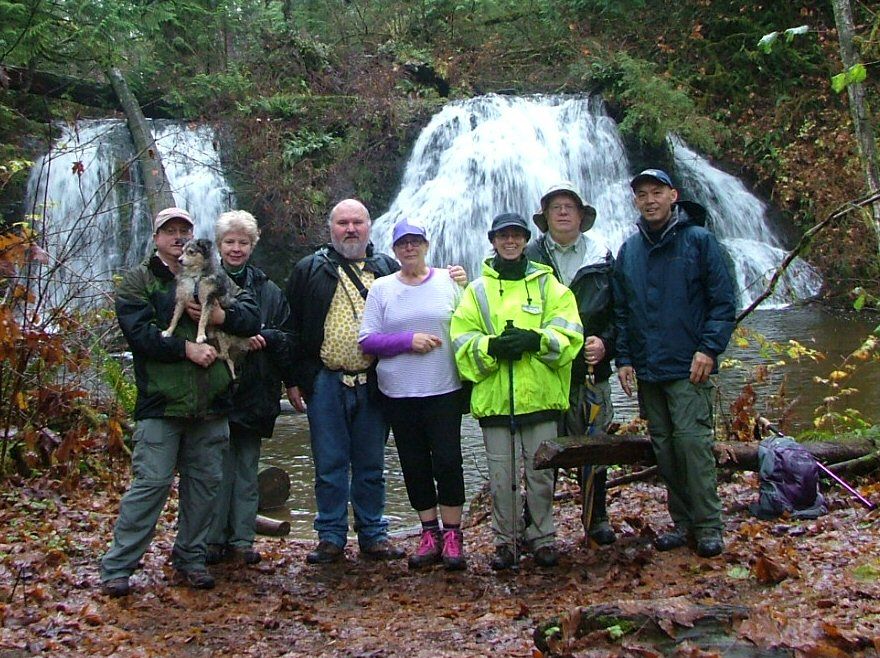 Stef on a log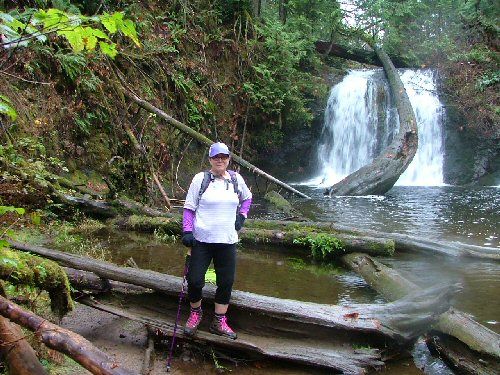 Stef.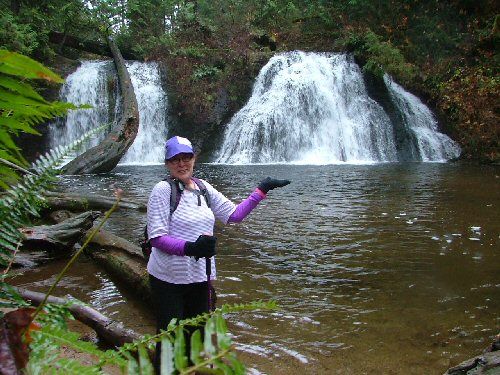 Bout time I unloaded this heavy thing.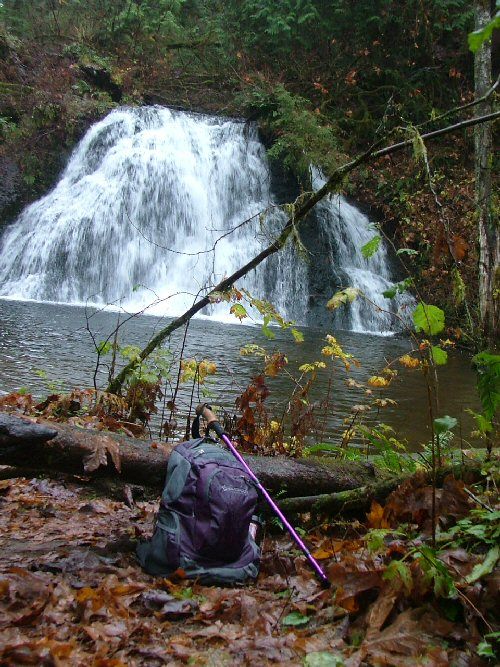 The larger of the falls, the baby falls on the right.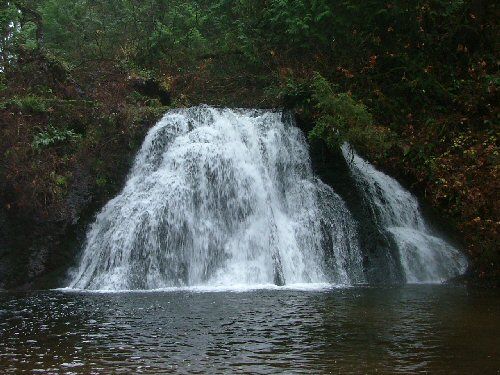 All three. The tree climbing up the smaller falls looks like you could use it as a slide.
The smaller falls.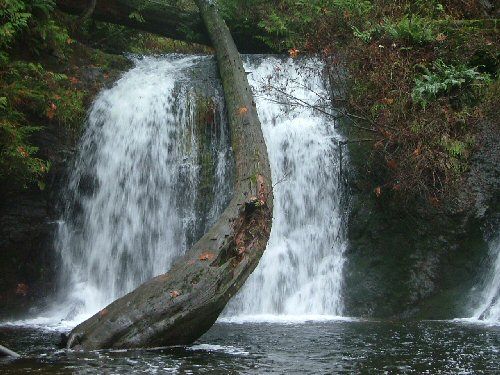 Don't get wet, Rick!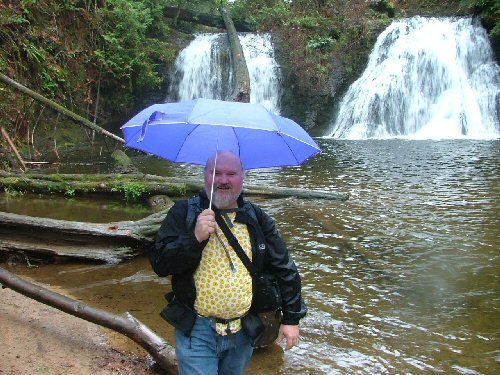 Stef and Rick.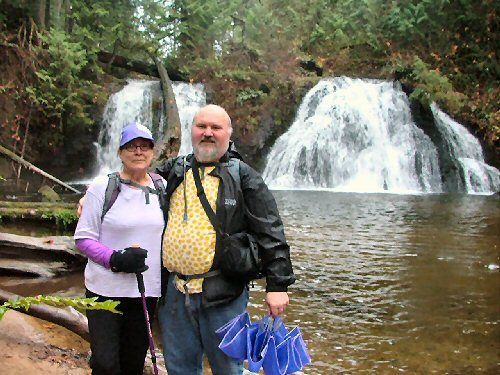 Rick, Jay, Ann and Bill.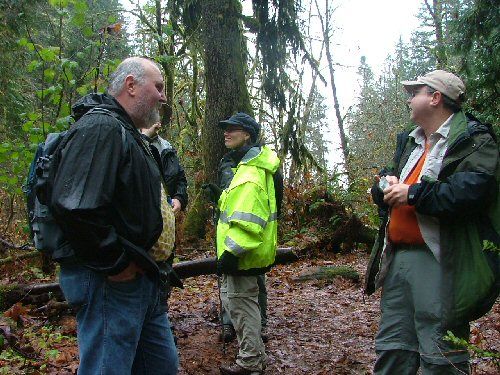 One last group shot before we start the hike back. It was a good day! Nice area, pretty falls, great company and conversation. Mexican food after. It doesn't get better than this.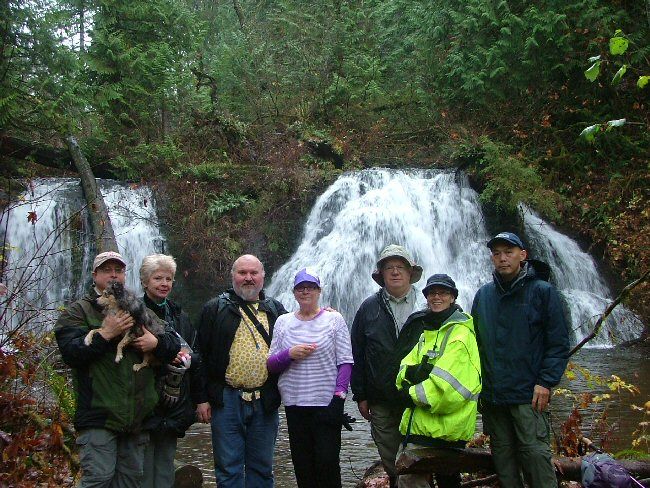 It was a great day, hosted by Jay and myself. We have a new hike planned for next Saturday, 11/24/2012. Also hosted by Jay and me. I picked the place to hike, it will be Franklin Ghost Town, the site of one of the worst mining tragedies in Washington history, back in the 1800's. It has long been closed and a abandoned. All that remains is the mine, some artifacts and the graveyard. Jay picked the place to eat, we talked about it at dinner at Ixtapa. It will be Café Europa, in Enumclaw, WA.
-November 22, 2012