I start my hiking adventures on Saturday, September 29, 2012. Annette Lake, near North Bend Washington, is our destination. I'm excited to start. I have all my supplies ready and packed, my 10 Essentials included. My hiking boots are ready and about broken in. The one thing I have been missing is a hat! I definitely need a hat to keep the sun from my face as I hike. I have looked and looked and looked. I have found nothing that I want. I would find the style I like and it'd be in a color I hated. Or, I'd find colors I love in styles I hated. There's only one solution, make my own! I want a wide brimmed "Boonie" style hat with a rounded crown design. I'll add a string with a 'Cord Stop" to hold it tighter, if I need it tight and looser if I want it to just hang behind me.
I want BRIGHT! But I also want an animal print. Hmmmmm PINK AND WHITE ZEBRA STRIPES! Yes! I might add a fabric flower too, just because I love making them! haha I cut out two brim pieces, one for the front and a backing. I also cut out a piece of heavy interfacing. I'll sew it in place.
I cut out the crown piece and pin it to a sheet of lighter weight, one sided fusible interface.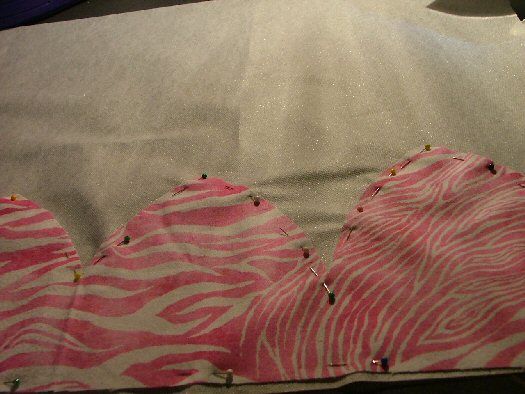 I cut it out and fuse it to the back of the crown fabric.
I pin the darts and get ready to sew them.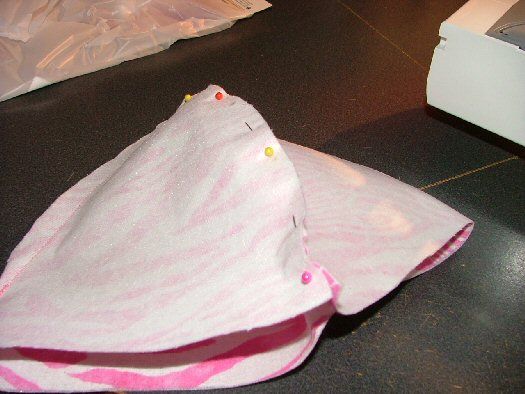 Sewn and the edges are cleaned up. I'll make another crown, but without the interfacing, to be the lining.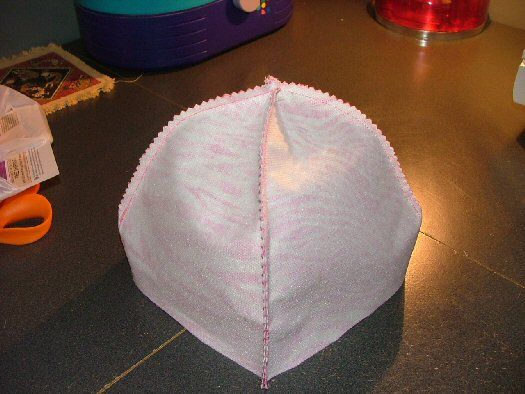 I pin both pieces and sew them together. I'll sit this aside as I make the brim.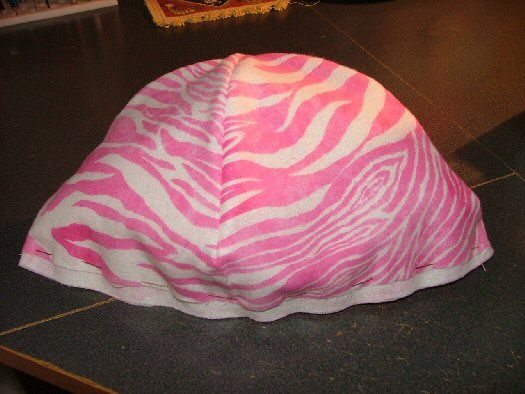 I make two brims, one will be the lining. The other, I sew my heavy interfacing to. I sew the back seams, press them open and clean them up.
With right sides together, I pin the two brim parts to sew together along the outside edge.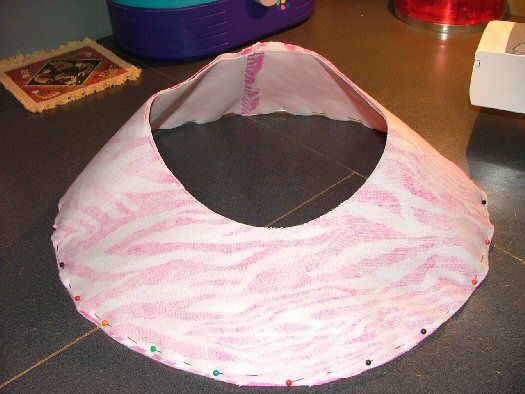 I'll turn it right side out and sew the center part together. I'll then sew all the way around it several times, about a half inch apart.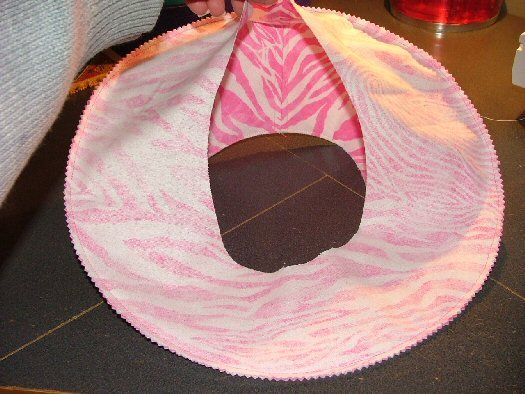 Now, it'll start actually looking like a hat! I pin the brim to the crown.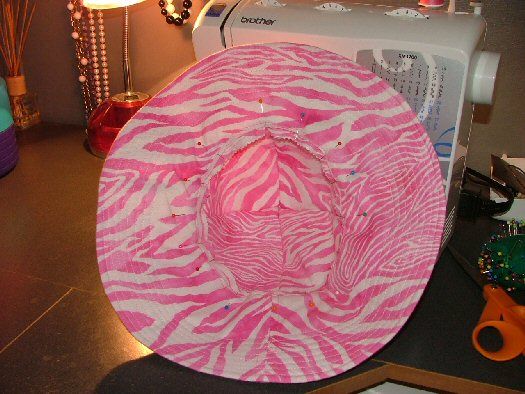 And sew it together.
I trim my edges and pin my cord in place.
I cover the raw edges with bias tape, attaching my cords as I sew it. I'll add some silver ends to keep my tie from fraying and a silver slider.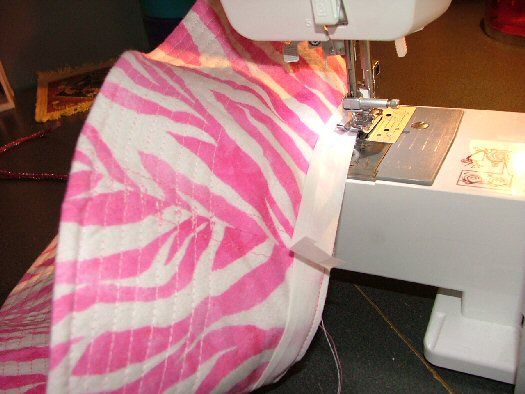 Look ma! It's a hat! Keep in mind, it might look better with my pink t-shirt and shoelaces! haha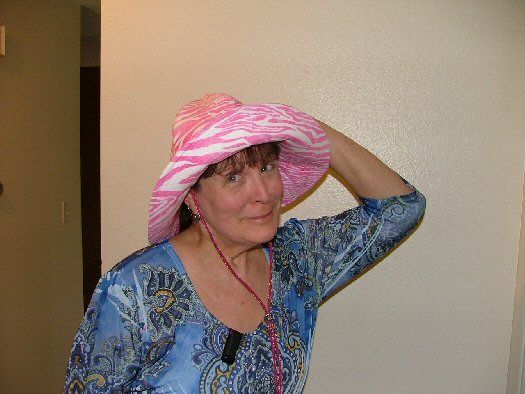 The front. I like it with the brim folded up. But, I can leave it down too when I feel like it.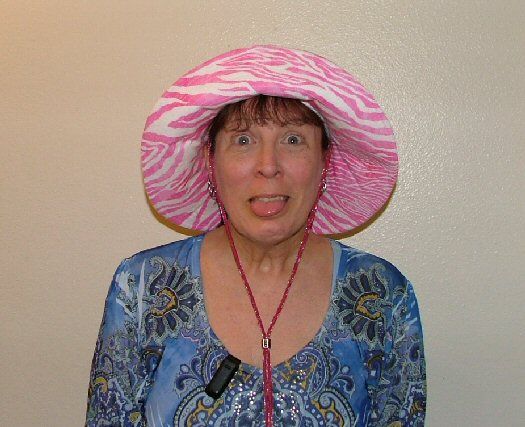 The back!
The Slider and Ends.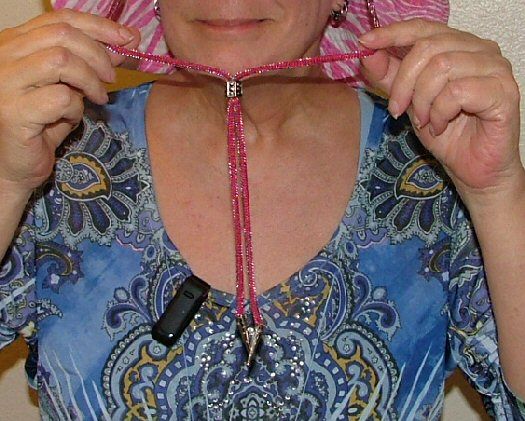 Now I need to add a Hello Kitty button and it'll be complete. I wonder if I should attach a tiara!? There's an idea, I just happen to have one with PINK stones! Muhahaha
-Originally posted on September 28, 2012, by Stef