I have made myself backpacks and purses and different other types of containers, over the years. A couple weeks ago, my mom saw a pink purse I created and mentioned that she would like one. Black, plain and elegant, bright lining, longer straps to carry comfortably over her shoulder. I am happy to oblige! I haven't seen my mom in 9 years and am planning a trip home next spring. I may have much more to give her than a purse, by then!
I just basically drew my pattern exactly like the original pink purse. I just added a bit more length to the carrying straps. It was an easy modification. I chose a Black Dew Drop Suede for her purse, with a bright, colorful print for her lining. I started sewing and had a new purse in no time. I added a flap to attach to a button. This will keep it closed. I added an elastic band to fasten onto the button. I chose a Black enamel, Flower shaped button with a Crystal center. I top-stitched very close to all the edges, to give it a more finished look.
The finished product, I hope she likes it! I'll let you know after she receives it.
Now, to pack it and head to the UPS store!
After mom's purse was finished, I decided to make a "Blinged Out" version. Here it is!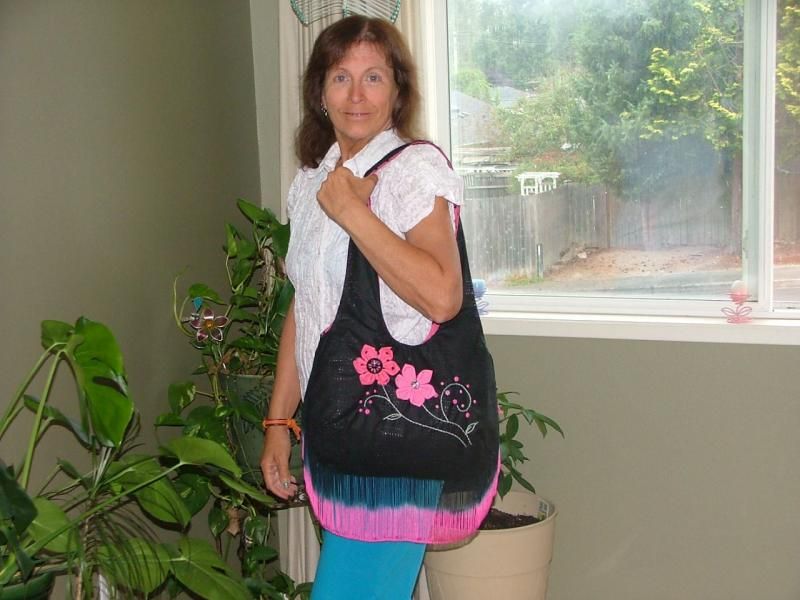 I have now cut out a bunch of nice denim and am embroidering 'Samplers' on them. I may add leather fringe to some, I haven't decided yet.The possibilities are endless!