I am crazy about a few things, hiking, fitness, my family, gardening and my dawgs! I spend almost all my time with my companions, Icey and Charlie. I decided to start making toys for them, bandanas and a few other things. More toy based than anything though.
I started by making some bandanas with easy Velcro closings, for each of them.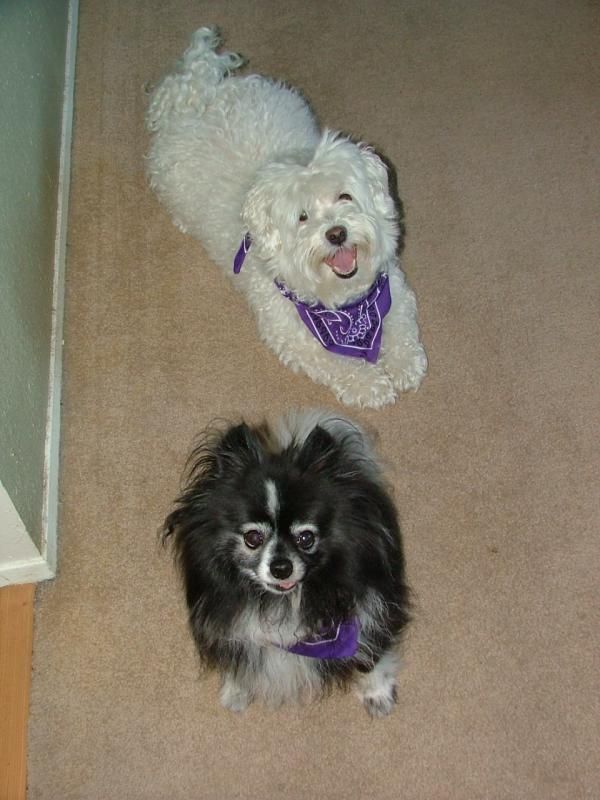 My dawgs love a good plush toy with a squeaker inside. That is what I made next. They love it when I throw their toys so, I made them in a flat form, to fly like a Frisbee! I used good quality Fleece and made them Square. I added a few Tassels to each corner. I stuffed them with high quality, non-allergenic Poly-Fil. I quilted them in a Tic-Tac-Toe pattern, enclosing the Squeaker in the center square. Both my dawgs love them, but Icey is Obsessed! Seriously.
The first time I showed it to him, Icey did this for 30 minutes, backing up and squeaking it. Pick it up, chew it, stand back up and start pawing and backing up again. By the time he was finished, he could barely breathe! I have to keep it out of sight so he won't kill himself playing with it! haha
I made a 6 more in different colors. As I made them, my dogs sat patiently at my feet, waiting for their opportunity to snatch one and run off with it! I had other plans for them. I see an Etsy store in my future! Ok, I have had one for quite some time. I was just never motivated to add anything to it. I'm motivated now! A lady came to visit yesterday. Now, I only have 4 extra toys, she bought two of them! My first sales! Yeehaw!
I better get busy. With Dawg Toys, Purses, Hats and various other things, I have a lot of work to do, to fill my store up!