My sweet niece, Ashlyn is 12 and she saw that I had made some things for other family members and told my mom that she wanted something too. Her only criteria was Lime green, Blue, Zebra stripes and perhaps the Monster drink logo. I can cover most of that. But, no Monster logo. I'll make something I think she'll like though and include a can of her favorite Energy Drink, if I have to! haha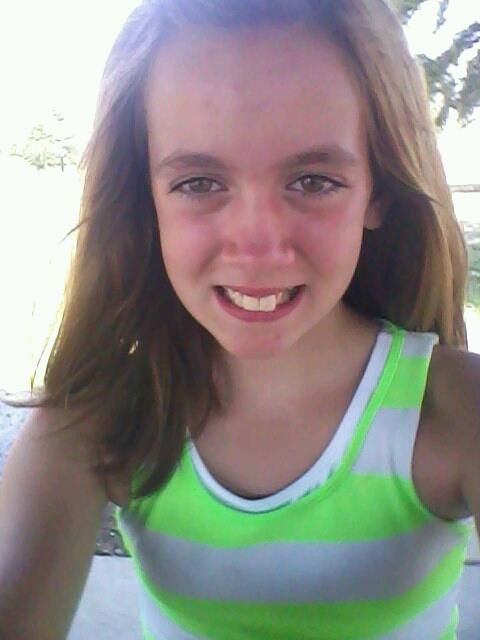 Off to JoAnn's. I cleaned out the store, almost. Butterick patterns were on sale for just .99 cents. I had to grab 10 of them. Plus I grabbed a ton of stuff to use in Ashlyn's outfits. Besides fabrics and a pattern, I picked up matching buttons, trim, eyelet trim, tulle for a mock petticoat and thread. I really want to create some fashions for her, like nobody else has. This will be different, to say the least. Letting my crazy, creative juices flow big time! Muhahaha
I decided on fabrics in her favorite colors and a pattern that I liked. I'll make her all three pieces, the dress, pants or skirt and shirt. I'll even make her a matching beret, so she can wear it with either outfit. I have no pattern for the hat. But, I'll figure it out!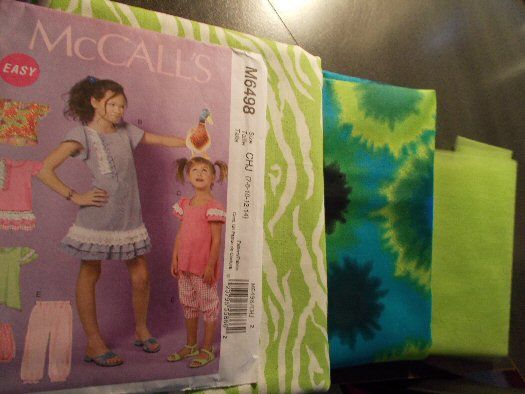 So, it begins. I start on the dress first, as it will take the longest. I begin by pinning the pattern and cutting out the main pieces.
Next, I pin the accent pieces on a contrasting fabric and cut those out.
It's all cut out. Now to begin the process of construction. This is going to be one crazy, colorful dress! I start with the back, marking the facing that surrounds the back closure. I pin it in place and get ready to sew it.
It has been sewn, I slit it open, turned it, added fusible webbing and ironed it down to secure it. The front will have eyelt detail and the back seems like it might be a little plain. So, I decide to add eyelet trim on the back too. Good thing I bought a little extra. Besides, there is no rule that you have to follow the pattern precisely. I love to add extra details and embellishments to make it unique.
I put the back to the side and begin to work on the front. I add eyelet trim and a slim ruffle in my contrasting, Zebra print, fabric.
Now that the trim is done, I get ready to sew the front and back together.
It's starting to look like a dress!
Some sleeves might be useful! I think I'll make them in the Zebra print.
Oh yeah! I love the contrasting prints. It might look crazy to some people. But, I don't care. I make what I like. Sometimes what I like might be a bit odd to others! Haha I just hope Ashlyn will love it!
While I have it handy, I'll go ahead and make the back closure. I decide to use a cute little Flower button that matches the green. Instead of a buttonhole, I'll just used Embroidery Floss and crochet a simple chain stitch to hold the button closed.
That works and will be easier to do and undo, behind her back, than a buttonhole would be.
The only thing left to do is sew the bottom pieces on the dress. It would be quite short without the rest! Haha
Looks like a dress now! If I was 12, I would wear it! Ok, I might even wear it at 55! But, that's just me!
The back with the button closed.
I decided to make a matching headband to go with it. I had plenty of fabric left over.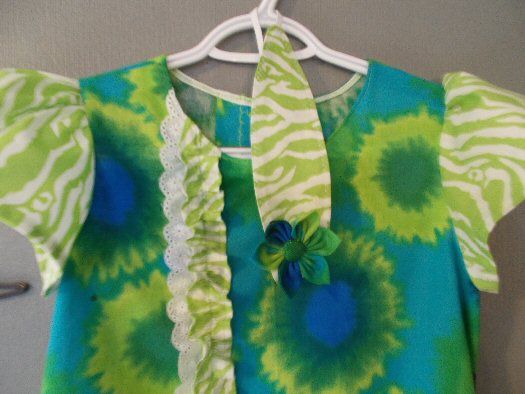 She received it on Friday and sent me pictures. I hear she loves the clothes!

All the items I made her, including Dress, Capri Pants, Blouse, Headband and Beret!
To see how I created the Headband, you can check it out

HERE

!
-July 23, 2012