I think I might spend too much time looking at things online and on Pinterest! I find so many things I'd like to do and it takes up so much of my time. But, I have an empty spot on my wall, just above my sewing center and it BUGS me! I knew when I saw this on Pinterest a few weeks ago, I'd eventually make it for that spot, in PINKS! The instructions called for shims. I made it even more inexpensive and used paint stirrers! I was at Home Depot a week or so ago and asked could I buy a couple dozen of them. There was a really nice lady there and she just told me to take what I needed! I was so happy. I grabbed a couple handfuls! Turned out, I needed 28 for my project!
Online, it called for floral rings, but they were not available in my area. I checked Michael's, JoAnn's and Hobby Lobby. All they had was foam, wire or twigs! So, I improvised and used wooden embroidery hoops. Ideal! They come in many sizes, are lightweight and have a built in metal pin to use for hanging! I like this even better!
The first thing I did was lay my hoops (I used two sizes to give the slats more area to attach to) down and lay out the wooden stirrers to get an idea how it would piece together.
I also checked to make sure the mirror I got would cover the empty space in the center. I got this pretty mirror at JoAnn's for very little money. It has scalloped edges and I love it!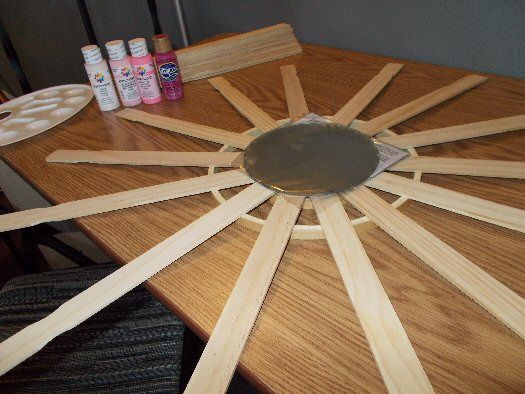 I measured and marked 2 inches from the squared end on 14 of the sticks. These will be used for the inner circle of petals.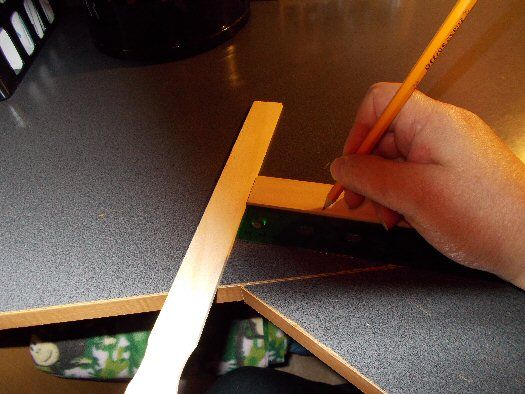 I am very lucky when it comes to having everything I need in the way of craft supplies and tools. We happen to have a saw in the garage that will work well. This saw belonged to my husband Rick's father, many years ago. I had him cut the ends off for me. It was nice to see him using his daddy's saw and I thought it would make him happy to use it.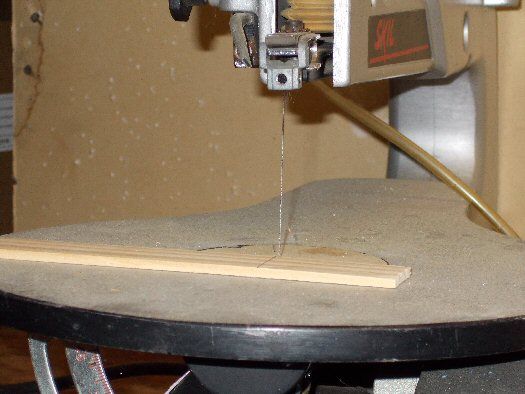 I separated my sticks into groups of long and short, to be painted in various shades of pink, ranging from the very lightest "Peony", to "Hydrangea Pink", to "Pretty Pink" and all the way to the brightest "Royal Fuchsia". Let's get some color all up in here! Haha

Let the painting begin! Muhahaha I could slip and paint the wall too!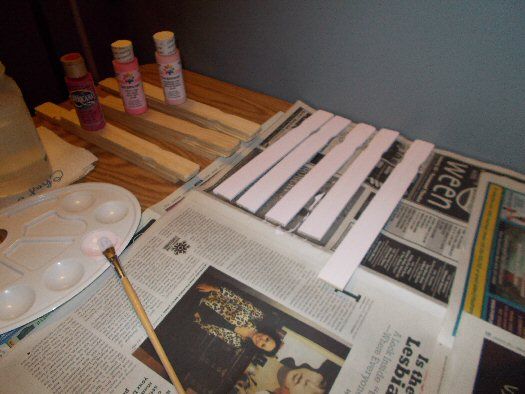 My paint stirrers are finished. Now to wait for them to dry and I can begin the assembly! Think it's colorful enough? I do!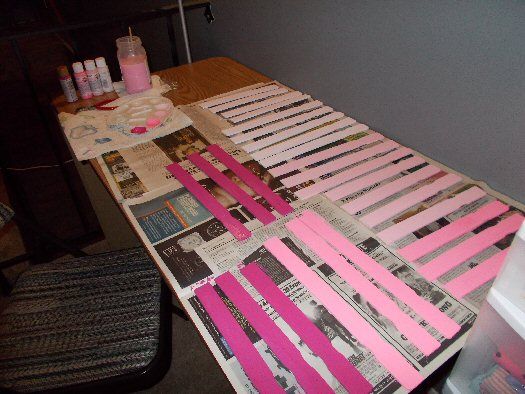 I begin gluing the sticks around, making sure to glue them to both rings. I start light to dark and work around until they are all secured.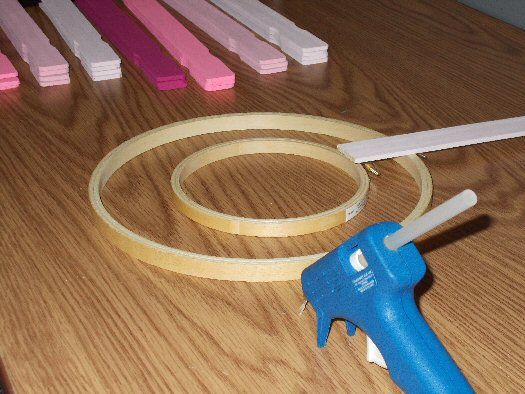 Now, for the inner ring of petals. I'll stagger these between the longer ones. I'll also overlap some of the colors.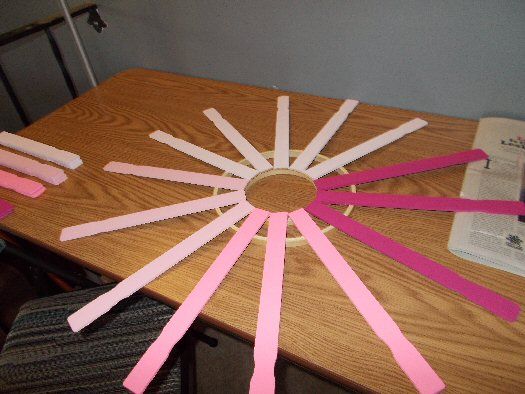 I'm liking the way it looks. But, wait. Do I really need a mirror in my sewing corner?
Maybe a full length mirror. But, a small, wall mirror!? And these colors! They remind me so much of something I really love!
I keep hearing a gentle tick, tick, tick, tick. Where is this sound coming from? Could it be from one of my most loved possessions? It could!
Perfect fit too! Without even planning it. It has to be fate! The hanger on the back of the clock reaches perfectly too! I love it when a plan comes together!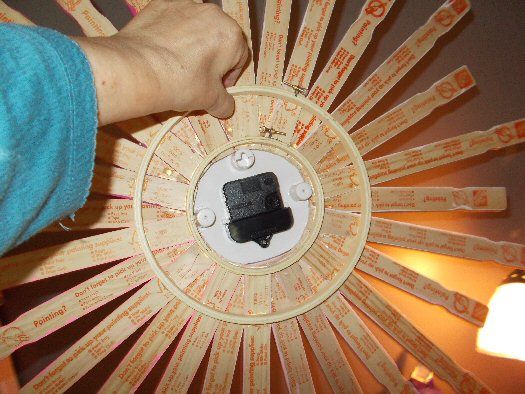 Change of heart! I absolutely LOVE my Hello Kitty clock! Now, it has a new, decorative, matching, PINK home! I'm in love with this!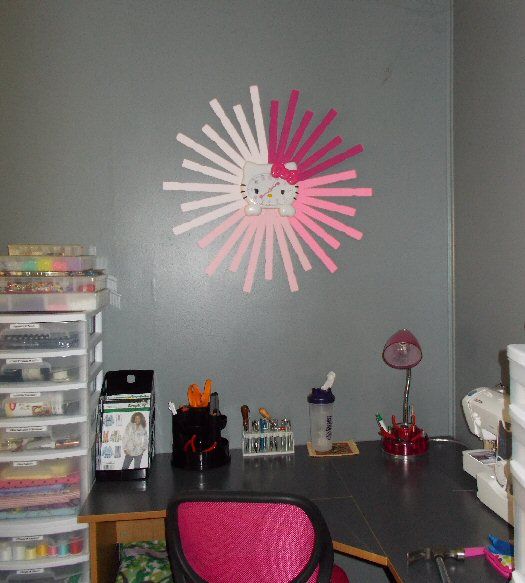 Right at home!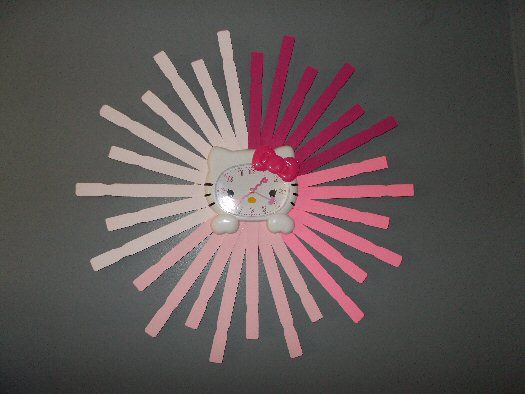 What next? What next? Must...make...something! Muhahaha
-July 6, 2012