This is one of my favorite places to be. When I sit here, I think of an old song that Leslie Ann Warren sang, in Cinderella, many many years ago on TV. "In my own little corner, in my own little chair. I can be whatever I want to be..." Funny, the memories we keep, even from childhood. I can still remember all the songs and lyrics from that musical.
I am presently working on my entire wardrobe, to wear when I reach my weight loss goal. (When I'm not doing Cardio, that is! lol) I love pinks and purples and black! Most everything I'll make will be in that color pallet. I'll create a few others in different colors, just to switch it up a little. They'll mainly be jeans and jackets.
On the left is an afghan I am knitting. I knit on it a while, then put it up and do something else. It isn't really important as it will go in the formal living room, which I only go into, to dust and sweep. I have to keep several things going at once, in case I get tired of doing one. Can you say she bores easily? I'll admit that I do sometimes. On something that is more important to me, I stay on task and cannot stop until it's finished.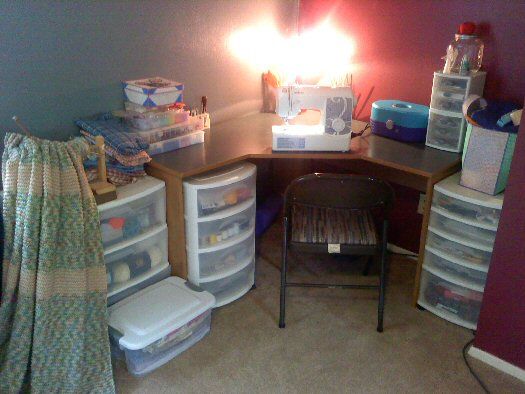 Two dresses I'm working on right now. I get inspiration from different places. These were both inspired by two of my favorite pairs of shoes. The patterns are cut and ready, all trim, buttons and thread are bought and I'm about to start sewing them. The first is a racer back, midi length dress in the black to match my black boots.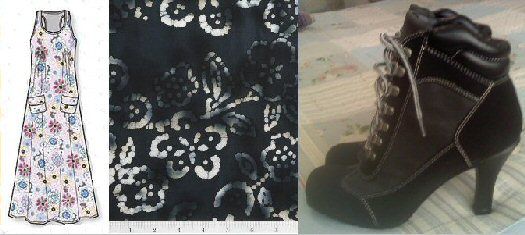 The second is another midi length dress, with buttons and a small ruffled neckline, to match my favorite pink shoes! I can't wait to post pictures of me actually wearing my new clothes!

This is the box that contains my latest projects. As I start something new, it goes in here for easy access. You can't tell from the photo, but the purple tie dyed fabric also has golden sparkles! It is so pretty!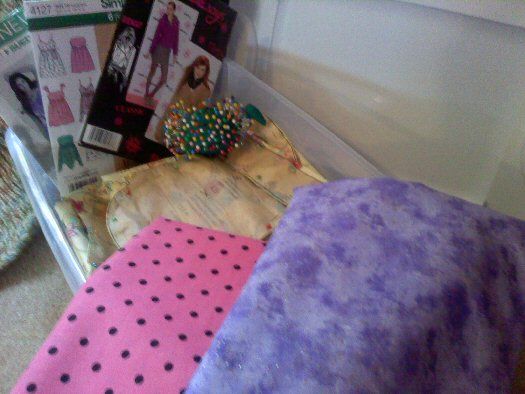 My cheesey new lamp. "I love lamp!". The bottom section spins like a Lazy Susan. I love having my stuff organized like that. I love LAMP! Seriously!
This is a craft box I made a few years ago, to hold some smaller things in. It sits on top of my collection of beads, sequins, seed pearls etc. I can trim almost anything out, any way I want. I may never use half this stuff, but if I need it, I have it!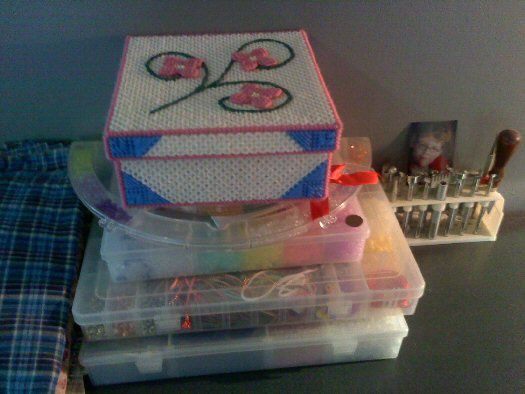 A closer picture of the base of my cheesey lamp. It even has an electrical outlet, in case I need more power!
Inside my craft box. Yes, I make Dream Catchers too. LOL This one will have blue feathers and beads and hang from the mirror of my PT Cruiser, when it's finished. Is there no end to my craftiness? Muhahaha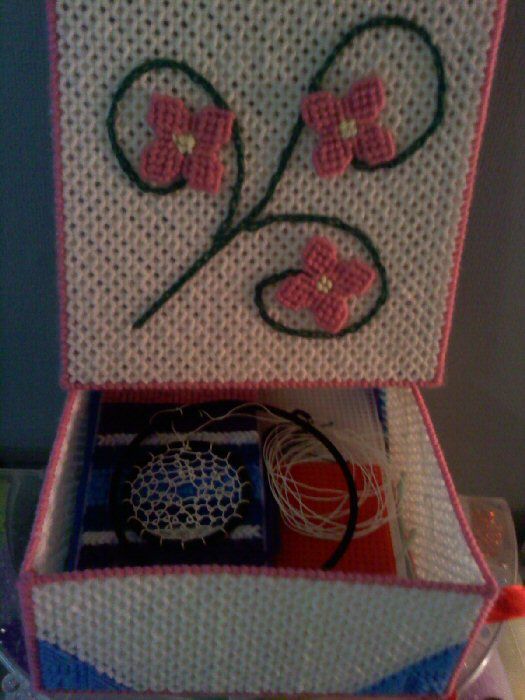 I love photography too! These are two of my pictures, which hang above my Little Corner! Now that I venture out more and more, I can start capturing the the things I find beauty in, once again. I can't wait!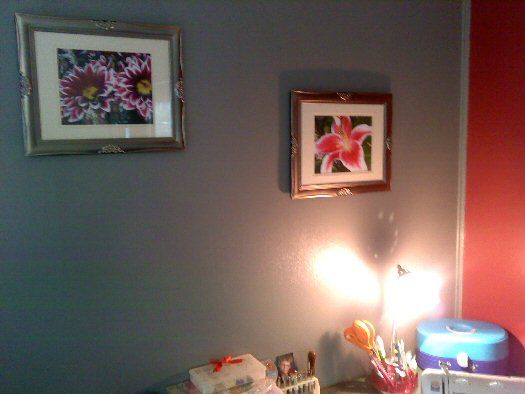 My favorite. And yes, I did grow the flowers in the photos. I love planting and taking care of flowers in my yard too. I'll be doing more and more of that too!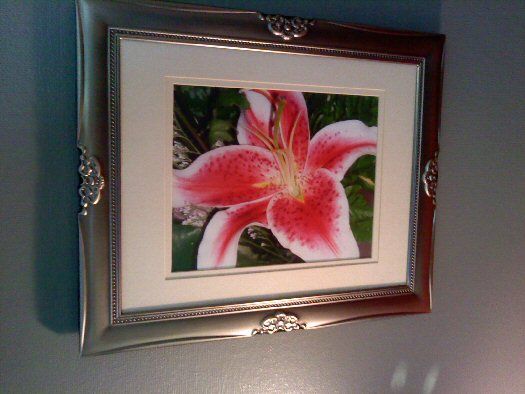 Me, in a place I love being. You might not be able to tell from this photo, but I am feeling very satisfied today. It's been a long time coming. I will do everything I can to make sure it lasts and I never go back to the dark place I have been living the last few years. =D
This concludes your tour of my Little Corner. We now return you to your regularly scheduled programming...
-Originally posted on May 24, 2012, by Stef
*****
Update:08/23/12
My sewing corner has grown to about 3 times it's size and moved to the other side of the family room. I have also replaced my chair and added new storage...not to mention I'm a wee bit smaller than I was in the first pictures!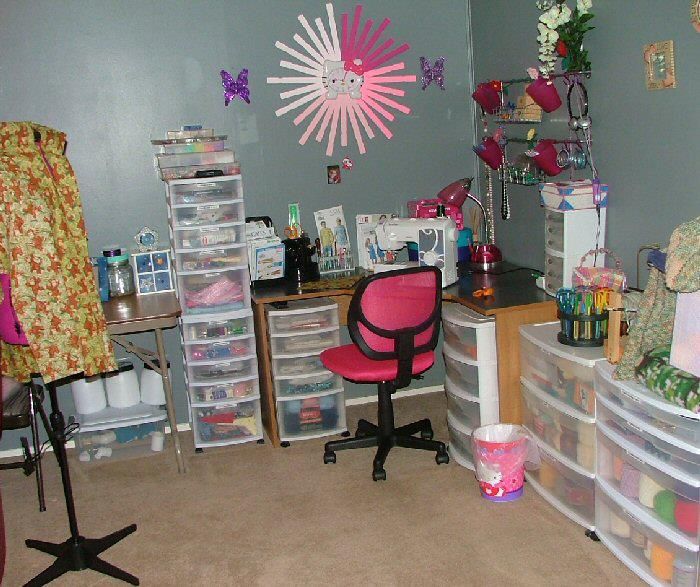 April 4, 2013...Well, it's growing again. I keep adding more and more. this 'corner' stuff! Muhahaha I added more shelves and storage. I may paint it all pink!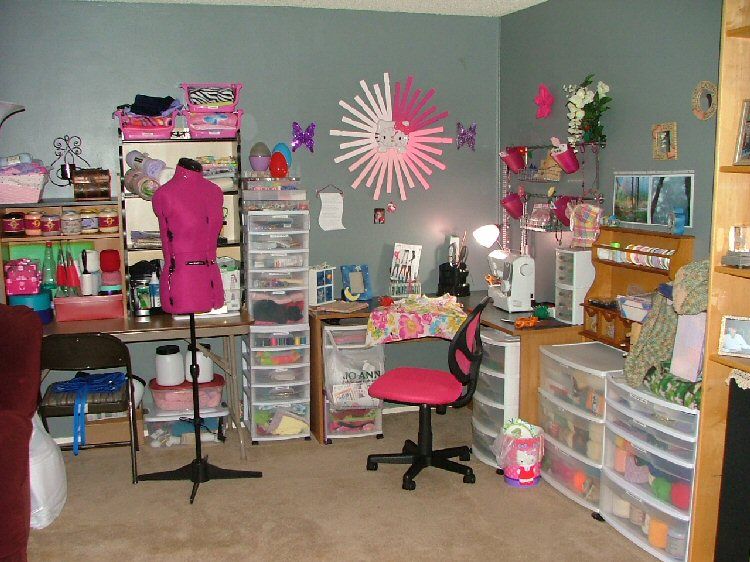 I spend a lot of time in this spot! I'm working on a new top and pants. They are waiting right there, on my desk, for me. On my way back there now!