I might be a tad bit obsessed! I love creating blouses with yokes. Yes, I like the look of a yoked blouse, it just appears more tailored. But, that is not the reason. I just like mixing it up and replacing the yokes with different fabrics and lace. I tried it with a printed fabric and solid lace. Now, I want PINK! You knew it wouldn't be long until I did, knowing my obsession with all things Pink!
I had seen this hot Pink Chiffon fabric and lace at the store a few weeks ago. I had even gone as far as getting them both in my cart and comparing them next to each other. I loved them together. But, when Rick asked "Do you want them?", I declined, as I was busy with several other projects, at the time. I finally did buy them the last time I was shopping! And, they were on sale! I also picked up some cute, pink, flower shaped buttons, to go with it.
I cut all my pieces out. Sure is a small pile, considering it'll be a blouse soon!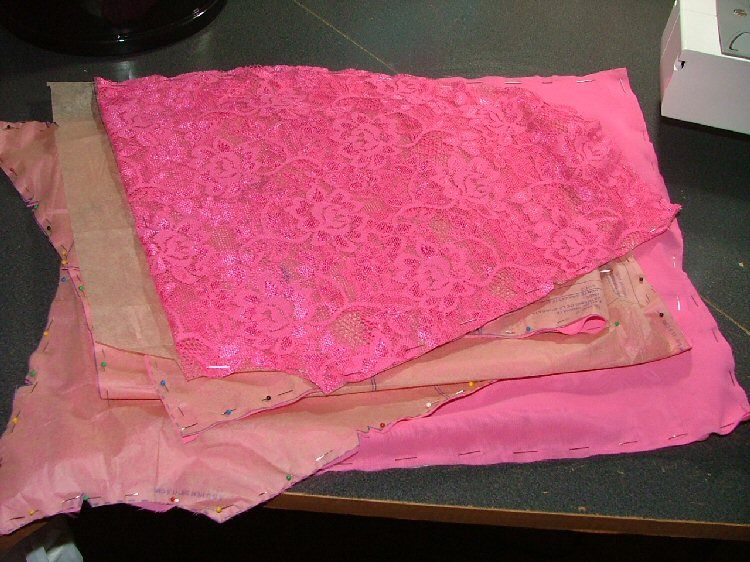 Gentlemen (and Steffie), start your machine! Let the draping begin!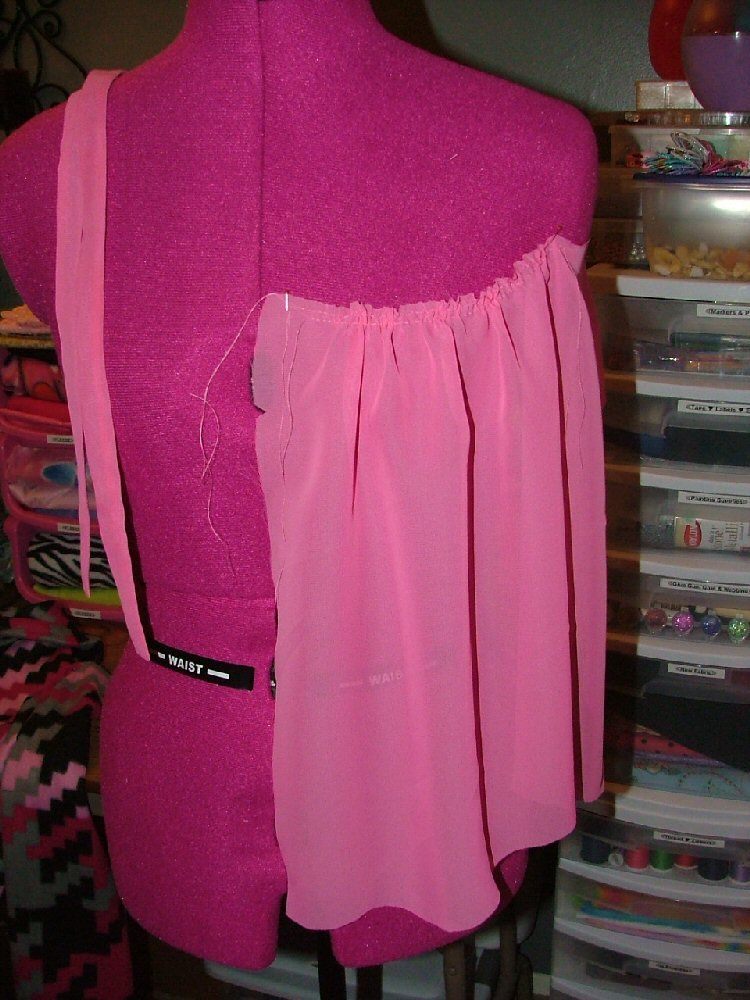 Two sides of the front. Checking the draping. I like how it falls.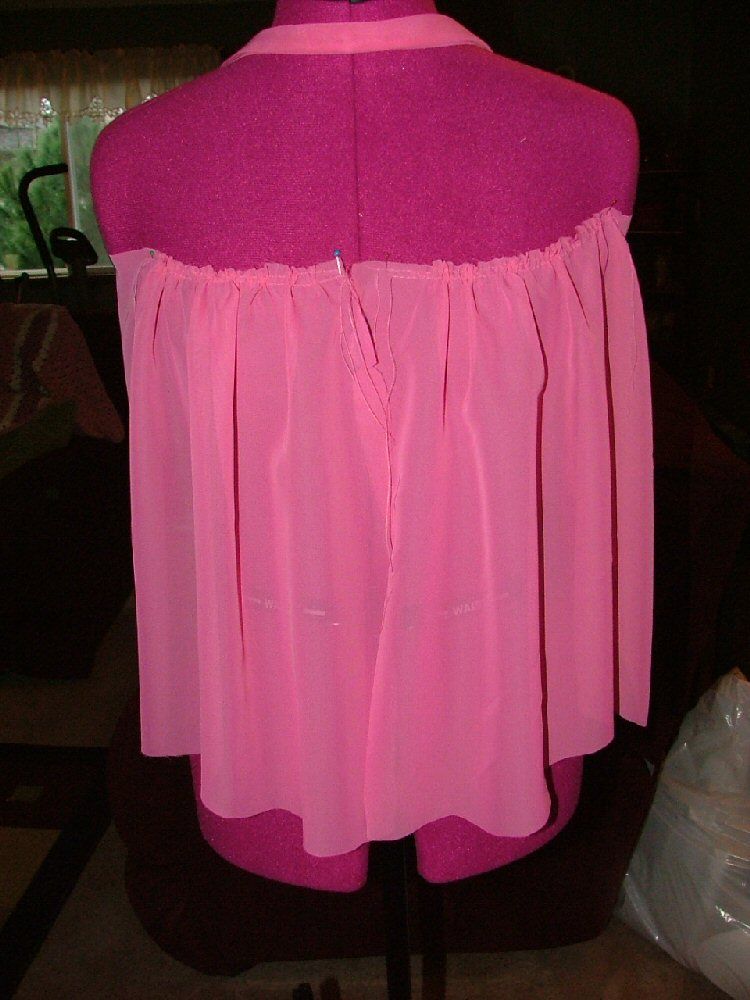 I sew the front yokes to the gathered pieces.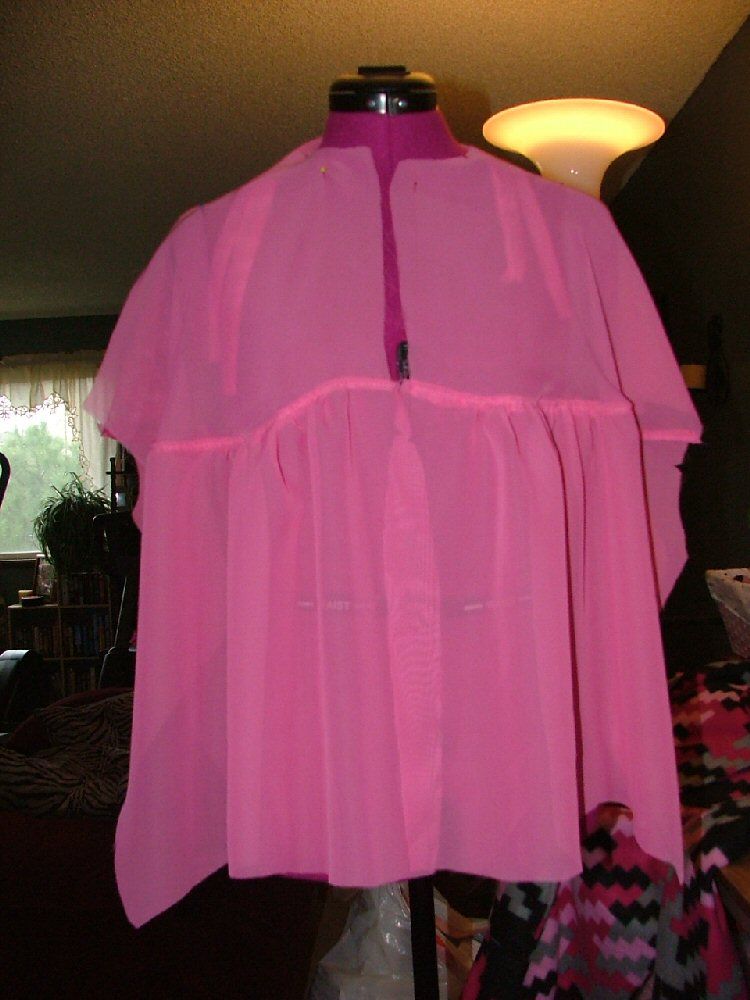 Adding the front flap, getting the front of the blouse ready for buttons and buttonholes.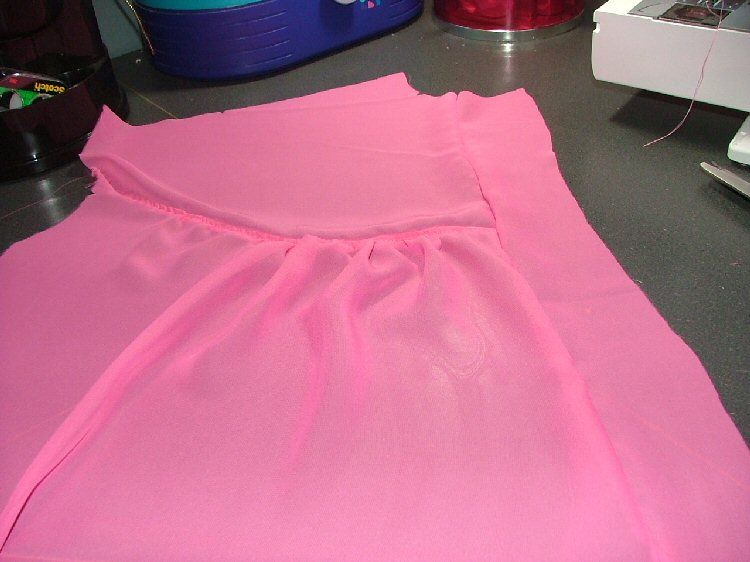 Front flaps ready and waiting for holes and buttons. I also have started my collar. This will just hang here while I make the back.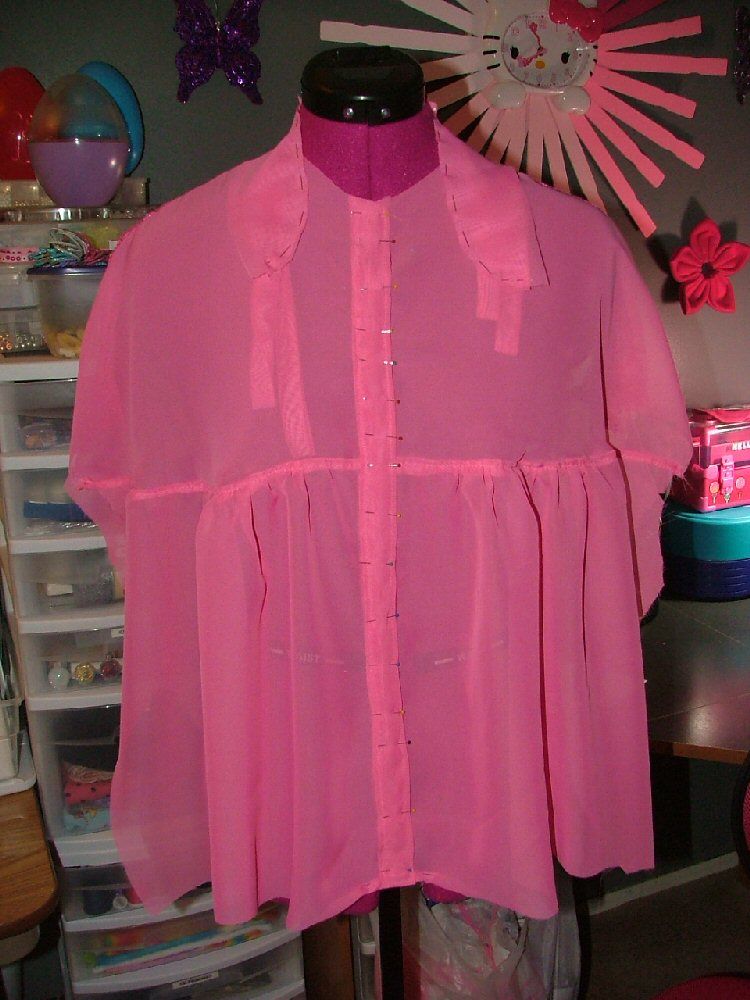 Sewing the gathered back/bottom to the Lace yoke.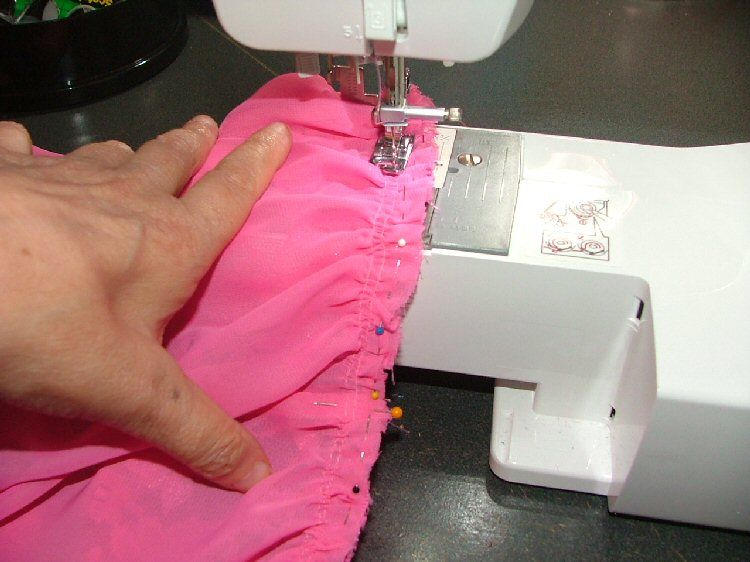 I just need to clean up my seams and see how it hangs.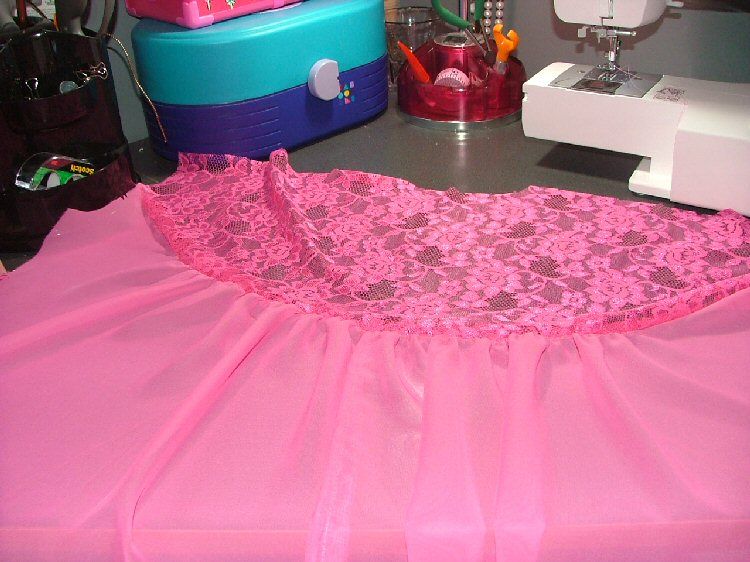 It's ready to meet it's front!
I stitch the front and back together, at the shoulders.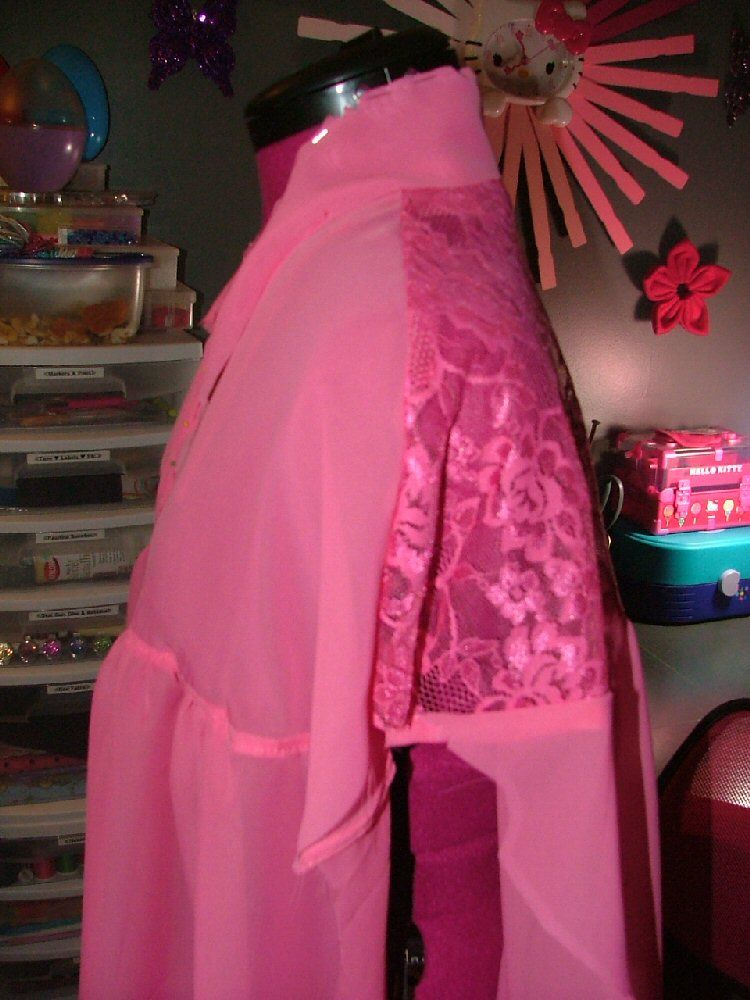 Next, the sides are joined. I add the tie now, too.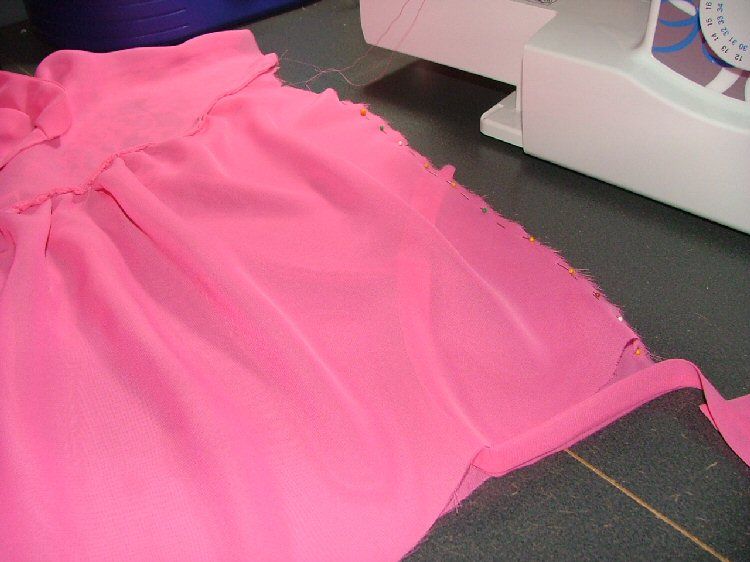 It's almost a blouse. I pin my collar band in place. I machine sew it on the outside and hand stitch it on the inside. Normally, at this point, I would add my Designer Label. I leave it off this garment, as I do not want it showing through the sheer Chiffon and Lace fabrics.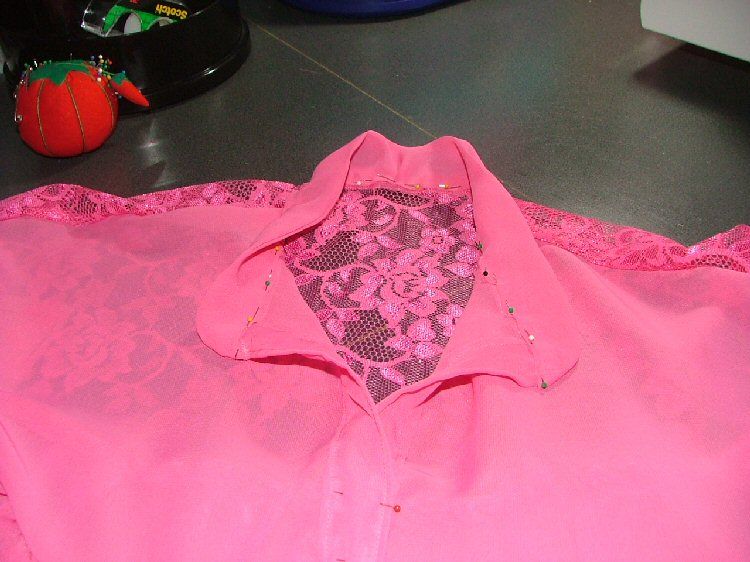 Front and back views, almost finished. All that I need to do now is, Hem the bottom, add buttonholes and the buttons and finish the sleeve openings. It calls for narrow hems on the sleeves, but I have a better idea.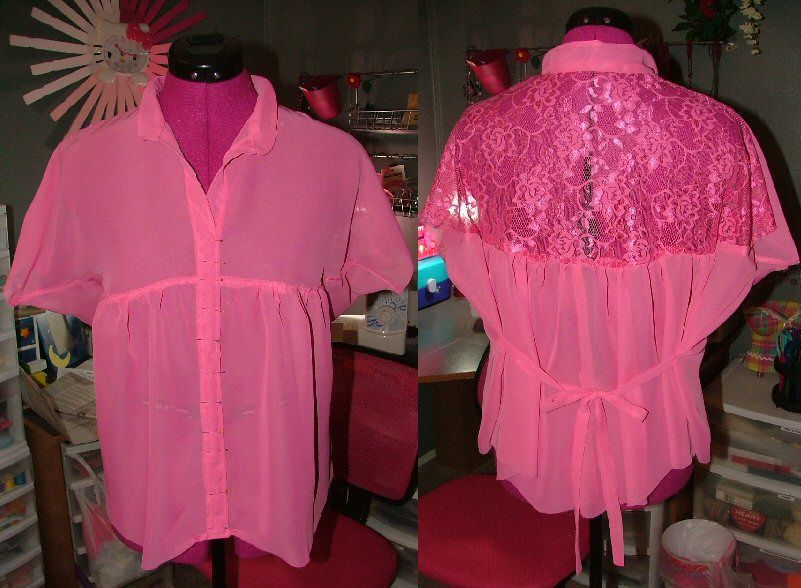 My Lace fabric came with a nice scalloped edge. I decide to use it as an edge for my sleeves. I cut two pieces, long enough to circle my arm holes and sew them in place. I like this much better than a hemmed edge, it adds to my blouse in a pretty way.
My finished blouse, front and back. I really like it. Now, I may need to make one in every color I like.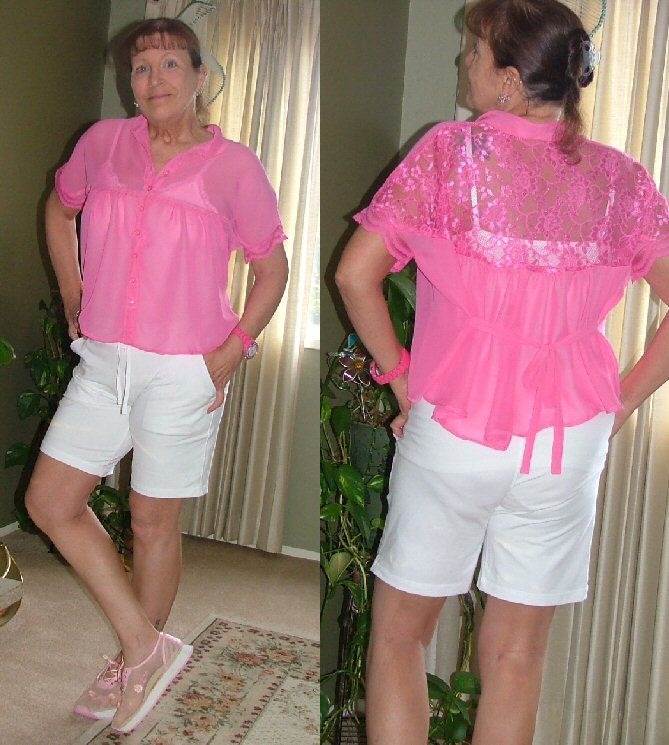 I loved making this blouse. The fabric really challenged me. Chiffon is not the easiest fabric to work with. It is very delicate and you can ruin it if you're not careful, while sewing. Luckily, I am careful! I think I need to do some Quilling. I have had an idea in my head for ages, to make some "Faberge" type eggs for my fireplace mantle. I finally found some plastic eggs that are large enough, to use and my mold. Yay! Until next time!
-Originally Posted on March 2, 2013, by Stef-