What better way to celebrate a beautiful, rainy Saturday than a wonderful hike in the wilderness. This time, Sammy came with us. It was his first hike, ever. It was a bit tough on him, being 6.35 miles with 660 elevation gain. There was quite a bit of climbing, but it was worth it. It rained lightly, most of the day. Following are photos, taken during our hike to the waterfalls of the Boulder River, near Arlington, WA. There are three main falls, all beautiful, in their own way. The largest are the best, of course! Following are photos taken of our hike on Saturday, April 20, 2013.
Our group starting out. From left are Rick, Sammye, Linda, Stef and Jay.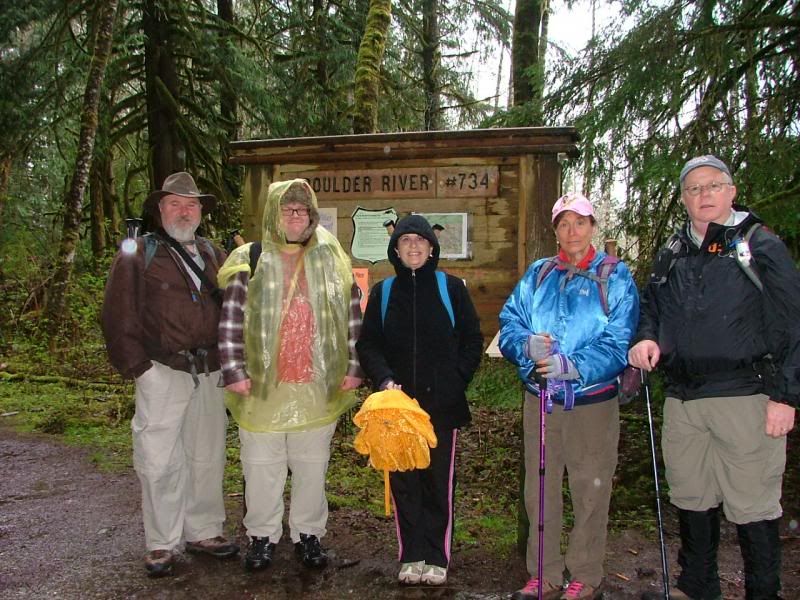 That is one Hell of a tree stump!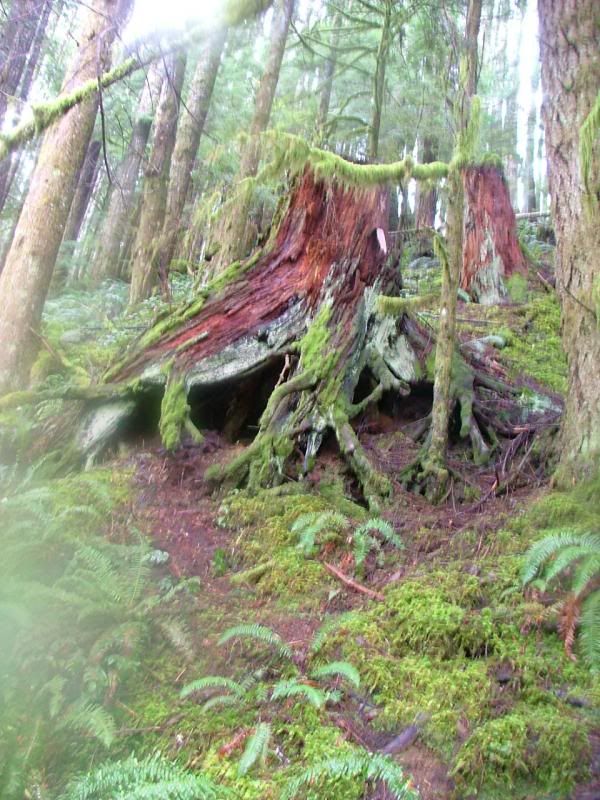 Sammye hiking ahead a little. The entire hike was a narrow path with a cliff wall above us on one side and a drop off on the other.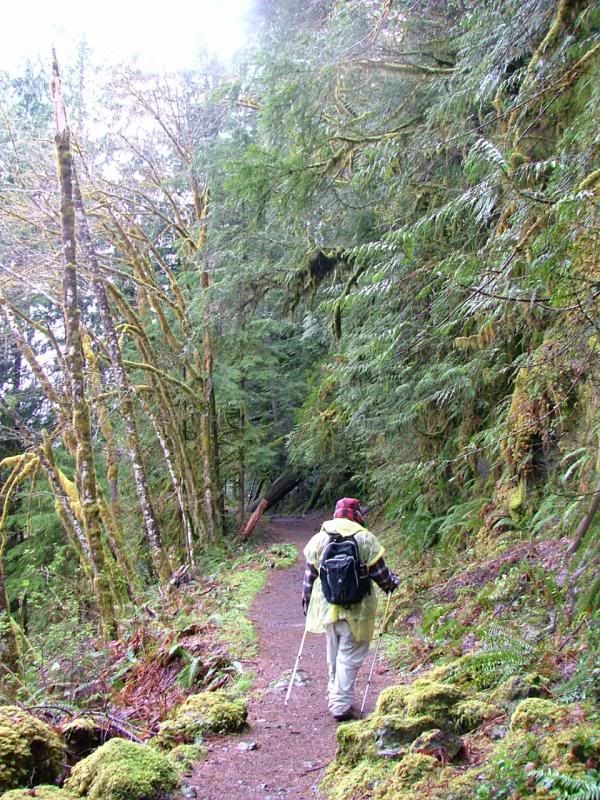 One of the lesser of our water crossings.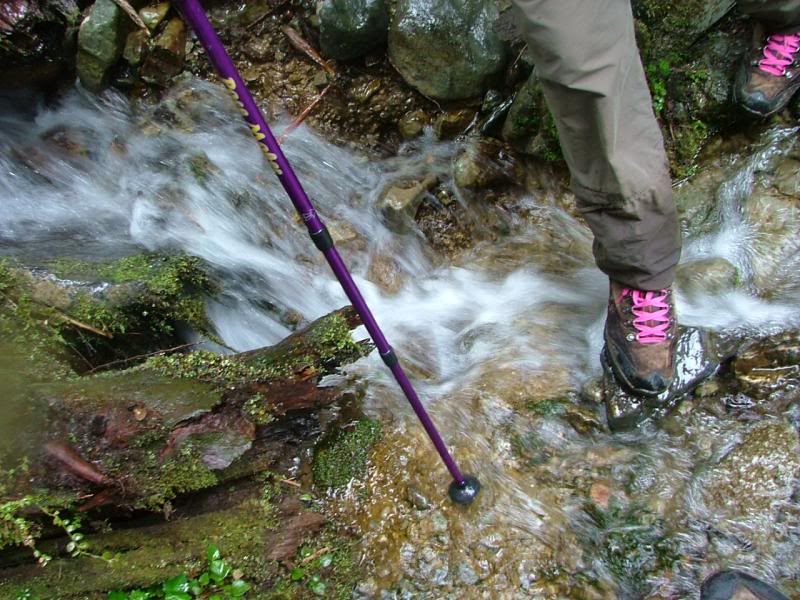 This photo was taken with random hikers, just to show the size of the falls and river.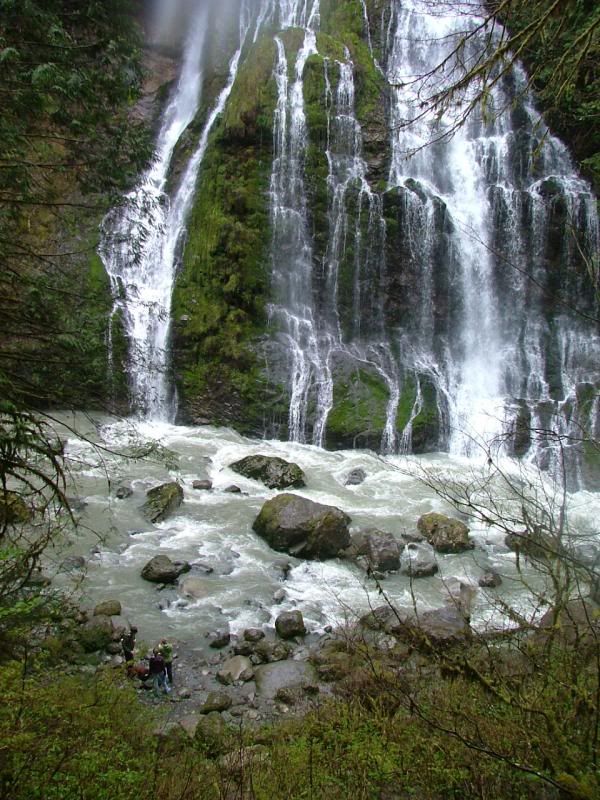 I love these old downed tree bridges. They add so much more rustic character to the area, than metal or planks.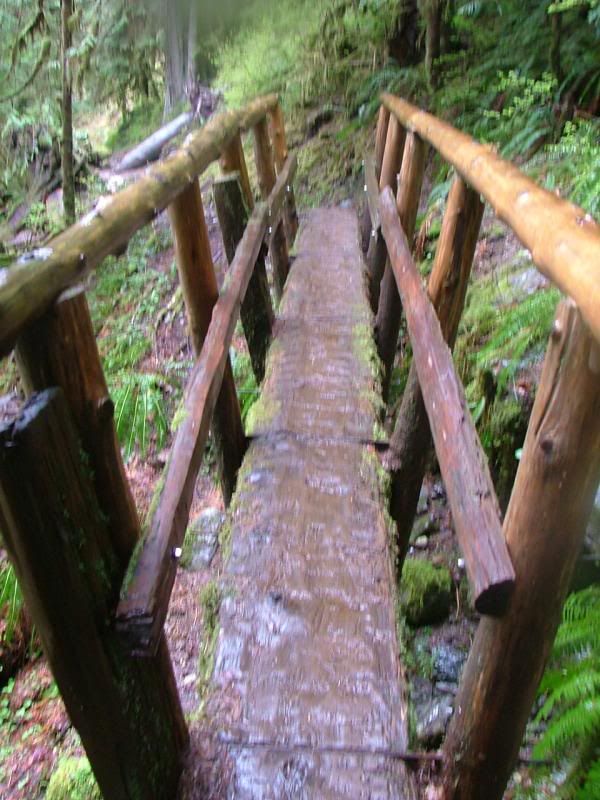 Working our way down the trail.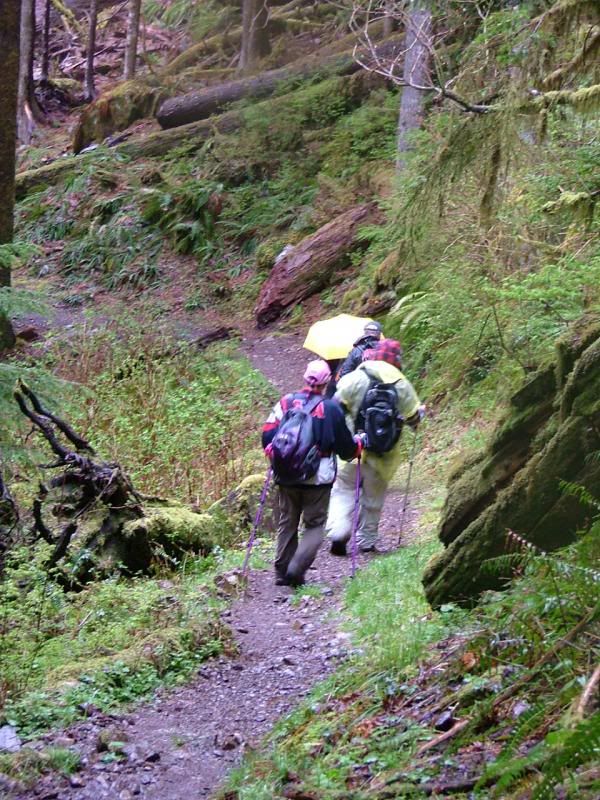 It's hard to tell from this photo, but this was one of the trickiest crossings. It was very slick mud on both sides of the downed tree. And a steep drop off on the other side. We had to use extreme caution crossing here.
Our wilderness family photo. It almost appears that the falls are bouncing off my umbrella...ella...ella...eh, eh, eh...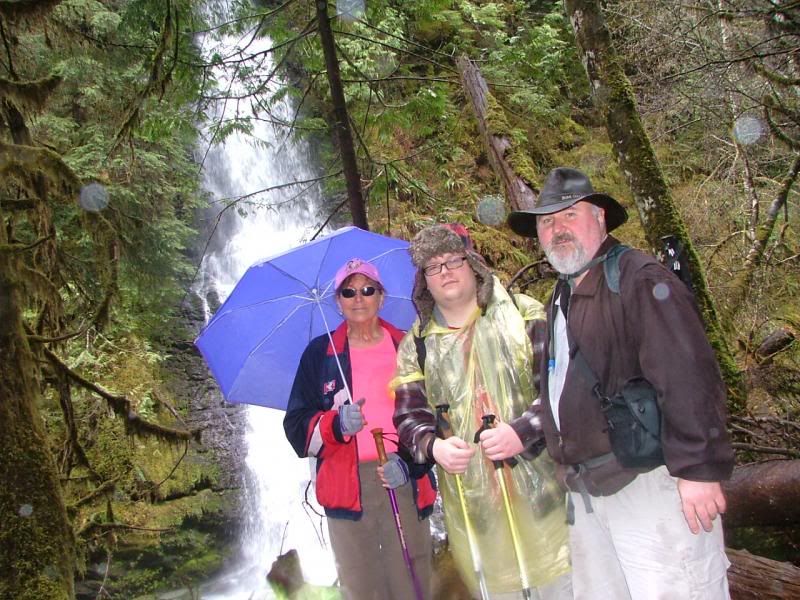 One without blocking the falls.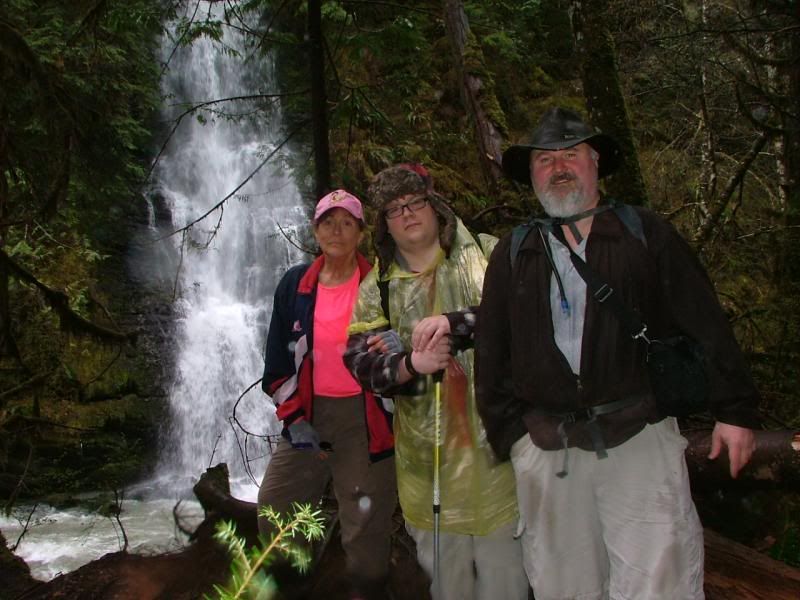 Pinkie wanted in on the picture action!
She spent most of the hike in my pack. She only came out at the third, largest falls, to pose for a picture!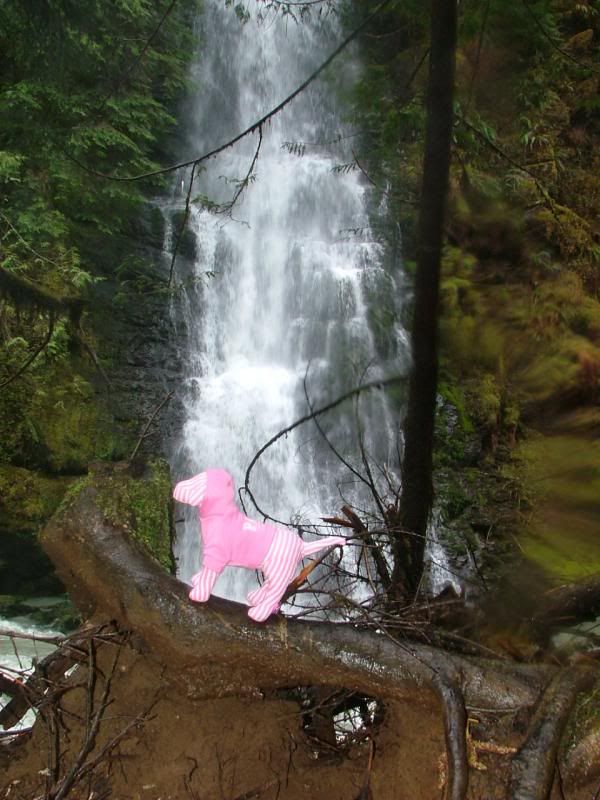 My gear. Glad to have it off for a few. It's heavy, but even heavier when it's wet!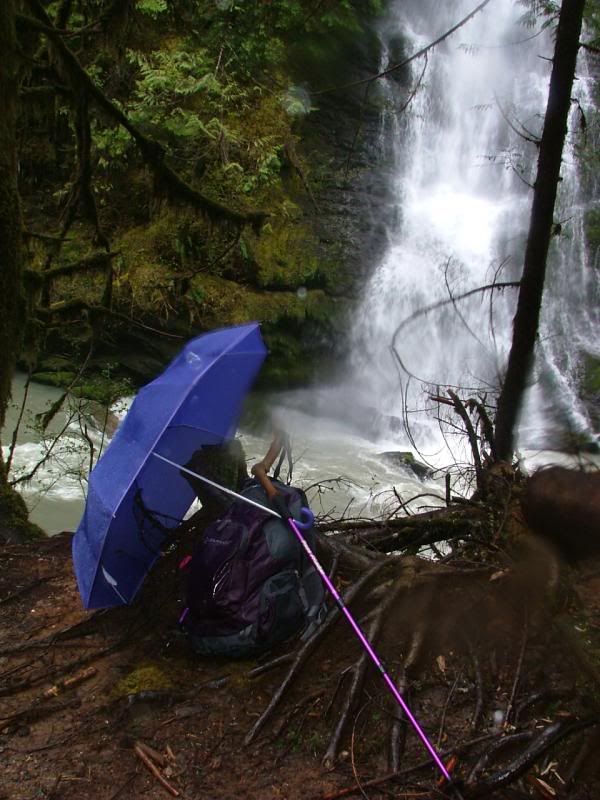 Some of the trees here are magnificent!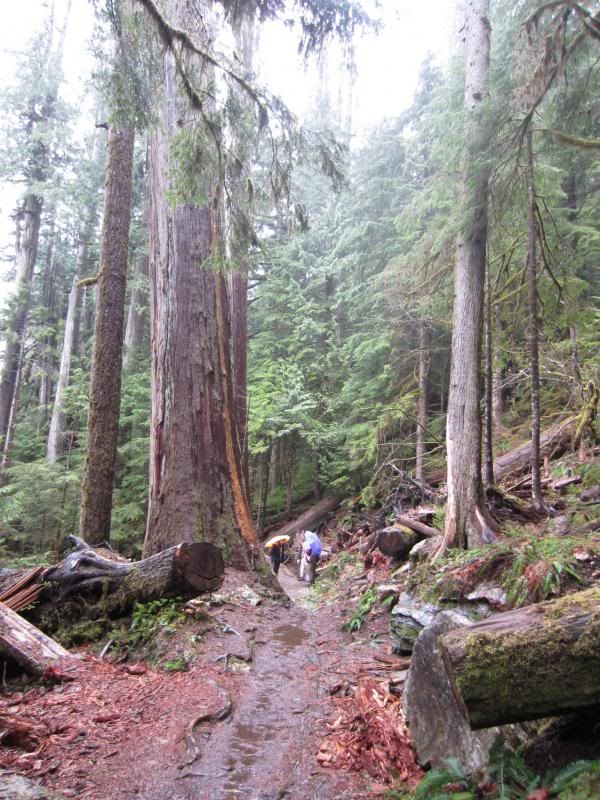 That's a mighty big one!
Jay, in the dark!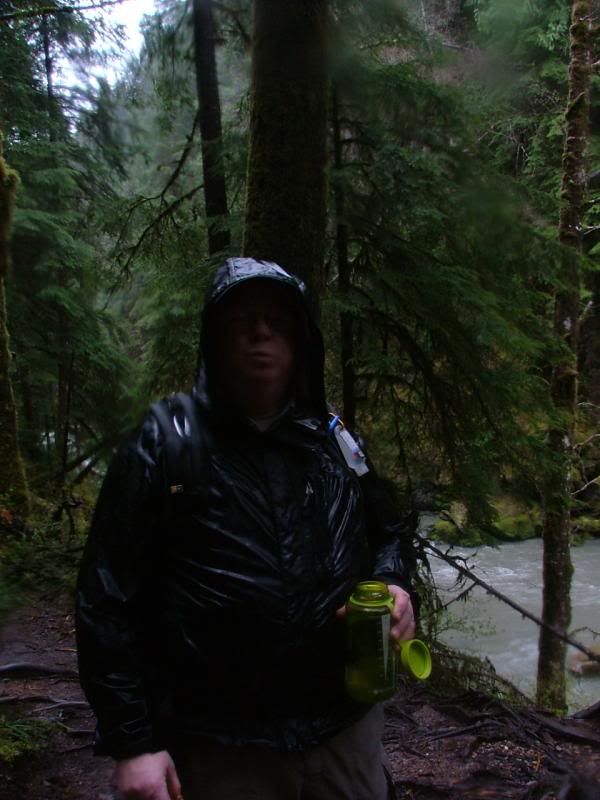 The river was running swiftly. It had been raining for a week straight. Combine that with warm temperatures and melting mountain snow, there was plenty of run off.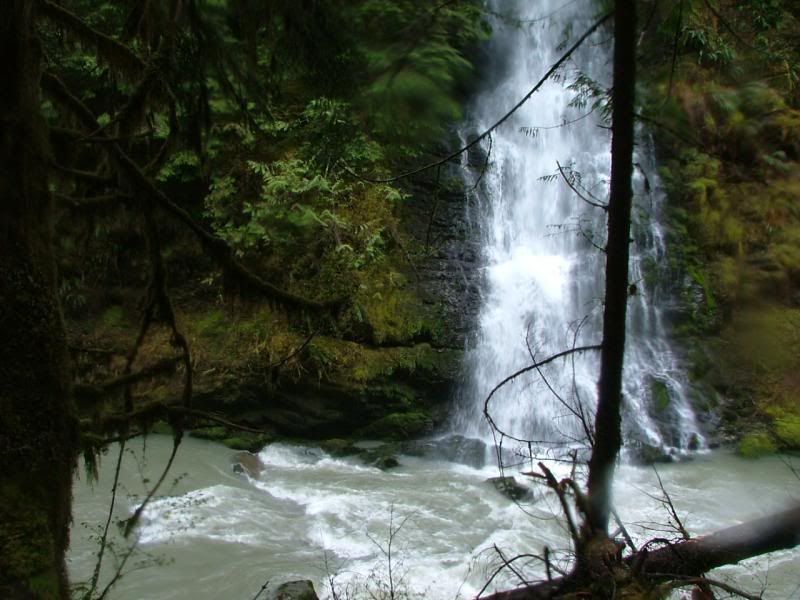 The river and each fall were very loud. There was no mistaking that there was rapidly running water nearby.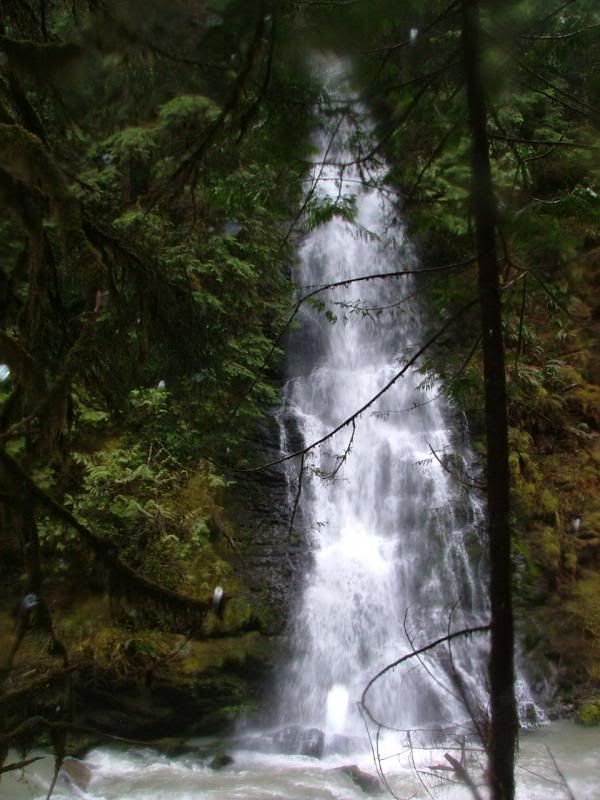 Jay and Stef.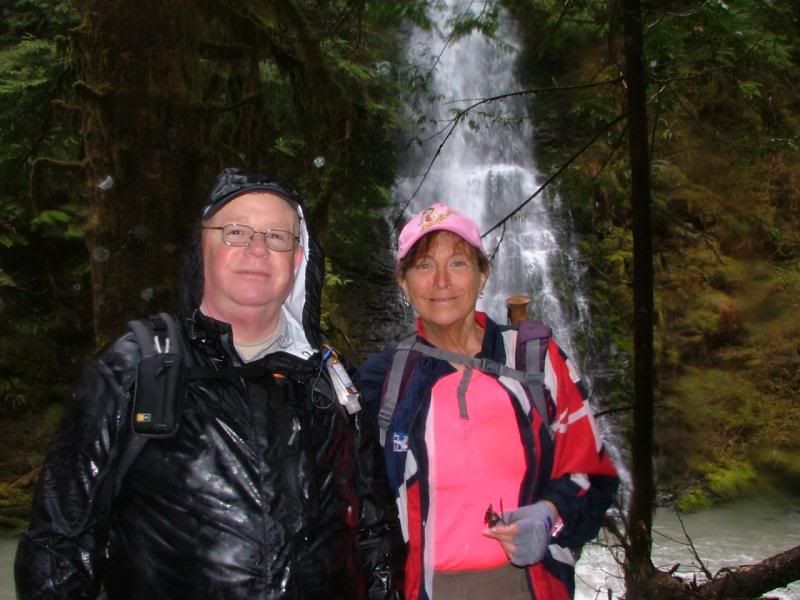 Stef, Linda and Jay.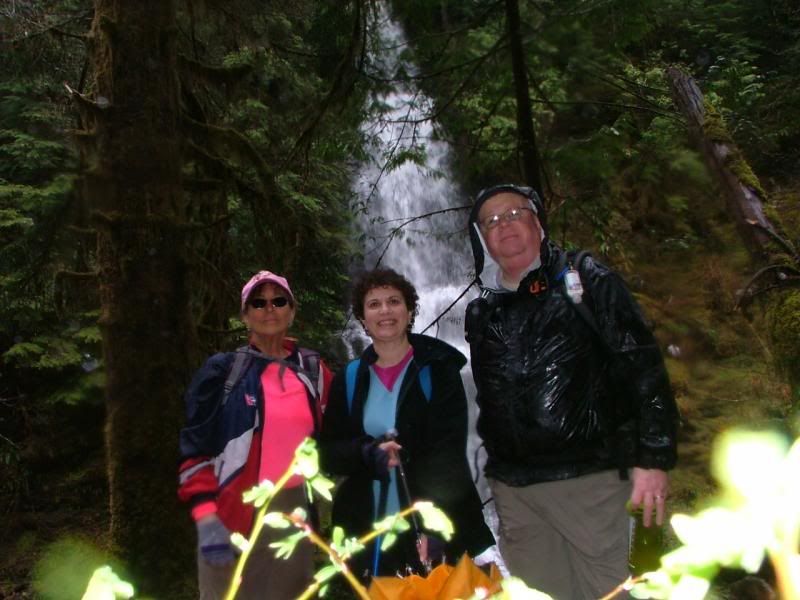 One of the falls through the trees.
Raindrops keep falling on my head....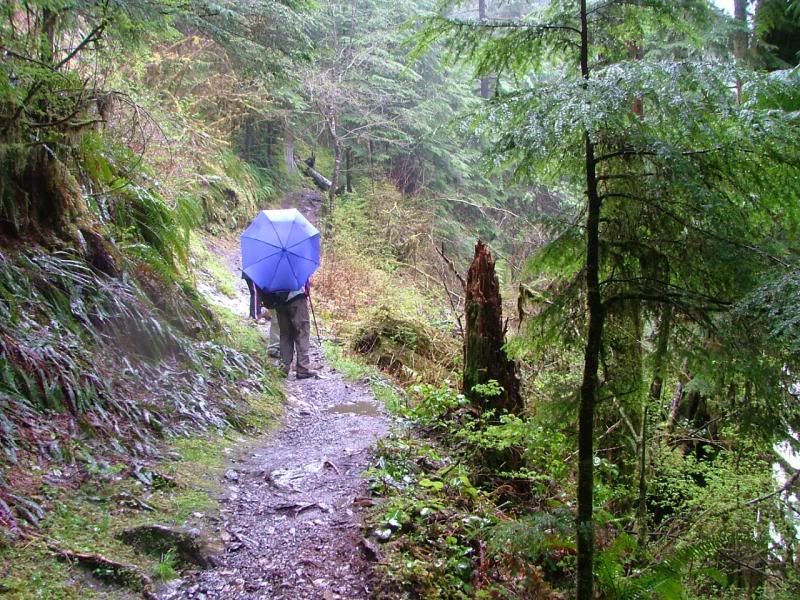 He Man, He Man!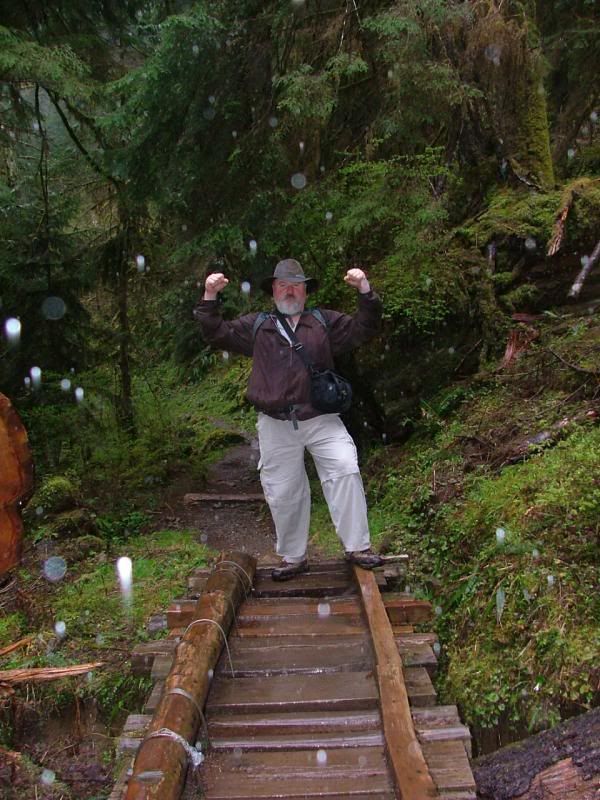 The top of the second falls.
Father and son, enjoying nature!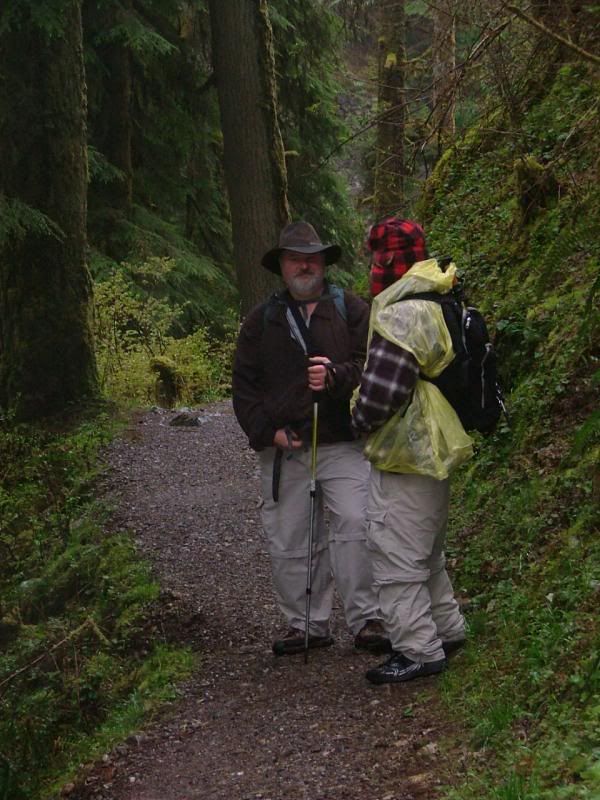 The second falls, crashing into the Boulder River.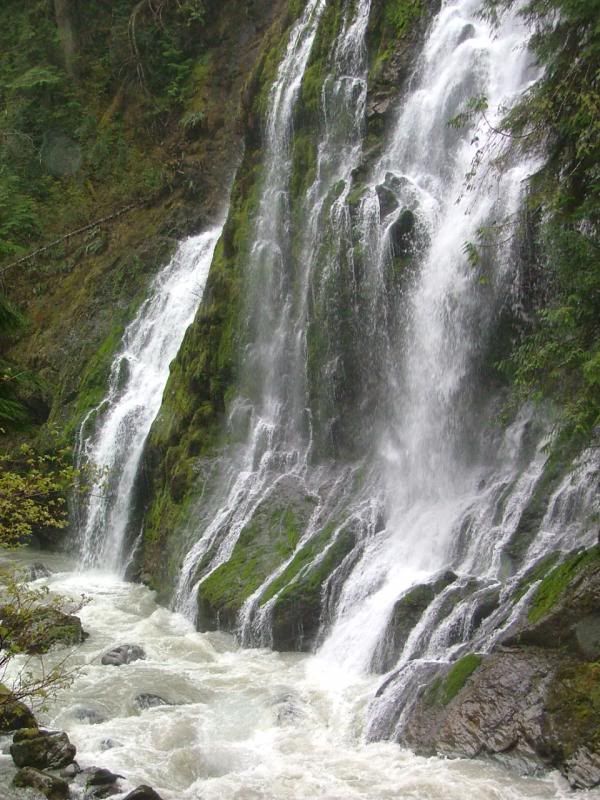 Zoomed out of the same scene.
Sam and Rick, enjoying the views.
Sammye acting silly. =D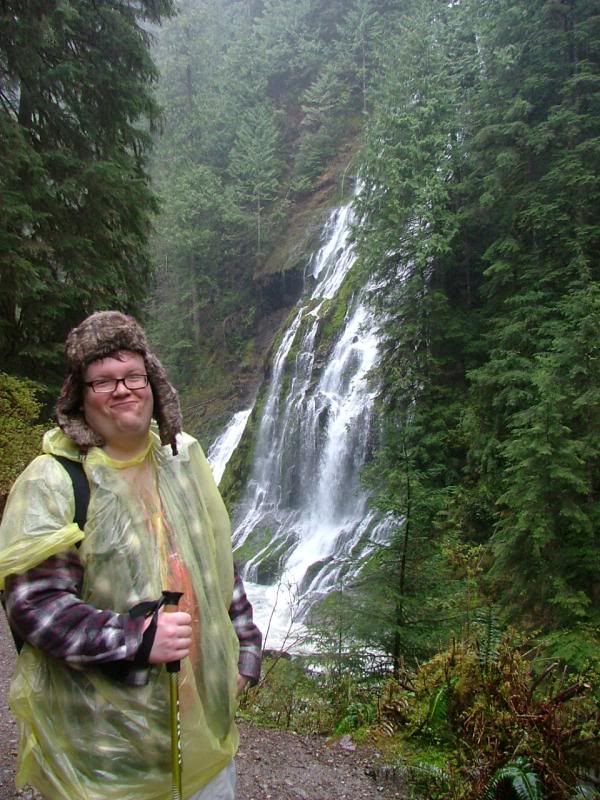 Someone is happy to be alive and able to enjoy these places. Life is good!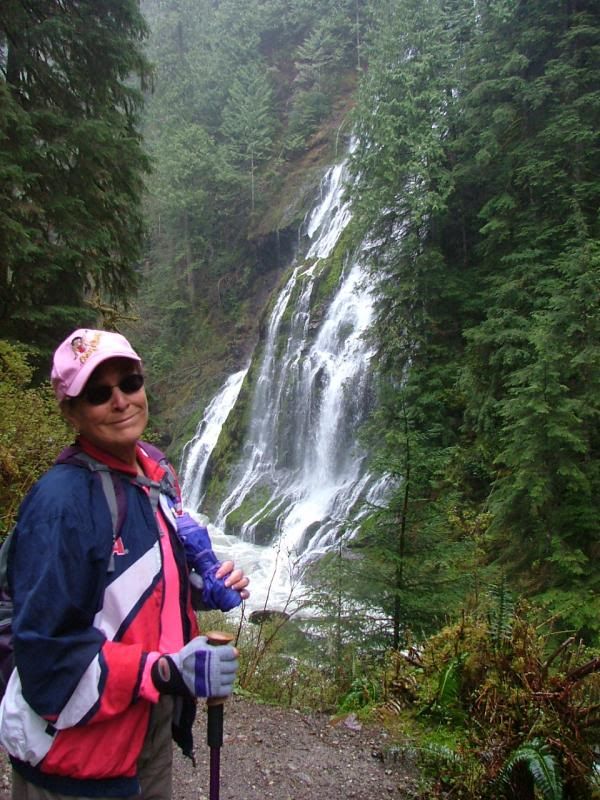 Sam and his mom, on the trail.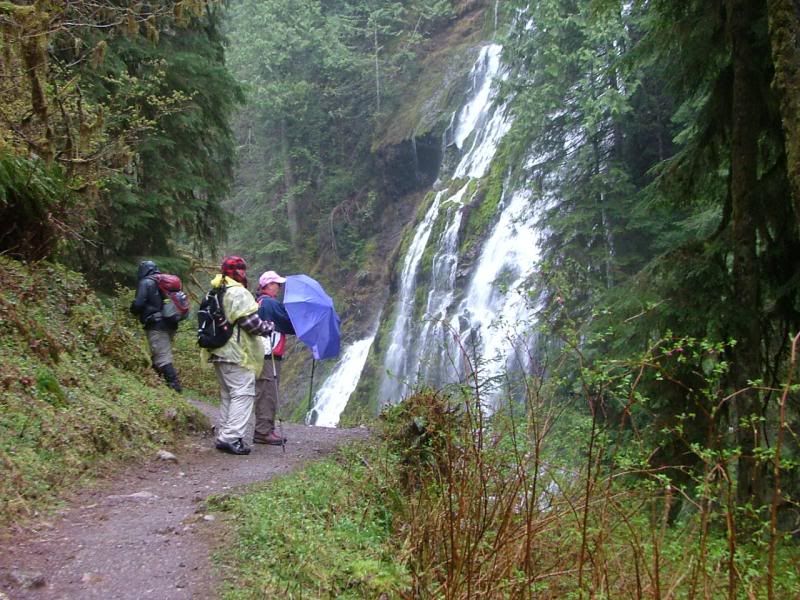 The First and smallest of the Boulder River Falls.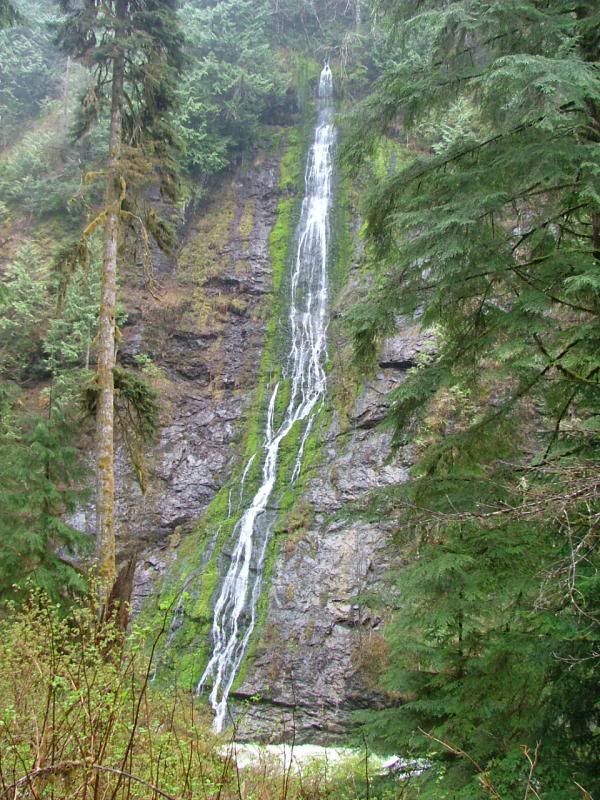 The Boulder River through the trees.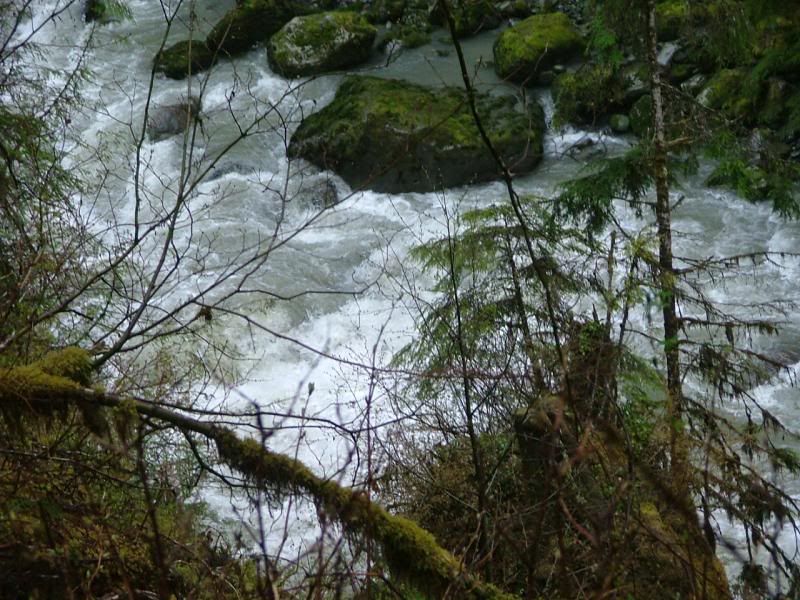 The rapids below us.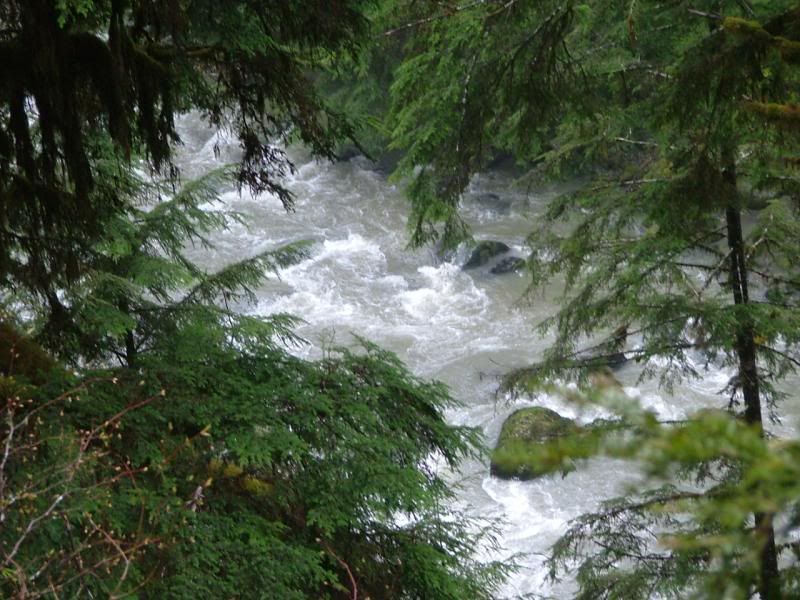 A cool tree!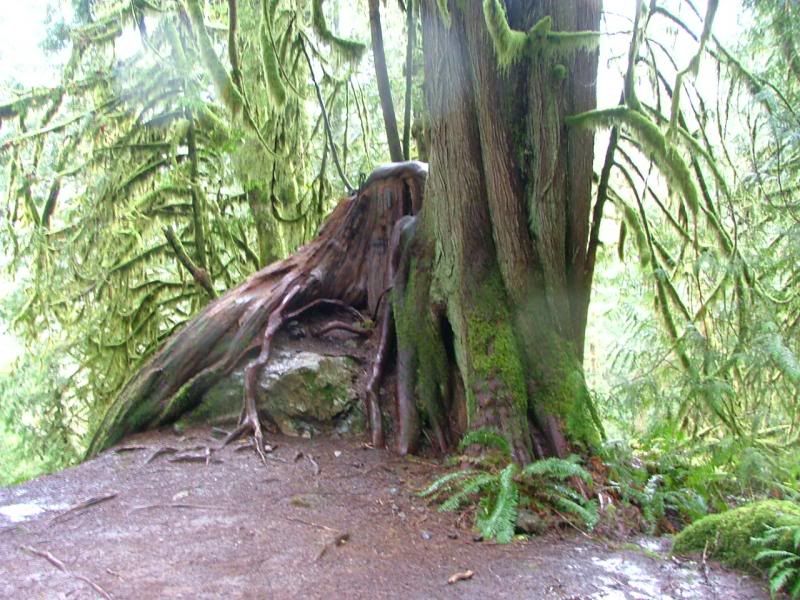 A view of the cliff wall we walked along, most of the way.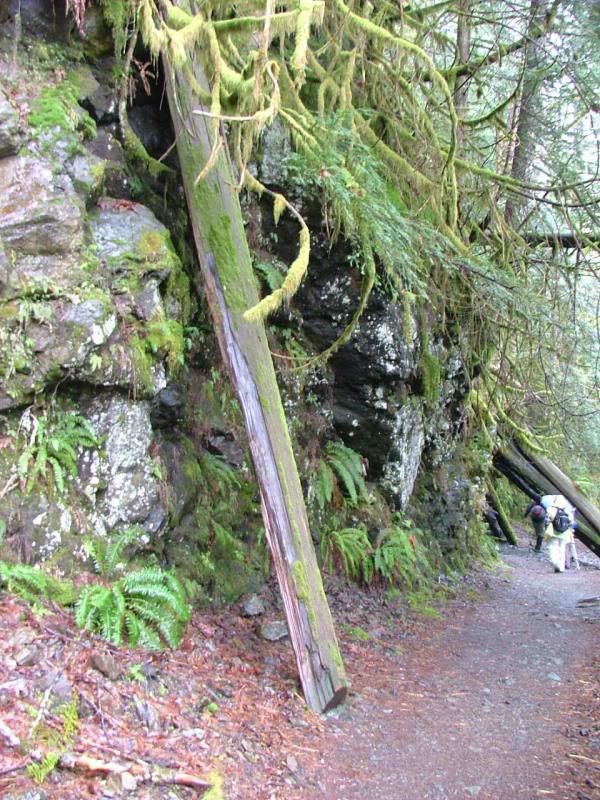 Our group on the trail, almost back to the trail head.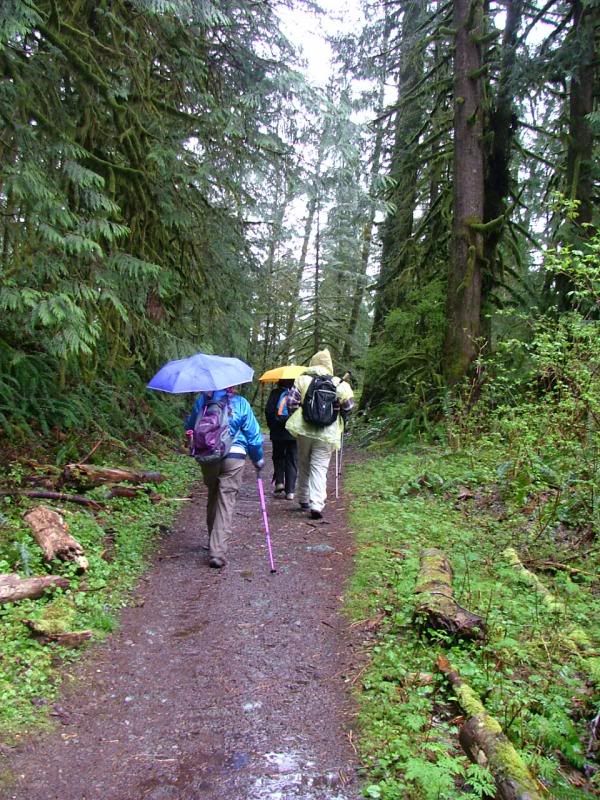 It was a good day. We hiked a total of 4.5 hours.

Sam had a good day. As we neared the third falls, he was quite tired and aching. He rested with Rick for a bit while the others pushed forward. They followed soon behind. I was so proud of him for pushing through the pain and tiredness, and completing the trip to the end!
After we returned to Jay's van, we headed back into civilization and La Hacienda Mexican Restaurant! I picked where we ate and chose this place for the EXCELLENT Molcajete! Neither Jay nor Linda had ever tried it before. They both did because they had heard me talk about how much I love it, so many times. Linda liked it. but it was a bit spicy for her. Jay has found his new favorite Mexican food. I tried to tell him how wonderful it was sooner, he could have been enjoying it for months! He knows now!
It was a great day, except for the fact that it was a bit of a struggle for Sammye. I hated that he was in pain. It was his very first hike though, after doing nothing besides sit and play computer games. It'll get easier, as he goes more. I hike 5 miles on Monday and Friday, every week and hit the gym Tuesday, Wednesday, Thursday and Saturday. If we hike on Saturday, I skip gym that day. Sammye says he wants to join me on every other Monday and perhaps one day a week at the gym. That'll be great if he does, I sure hope he will. I'll let you know later.
It's late Sunday night, as I write this. I have an early hike in the morning. So, I'll stop typing for now. I am very happy to be spending time doing things I love and living life again. I really didn't realize how much I was actually missing, until I got back out again. I am so thankful to be back among the living, able to join my family out and about!
Until next time!
~Originally posted on April 22, 2013, by Stef~