I started sewing a new wardrobe for myself, last year, while I was a size 18-22! What size did I create my new fashions in, you may ask? Size 6-8! Some people may think that is crazy. I actually did, at the beginning. But, it gave me motivation and something to work toward. I am very goal oriented and anything I do is so much easier with a planned goal at the end. Weight loss is no different to me. I started trying things on after several months, to no avail. But, I would see myself getting closer. I might be able to get the pants up farther, the buttons on the blouse got closer together, etc. So, I kept sewing and losing.
I am not to goal yet, I am 13 pounds away. But, I can wear almost all my new clothes. It is like Christmas morning, going to my closet and seeing all the colorful clothing, hanging there. I still have several that are just a bit too tight still, I'll be wearing them soon too!
I did not make the shorts. I love pink and lace and chiffon! So, I created this top.
I found this polka dot silk crepe de chine at my local fabric store. It was a huge PITA to work with. But, I like it now that it's finished!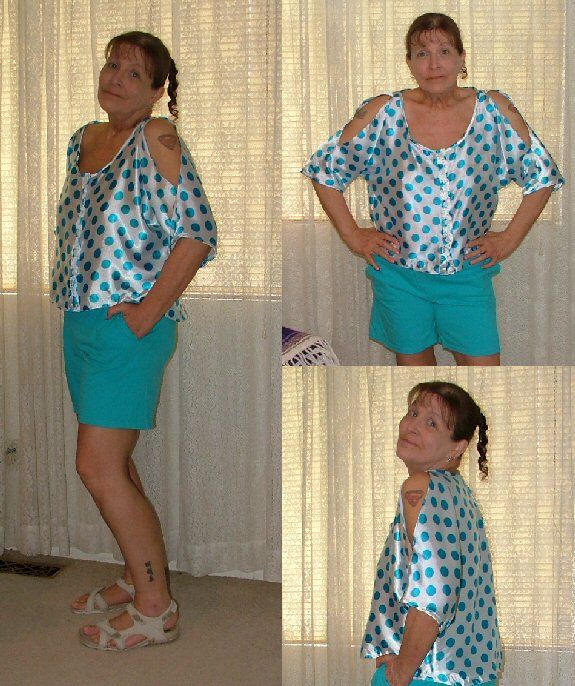 This dress was actually inspired by my boots! I had wanted a black, long dress to wear with them, for ages. When I found this Black Batik at JoAnn, I thought it was perfect!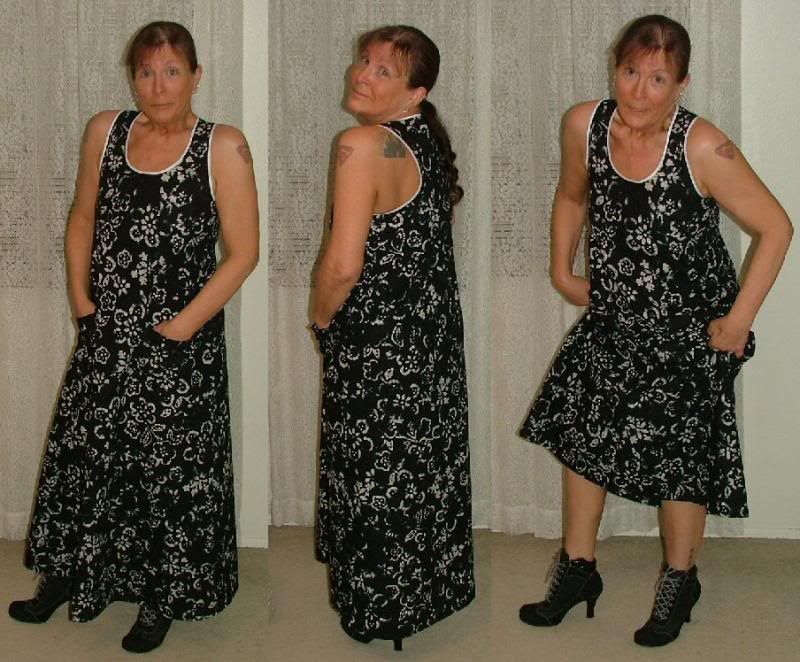 This top is just like the Pink one I made earlier, except I used Black and made the sleeves a tad longer.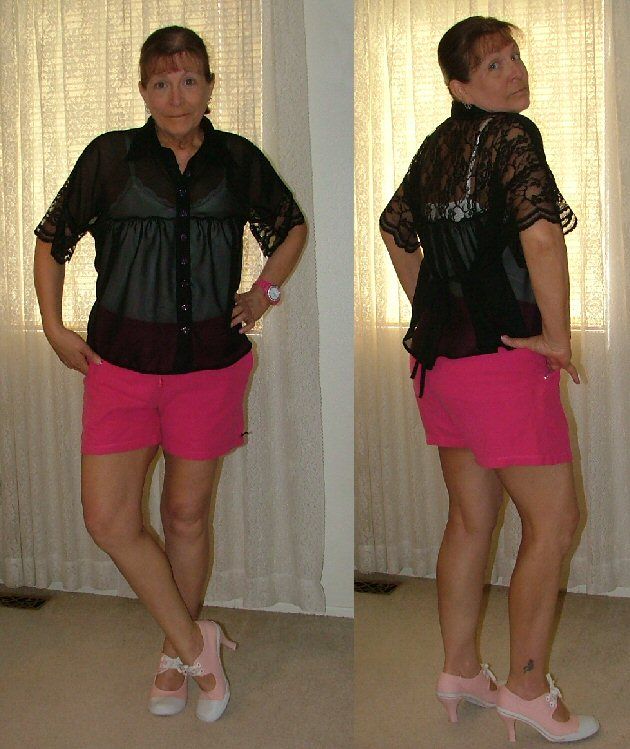 My first attempt at using Lace as my yokes. I was not really thrilled with the results, but I did learn from my mistakes!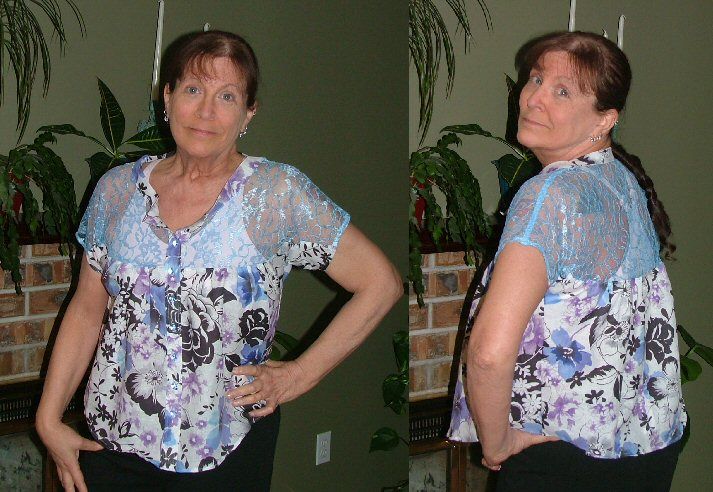 This outfit was made from a stretch Cotton-Poly knit. The top is actually made exactly like my Black dress, only it is cut MUCH shorter! haha The capris are just made using my favorite leggings pattern.
A couple months ago, I bought a pair of red skinny jeans. They were a bit too tight to wear comfortable and I didn't really have anything I wanted to wear with them. I have never been much on red, but something about these jeans beckoned me to buy them. I found this fabric at my local store. It matches beautifully without me being overpowered by red! It even has hot pink streaks in it, my favorite!
Colorful knit leggings. I love these colors!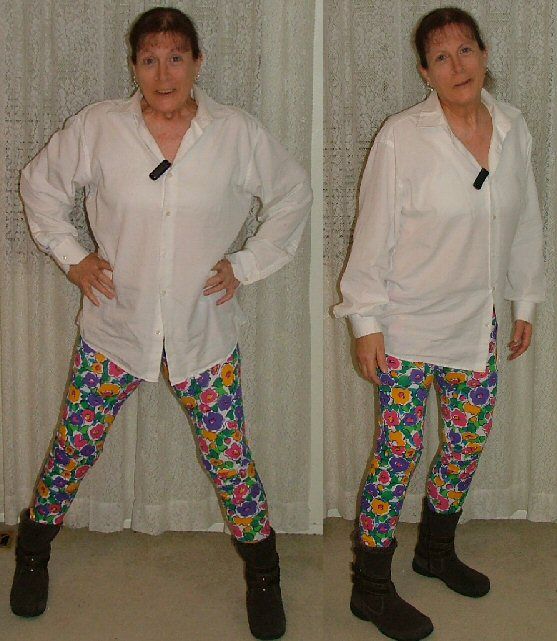 Tan corduroy knit leggings, from the same pattern.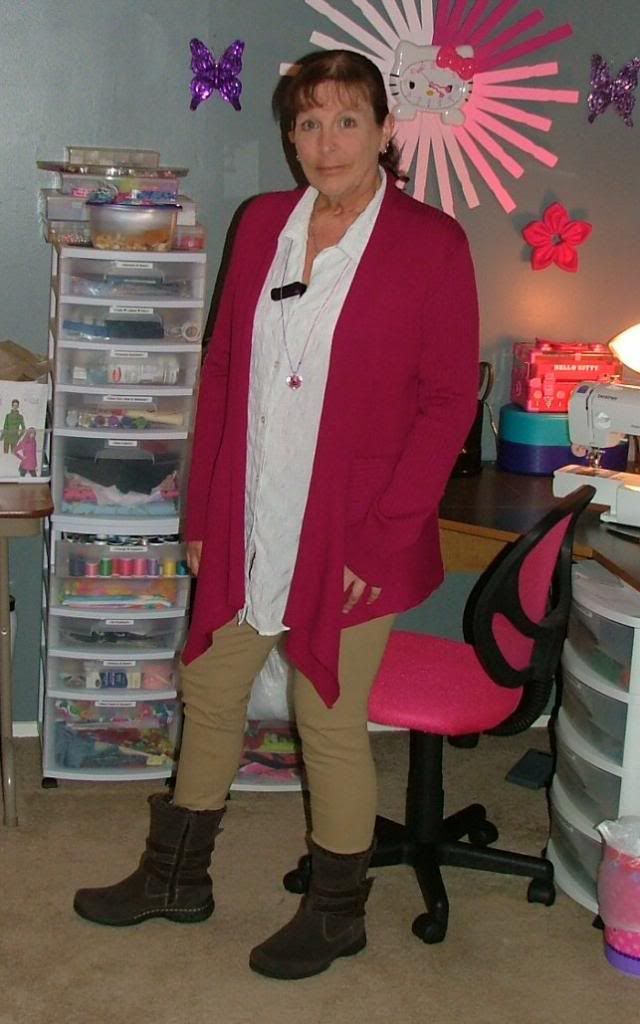 Lime spandex and printed poly-chiffon to match. I won't get lost in a crowd, that's for sure! I used the same pattern that I use to make my leggings, I just made them shorter.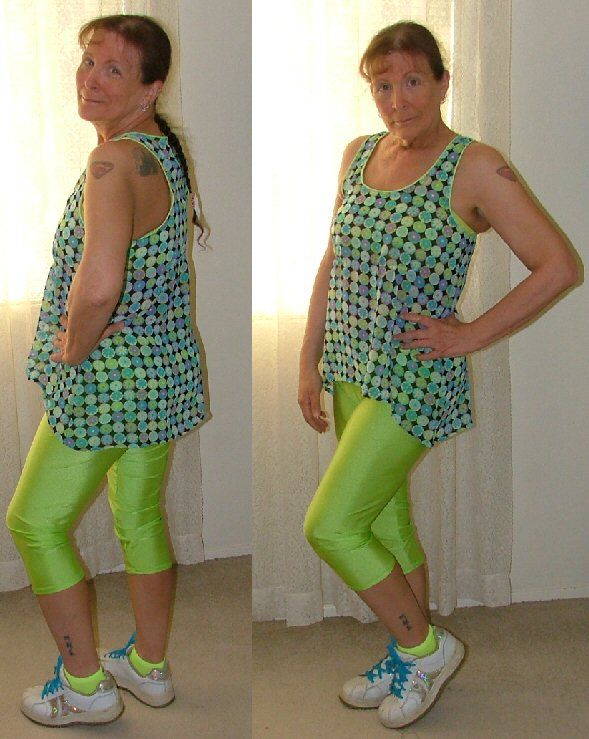 This is "Pink Boho". This fabric is so light and flowy. I found it at my newest, favorite fabric store. It is a small place near my gym, that I just happened on one day. It is run by the nicest Middle Eastern people and filled with beautiful fabrics, notions and other neat stuff. They have many embellished fabrics for saris and burkhas, beaded and jingling belts for belly dancing, bins of cool and odd buttons and trims, threads and even beautiful woven rugs! I go in there so often, they have started giving me nice discounts. =D
I found this
"Global Voyager- Sunflower Foil Chiffon" at JoAnn and fell in love! It is so pretty in person. I made a "Peasant" type blouse with it.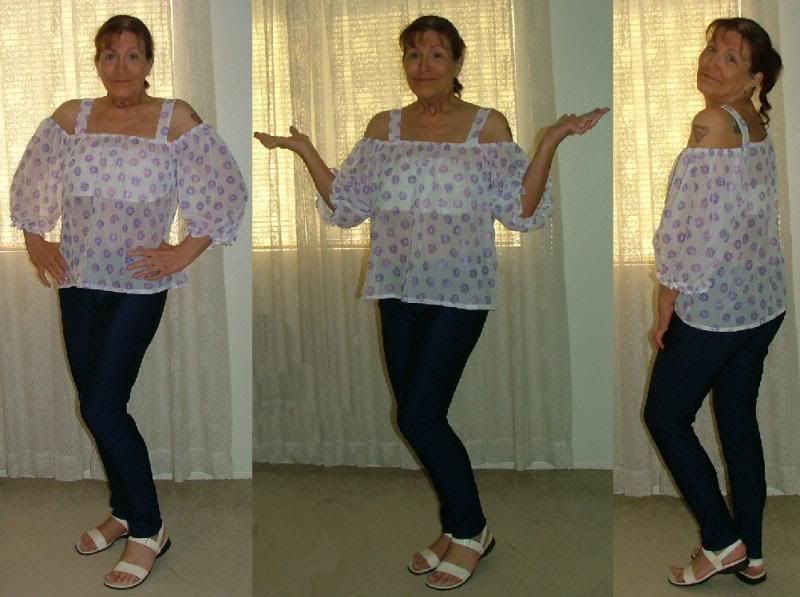 A closer look at the fit of my pants...Like a Glove! And the fabric close up, to show the color and sheen.
Another outfit made from the Stretch Cotton-Poly knit. I made this using the same patterns as the Pink and Yellow one.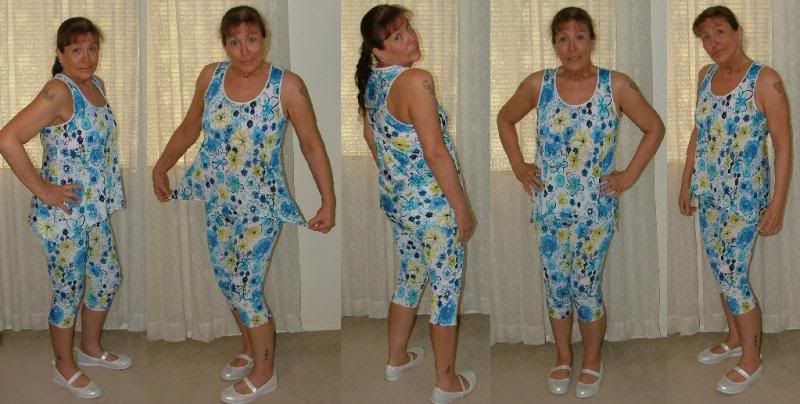 I made so many hats during the winter. Caps and Bucket Hats and other types. But, my favorites are my Trapper Hats. I call this one "Eh Nanuq" (Hello Polar Bear), as it is inspired by Hello Kitty...But, it's a polar bear! hahaha
Every girl needs a white blouse of some kind, as a staple in their wardrobe! The fabric is white eyelet.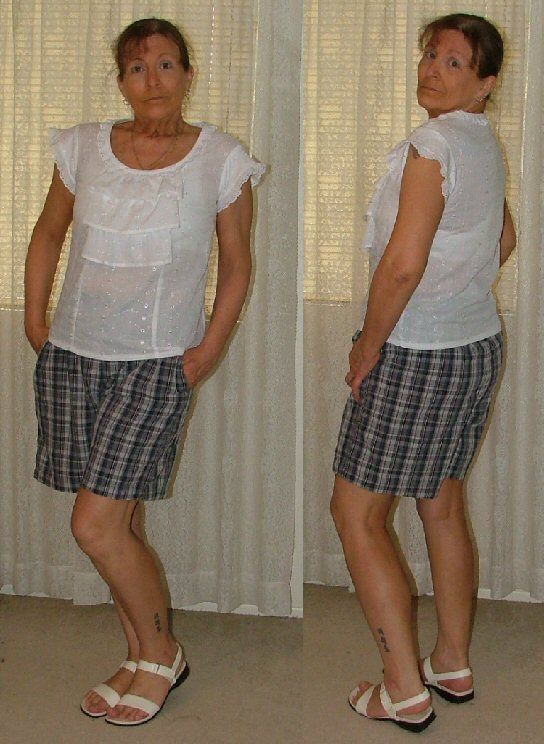 This is one of my favorite shirts! I have waited a long time to fit into this. I seriously love it more than I thought I would. I need to make another, in some fabric in my stash. I'll be wearing this as often as I can, without looking like it's all I wear!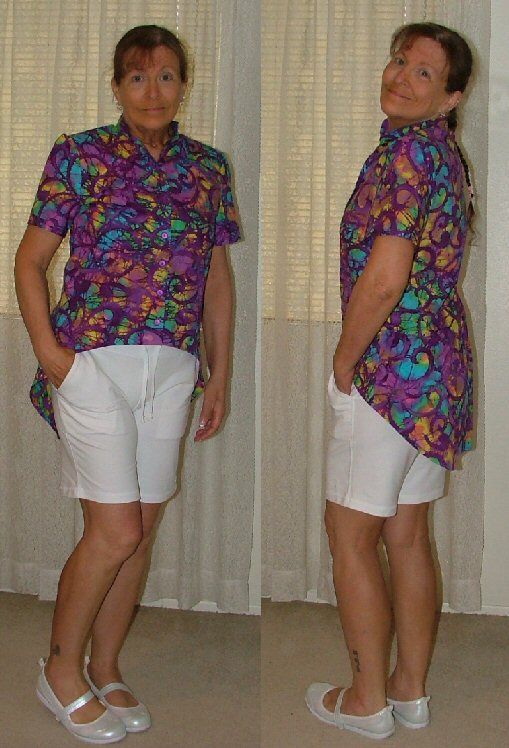 On a cold winter night, would you offer your throat to the wolf with the red roses? I know, it's hot and summer, but either way, I think my neck is safe, warm and toasty in my homemade fleece jacket. I call this one "Girlz in da Hoodie". Muhahaha
You cannot see from the photos, but I have a cool drawstring pocket on each leg. I love these pants and vest. The back and lining is white satin.
I might be too old and not quite slender enough to pull this off. But, I can wear it at home, if nothing else!
Soft, pretty, pale yellow eyelet. Soft, pale yellow ribbon and lace. This is where that leads to.
I'll add more as I make them...OR fit into them! Muhahaha Somebody stop me!