"I think it pisses God off if you walk by the color purple in a field somewhere and don't notice it." --Alice Walker
Purple has the ability to combine beautifully with other colors to produce many unique color combinations because it is the perfect blend of both the warm, stimulating qualities of red and the cool, calming effect of blue. It can be subtle and sophisticated, or powerful and punchy. Purple and Pink are my absolute favorite colors. If you know anything about me, you probably know that. If you look at my closet, you'll see it in living color!
I'll start with a light, breezy blouse in a bright pink, printed with purple Lotus Flowers. It has sparkles too! BONUS! I select New Look 0190, View B. I may add the Cap Sleeves from View D later. I haven't decided yet. That's the beauty of creating my own, I can add or omit whatever I feel like. It's always original and unique to my fascination.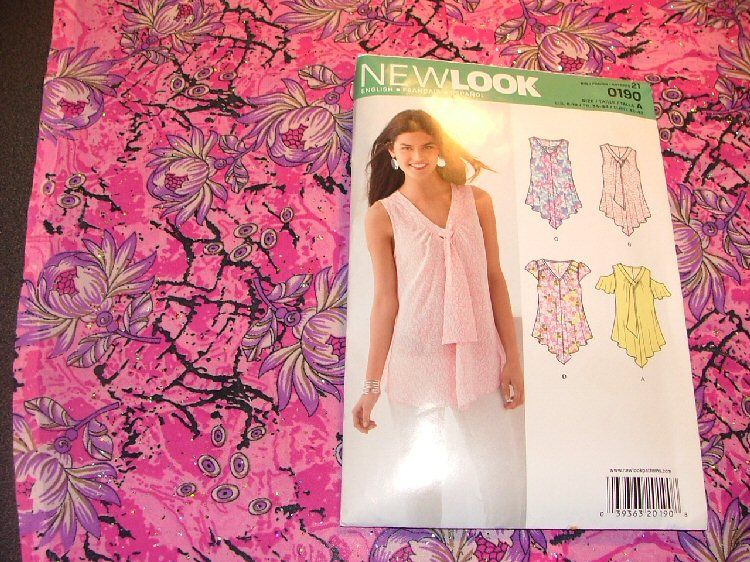 For my pants, I'll use a very vibrant PURPLE Spandex. I'll make Capri length Leggings, with McCall's 6173. I have a few pairs of leggings from this pattern already, long and short. I love them!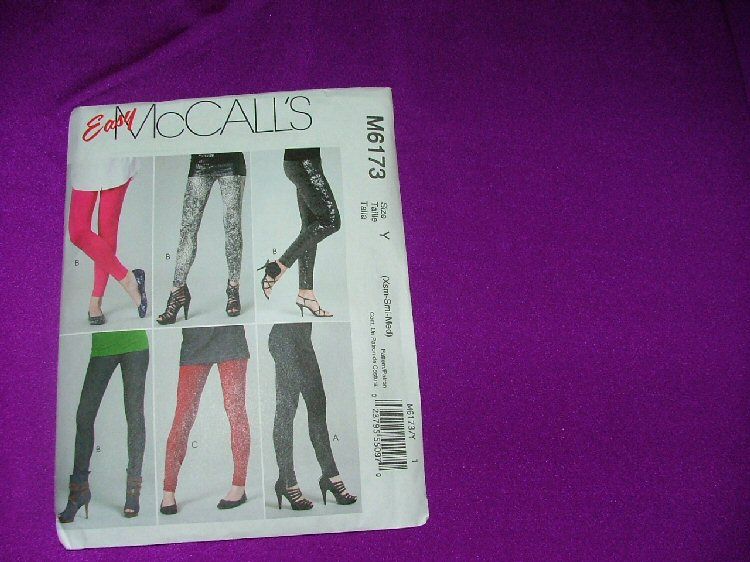 Adding the tie to the left side.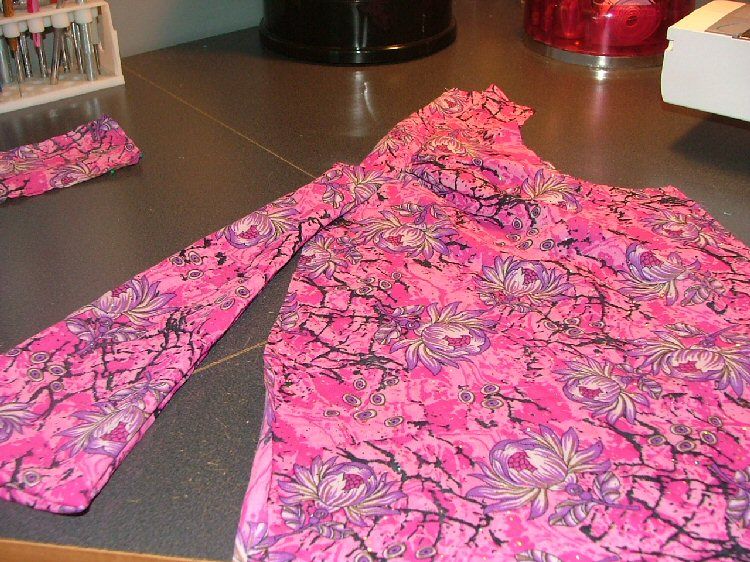 The loop is added to the right side and neck facing is added over that.
Shoulder seams and sides are joined. All that is left is to face the arm holes and hem it. I finish that and cut out my pants pieces.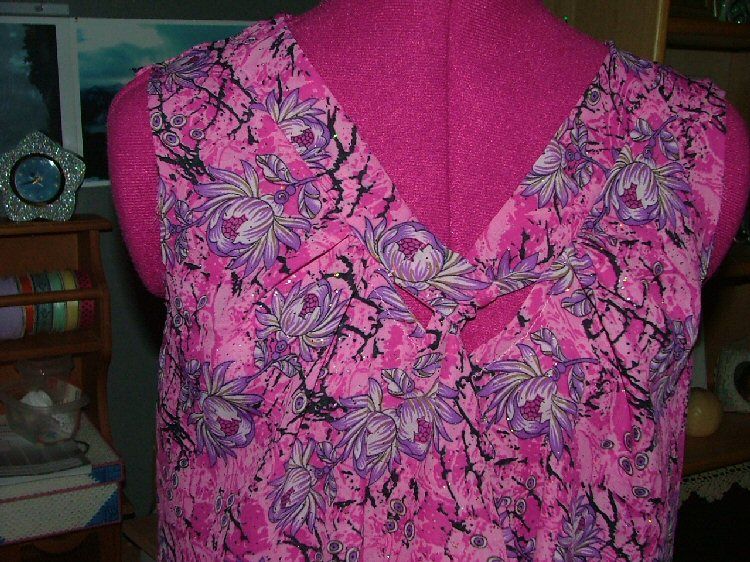 The pants take 30 minutes to make. This is about my fifth time creating these leggings, in one form or another. So, I have it down to a science, I make them with my eyes closed...ok, not really! But, you get the idea. Sew one seam in each leg and join the legs together.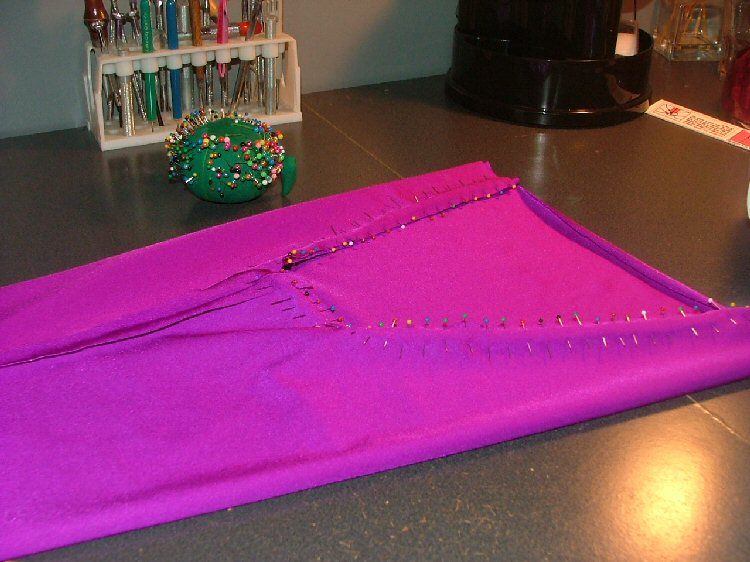 Hem each leg, add an elastic casing at the waist, thread elastic through...done. I had originally thought I'd make these pants, capri length. I changed my mind when I started cutting and went with ankle length instead.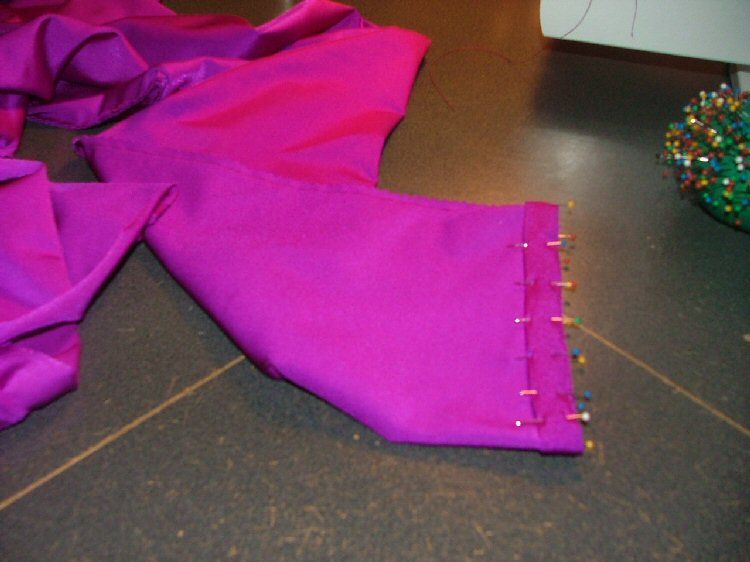 The purple in my blouse doesn't really show up as much as I had hoped it would. I'll most likely, make a different blouse to wear with these pants. Perhaps white with some type of purple swirly design. We shall see.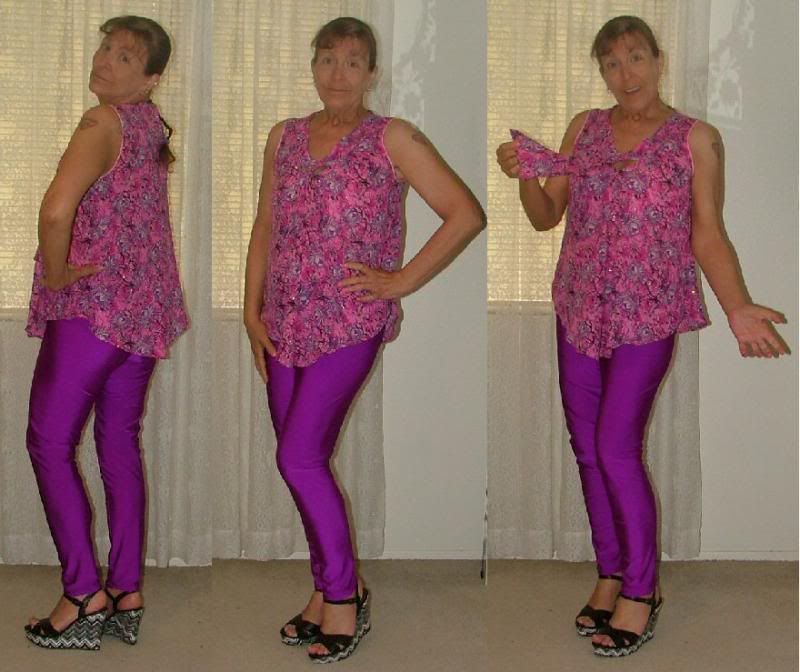 On to the next item. I promised my trainer, Jamie, that I would make him a hat to wear for "Pride", which is at the end o

f

June. I may work on that next!
~Originally posted on May 08, 2013, by Stef~