50% off at PayLess, you say? I'm all over that! Sew, I head down to PayLess and find myself the cutest little pair of 5" Wedges! I purchase them and head home. Guess what? I have absolutely nothing that will really go with them. Yes, I have Black and White clothes but, most are in prints that I think would not compliment the Polka Dots and vice versa. I can do something about that. I'll just find some Polka Dot fabric and make something.
Lo and Behold, JoAnn is having a $1.00 Simplicity Pattern sale. I am in serious Hog Heaven overdrive. I buy 5 new patterns, including #1693, which I'll use for my new top. I also find some Silk Crepe that is Perfect! It and my shoes look like they were made for each other. One view is even shown in Black and White Polka Dot, but reversed colors. I'll make that one. It has a cute Peter Pan Collar and will do nicely! I also buy some white to make my collar out of. In pictures, it's hard to tell, but if you look closely, you can see a pretty floral pattern in the fabric.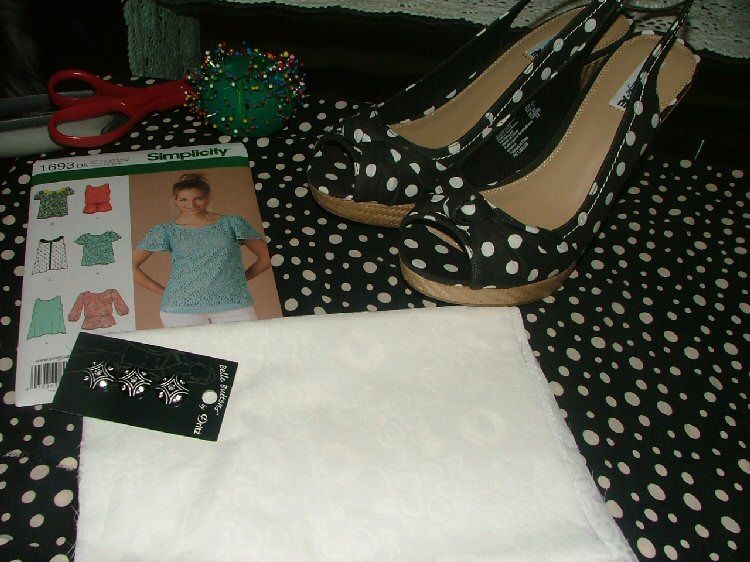 I have all 3 pieces cut out and ready. I start by adding the ribbon detail down the center.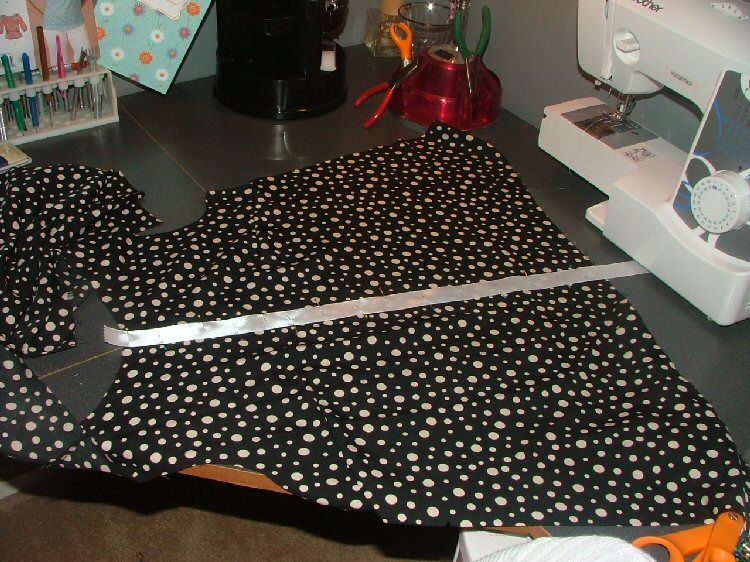 Making the collar and attaching it to my neckline. In this photo, you can see the floral detail of my white fabric, much better.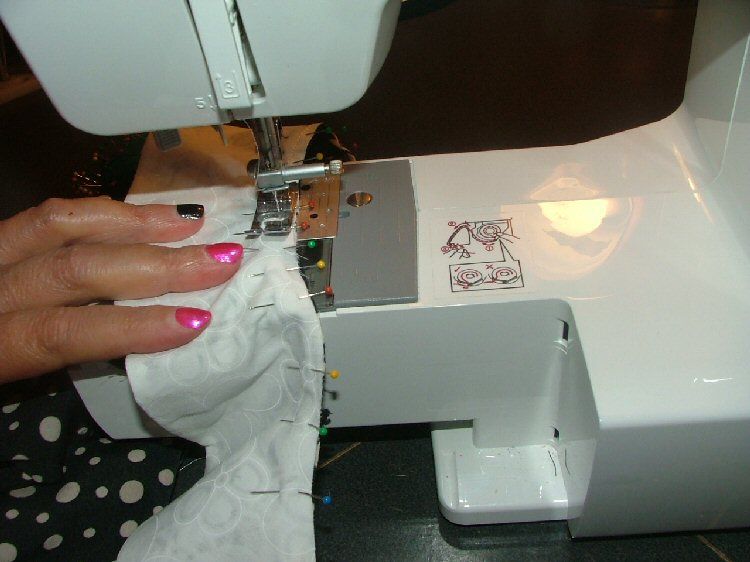 I add bias tape to the neckline.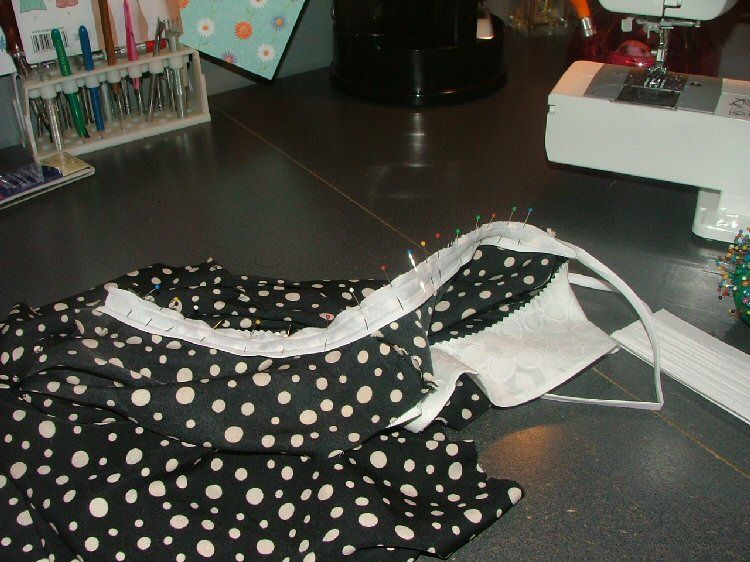 My finished neck with my designer label added, of course! Although the View I'm sewing does not call for buttons, I just like adding them. I like the way it looks, it adds interest. I had originally picked out different buttons to go with it, but the floral details in the collar inspired me to choose others. I had some simple, pretty, Black, flower shaped buttons in my stash. I'll use them.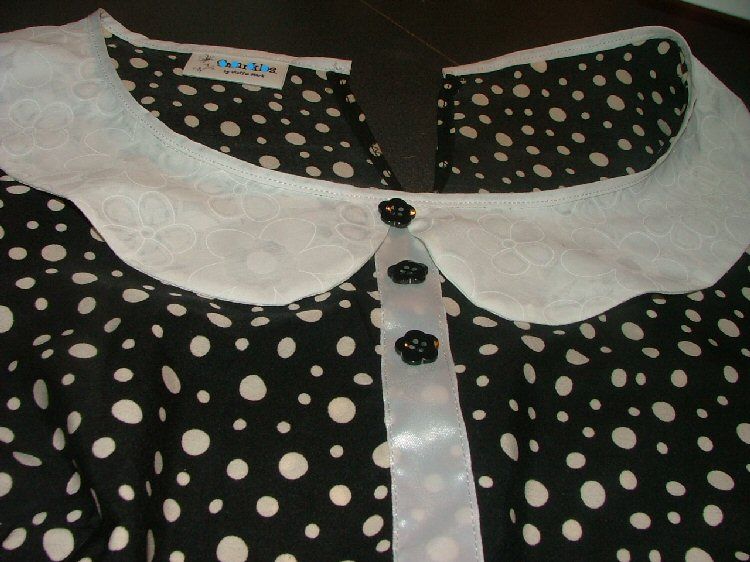 I was just going to sew three buttons on the front and one on the back with a Loop closure. I decided to sew buttons completely down the front, I ended up using 7 on front and one on back.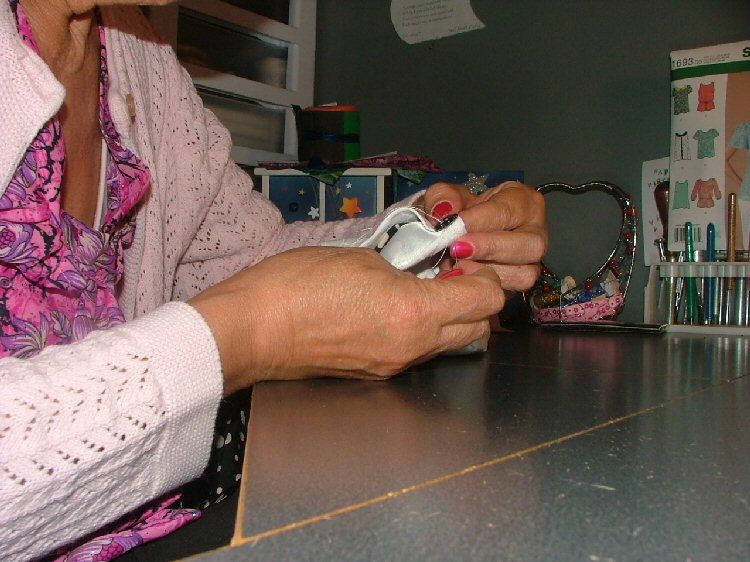 The back, showing my button and loop closure detail.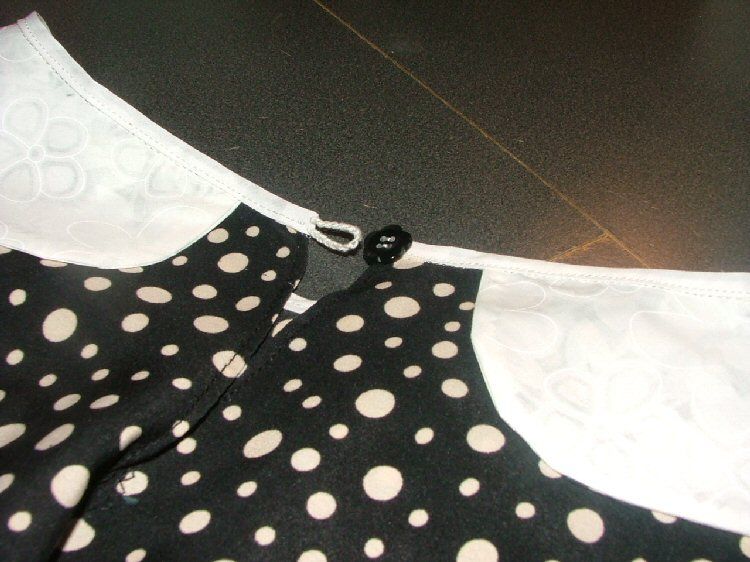 I finish the arm openings. Next, I'll hem it and it'll be a finished top.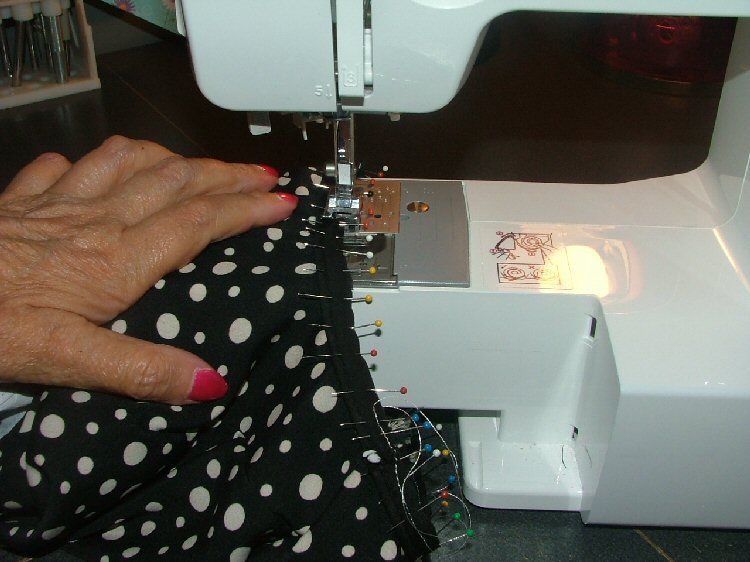 I chose to finish all my top stitching and visible seams in white. I also used white to attach my buttons.
The bottom hem.
The finished front.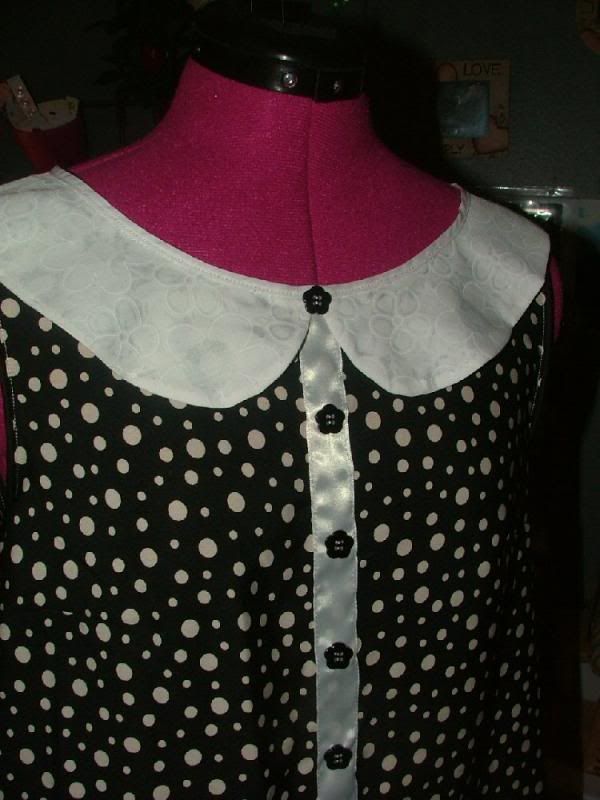 The side view, it fits my Dress Form perfectly. Wonder how it will fit me!?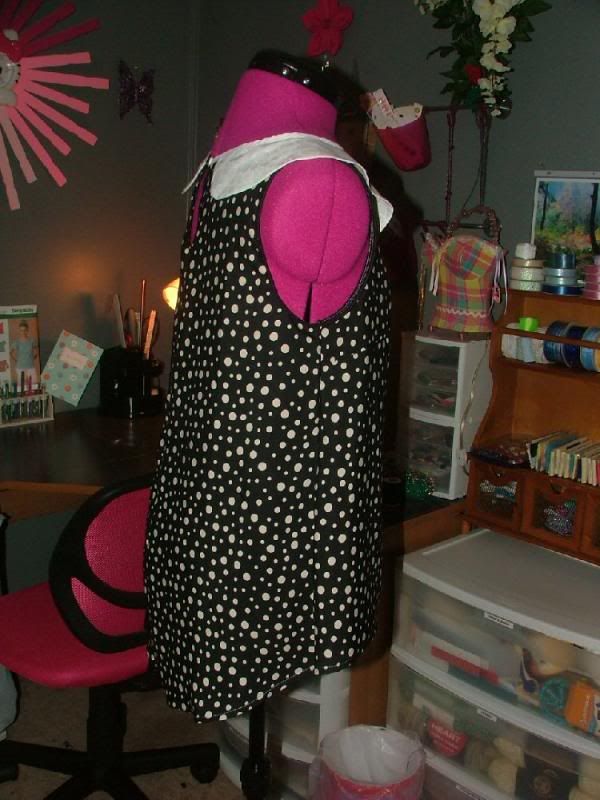 Oh yeah! The Dress Form is MY size! Yeehaw!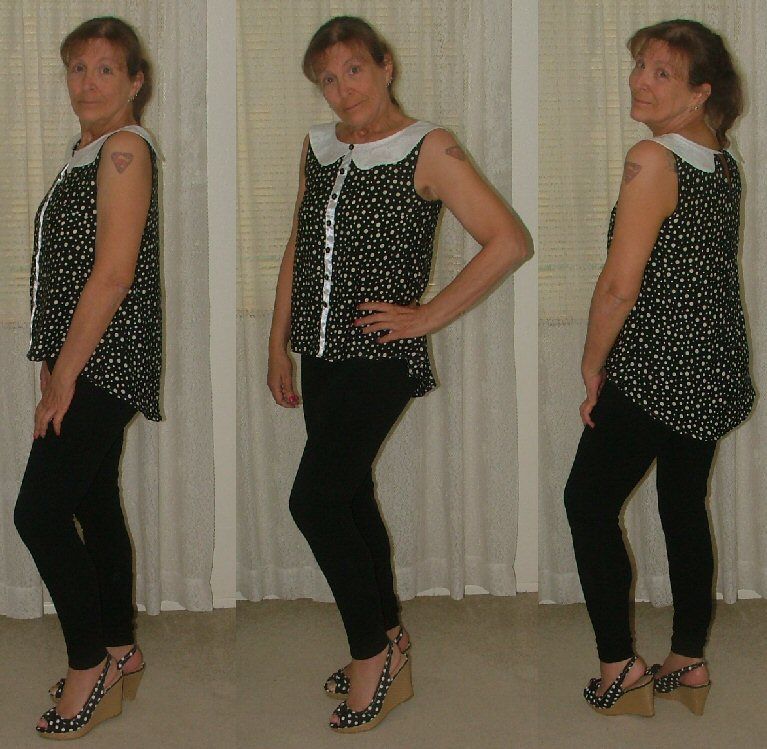 I seriously love these shoes. Now, I love my top, I am almost giddy! Muhahaha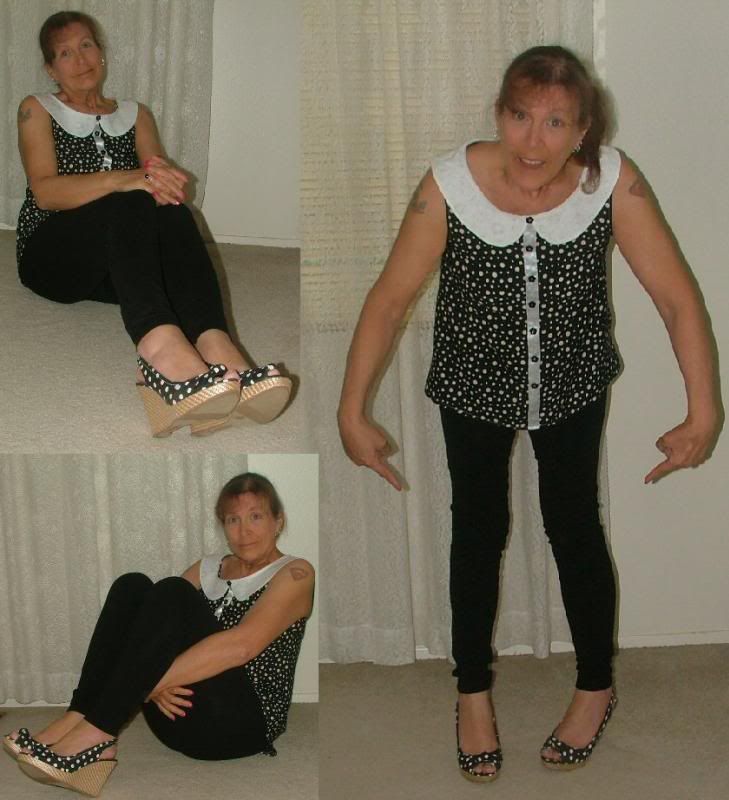 Polka Dot...Polka Dot...Afro Circus!
~Originally posted on May 26, 2013, by Stef~