Since I began my quest for health and fitness, I have totally changed my eating habits. I like the food I eat now, much better than the crap I ate before. This is my recipe for Steffie's Turkey Taco Stew. We had been calling it "Chili", but it really doesn't resemble chili. So, I changed it's name. I also changed some of the ingredients since I originally came up with it. Rick and I have tested each version since last year and this is the one we really love the best! It is a tiny bit spicy, but not too much. If you feel it might be too spicy for you, substitute one can of the tomatoes with Chipotle Chilies, with a can of regular stewed tomatoes. It won't really change the Macro-nutrients, just cool it down a bit. But, definitely try it this way first, it's really not hot. I cannot handle hot and I love this!
I gather all my ingredients. The entire list can be found below, in the actual recipe list, with Nutritional Values included.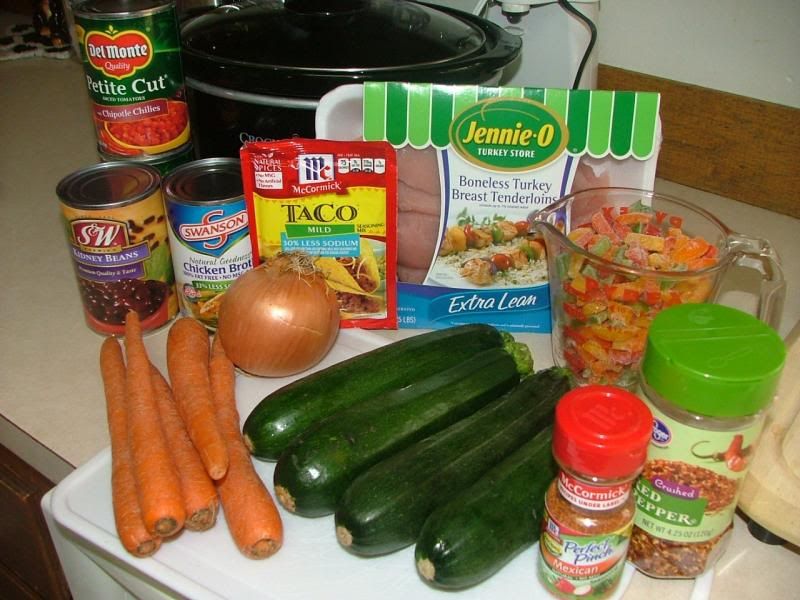 I clean and slice or dice all my vegetables. I always chop my Bell Peppers, when I buy them. If I don't, they mostly go to waste. I chop and freeze them for later use. This works great for me and I don't waste anything!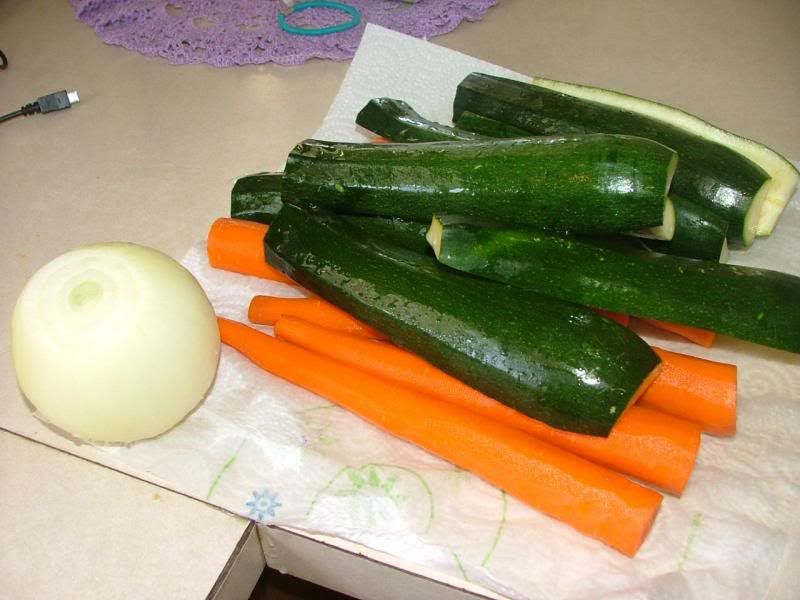 I saute' my chopped/sliced vegetables, in a little PAM. I do this because it'll cook it down a bit, to fit in my Crock Pot better, cook some of the water out of the Zucchini and I like it a little browned, it adds flavor. I also brown my Turkey Breast Tenderloins in PAM.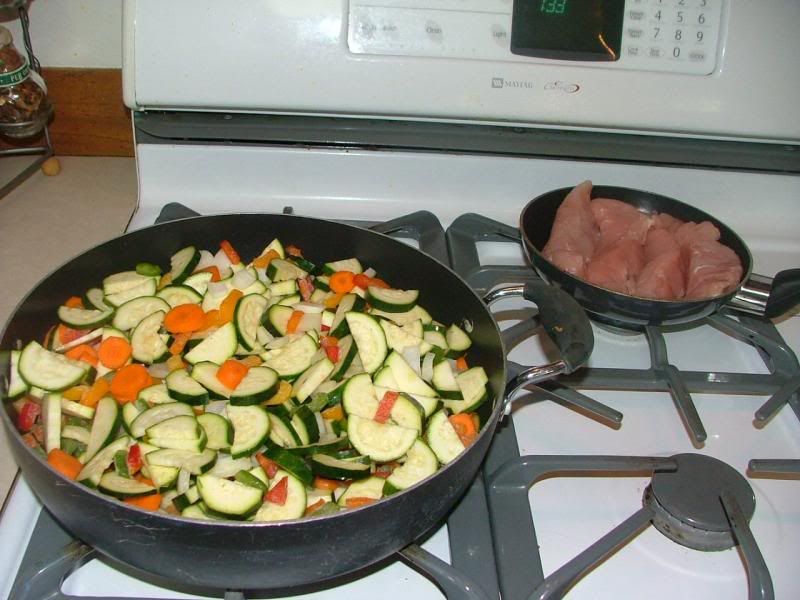 While that's cooking, I mix all my liquids and spices in my Crock Pot. 1 can of drained Dark Red Kidney Beans, 2 cans of Diced Tomatoes with Chipotle Chilies and 1 can of Swanson Chicken Broth. I use Reduced Sodium on anything I can. I add 1 Teaspoon of McCormick Perfect Pinch Mexican Seasoning, 1 Teaspoon of Crushed Red Pepper Flakes and 2 Tablespoons (1/2 a package) of Mild Taco Seasoning.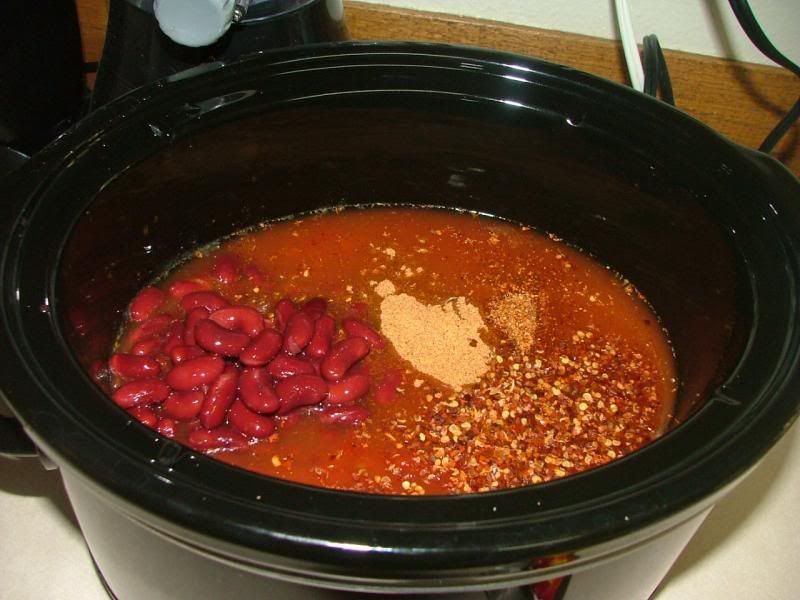 My veggies are cooked down and my turkey breast is nicely browned.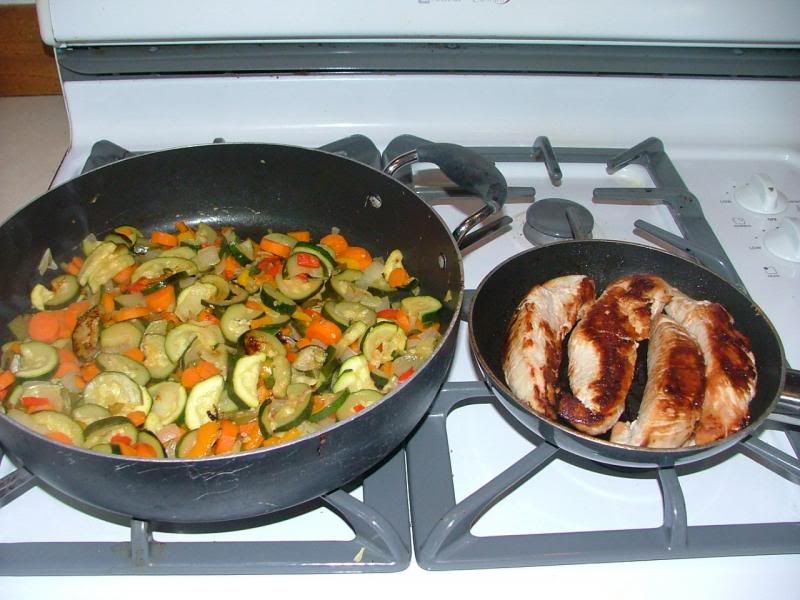 I pour in the veggies and mix it all together.
I just lay the Turkey Breasts on top. No need to cover them with the liquid. Cover it and cook it on High for about 6 hours. You can cook it on Low too, but you'll have to add a couple more hours to the time.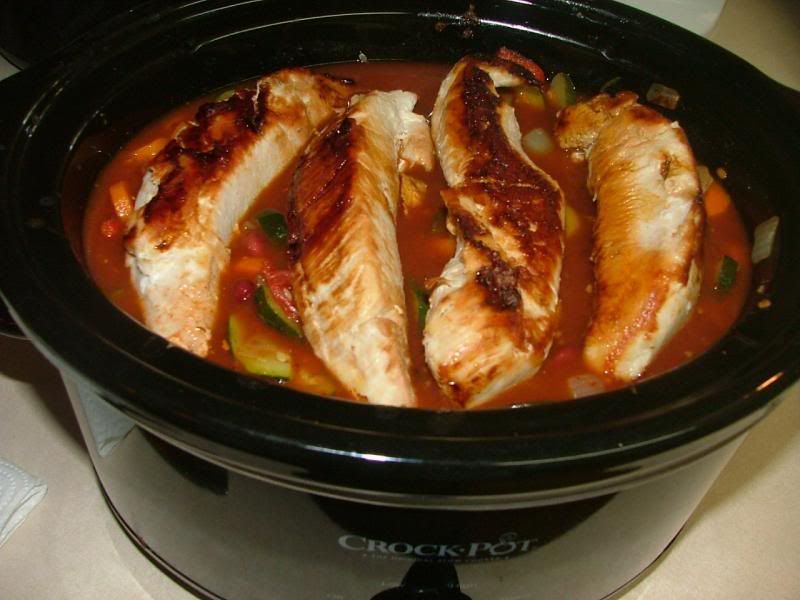 This is the Nutritional Information for this dish. The top line shows for the entire pot. The bottom line is for a Hefty 2 Cup serving. We like to sprinkle about 1/4 cup of GV shredded Fiesta Blend cheese on top. That adds about 28 more calories.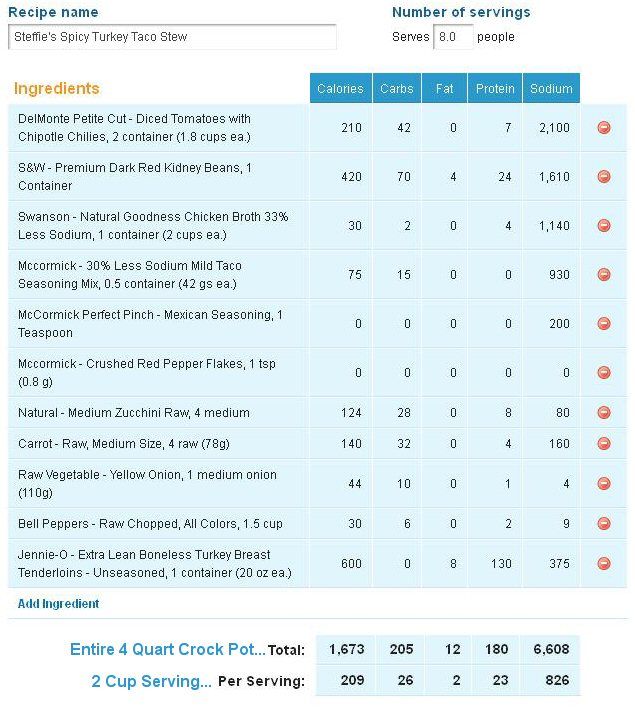 When you're about ready to eat, remove the Turkey Breast Tenderloins onto a plate and using two forks, pull it apart. It's tender and falls apart easily. Return it to the Crock Pot, stir it in, serve it up and enjoy!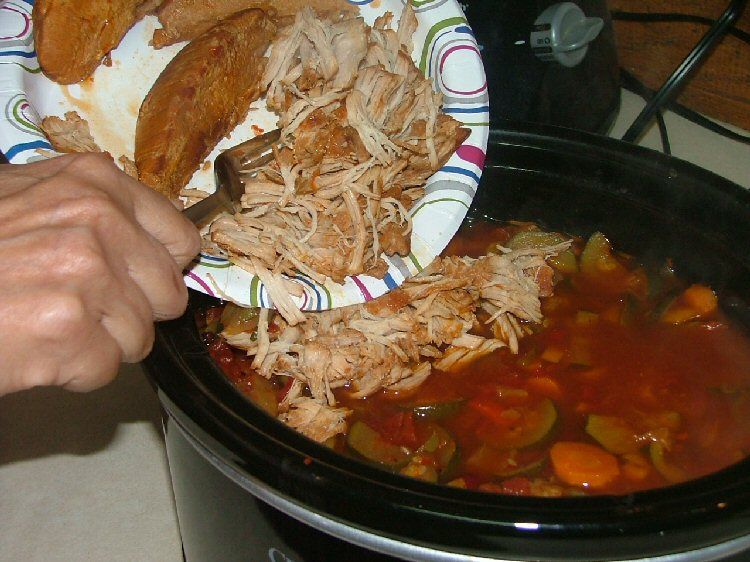 Oh yeah baby! Hot and steaming.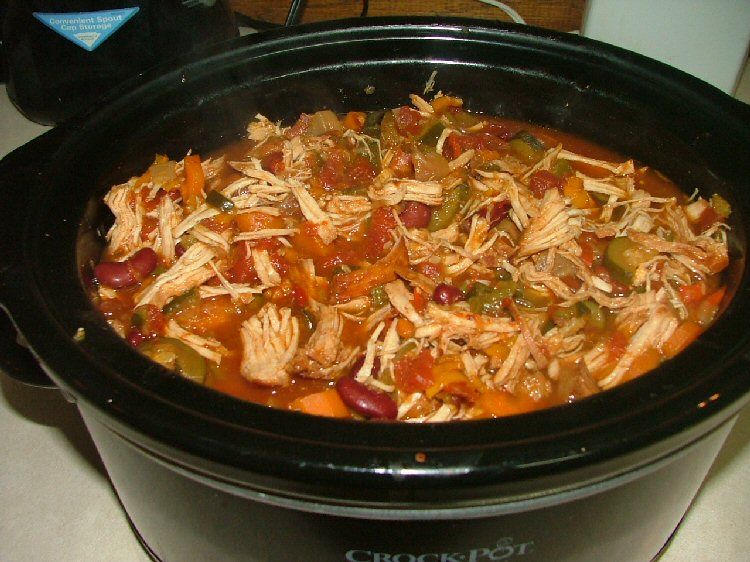 This is one, 2 cup serving with .25 cup of cheese on top. Mine!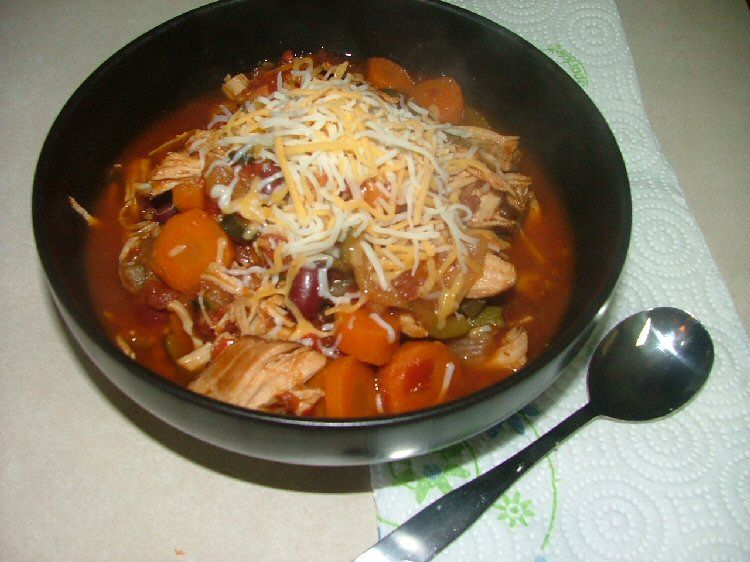 It hits about 12 on the old Yum-O-Meter!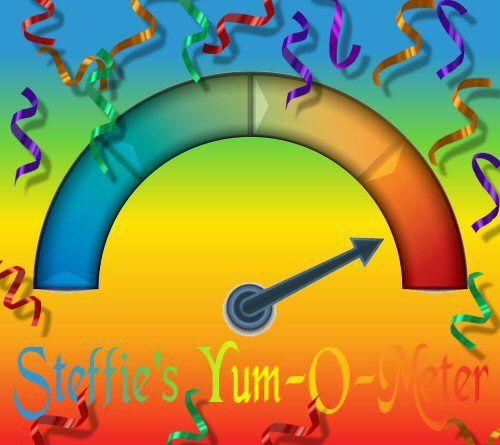 ~Originally posted on May 14, 2013, by Stef~