While shopping on Sunday afternoon, I saw a Clearance rack at our local Super Store. Low-Rise, Skinny jeans on sale for $11.00 in the Junior Department. I couldn't pass it up. Since losing weight, my pink skinny jeans are too large. (I picked up a new pair in Pink too!) And, I didn't have any Green ones. I do now! One problem, I have nothing to wear with Green, besides white. I'm out to change that. After a quick run to JoAnn, I have the fabric to make a blouse to match them.
I chose New Look #6186, View D, a Peplum style blouse with a gather at the waist and drawstring ties. My fabric is a lightweight cotton blend, white with tiny green flowers.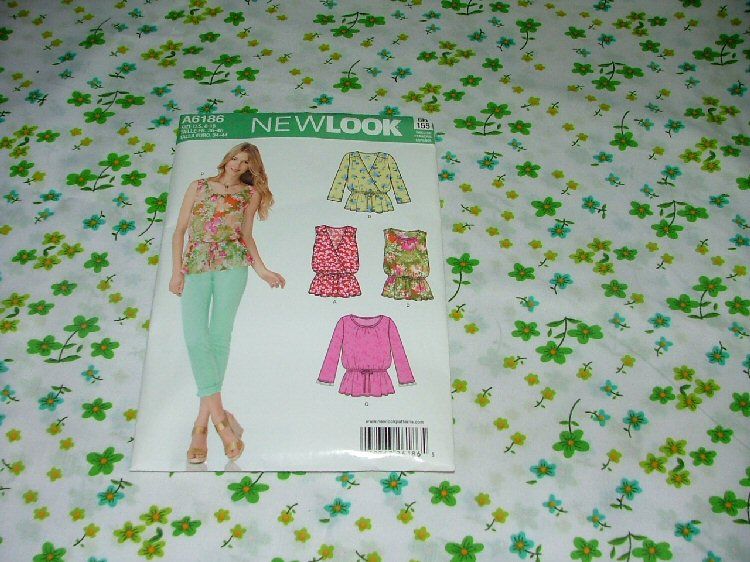 The neckline calls for small gathers. I'm not sure I'll like this feature. We'll see after it's finished.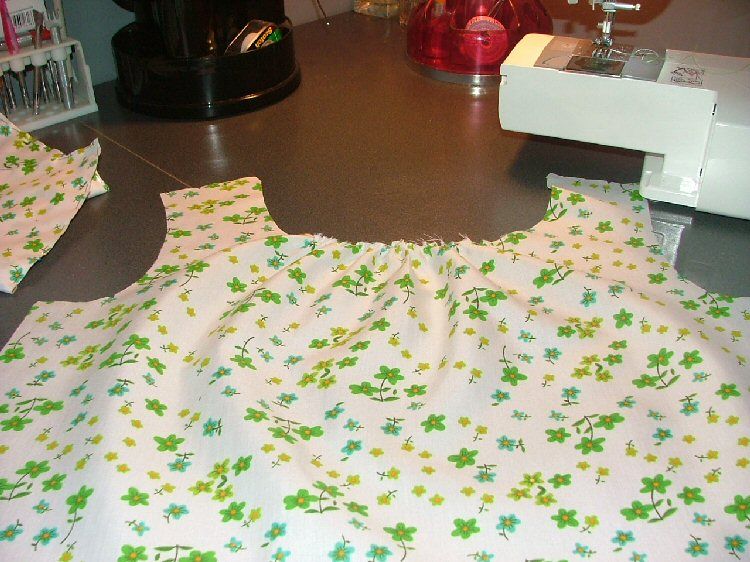 The front and back are joined together.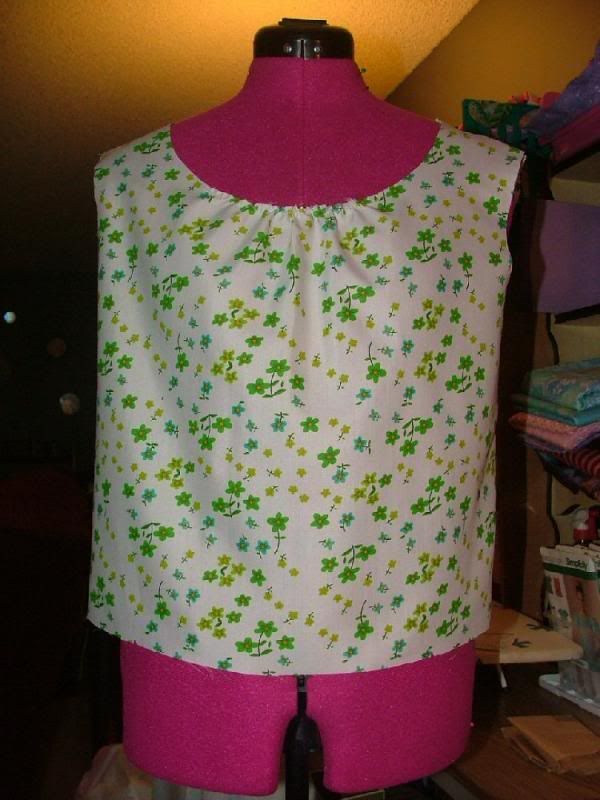 I make the peplum and pin it in place.
There isn't a ton of sewing on this top. I hemmed the peplum and sewed it on.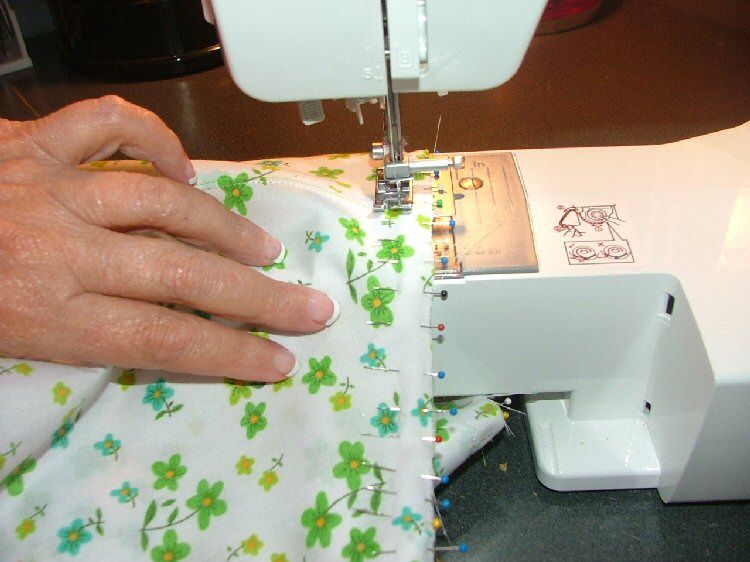 It's almost completed. I just need to finish the arm and neck openings, add a casing and drawstring and maybe add some buttons as decoration. I do love nonoperational buttons, after all.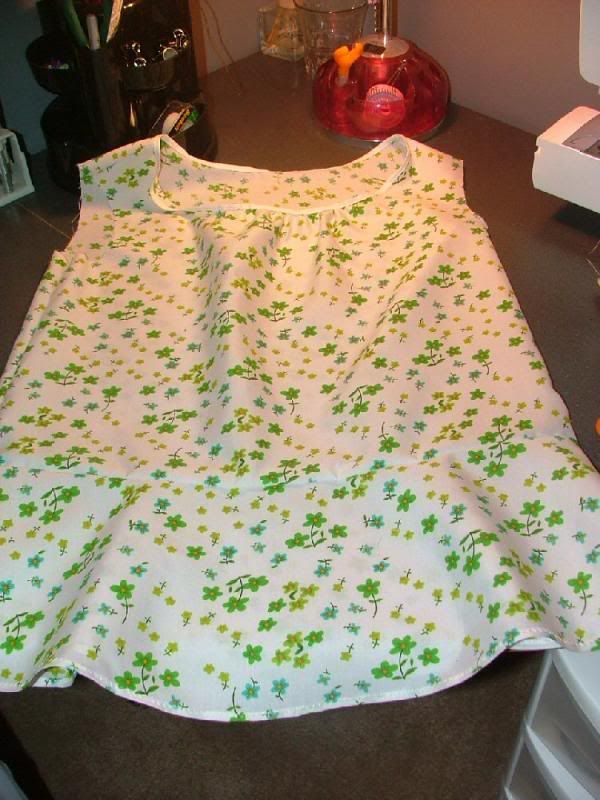 I add the drawstring casing around the top of the peplum.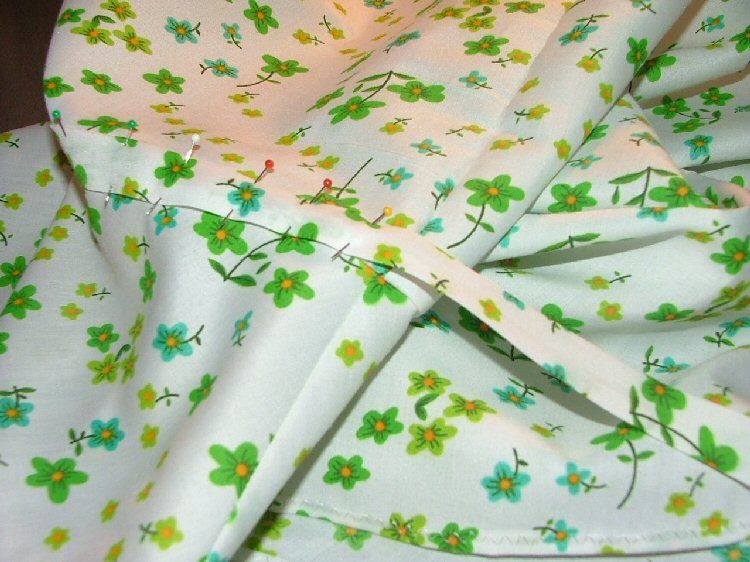 I add elastic in the back and cord in the front. The instructions called for me to make the drawstring from matching fabric. I preferred it to stand out more in contrast. So, I used bright green parachute cording. The only problem with that would be unraveling. Melting the ends would fix that, but look ugly.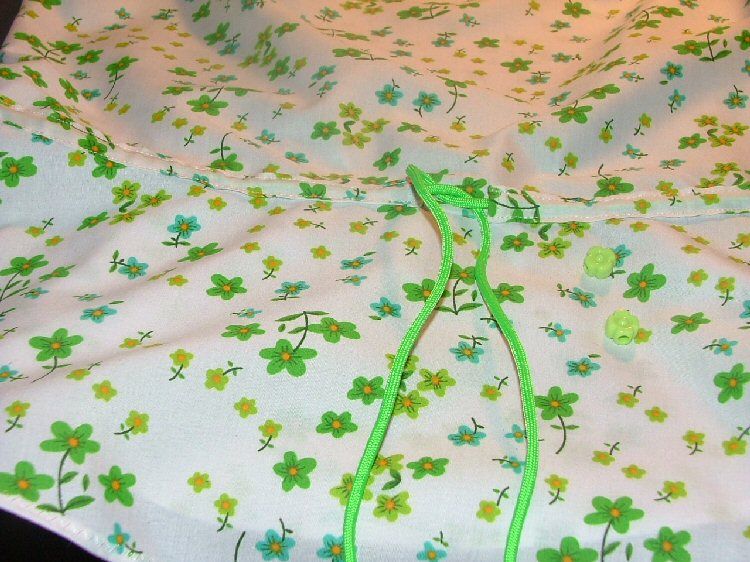 But, melting the ends inside pretty green beads would be more pleasing to my eye. That's what I did.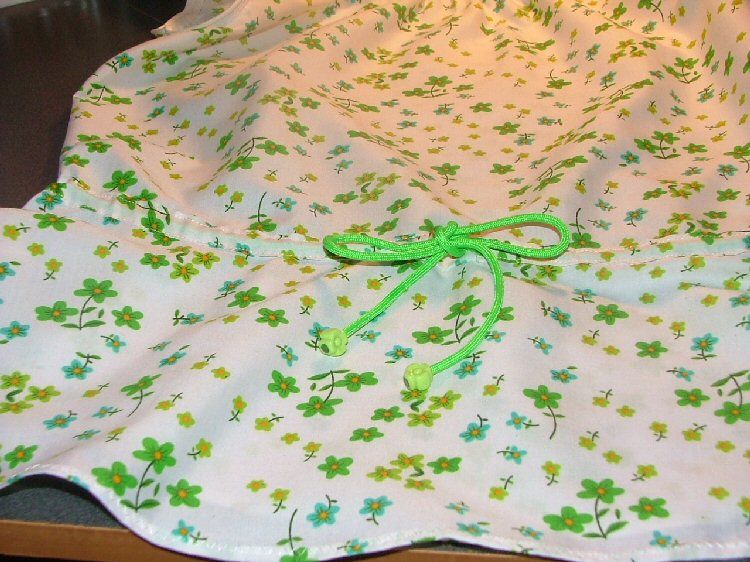 A closer view of the drawstring finishing.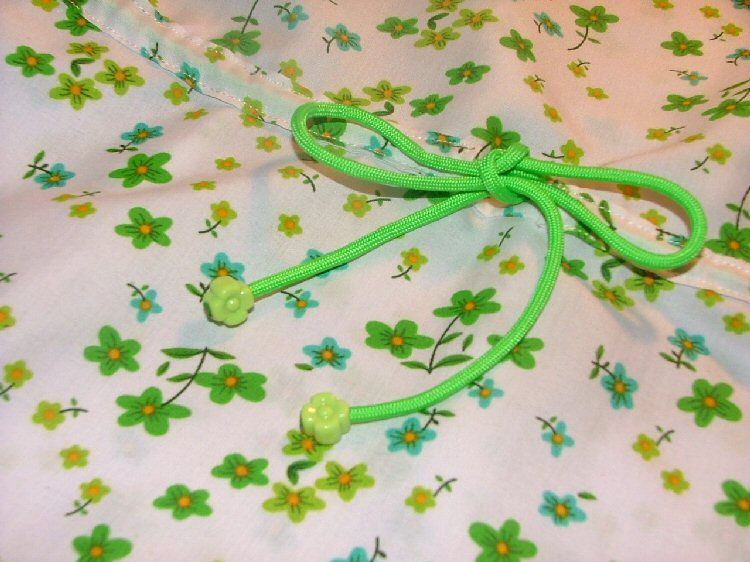 Now for my nonoperational buttons! Might as well go all out with the green!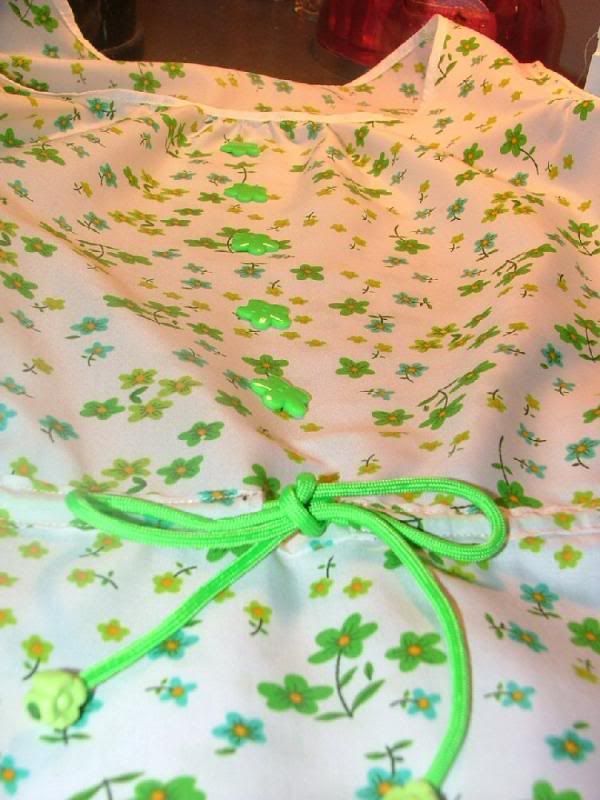 I like it. I think it goes very well with my new green jeans. The only trouble now is...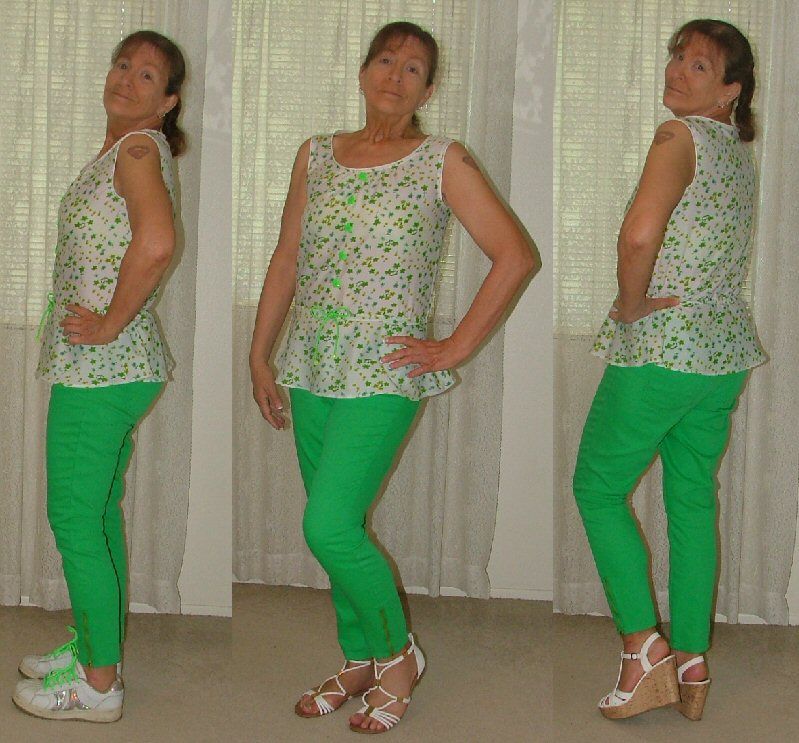 I'm having a Shoe Identity Crisis! Which to wear? I really love them all. But, something about the 5" wedge heels that really change your posture and make your whole body look better, I think! I tried to pose exactly the same in each photo. The heels make my bumm perkier! Muhahaha I'm all for a perky bumm!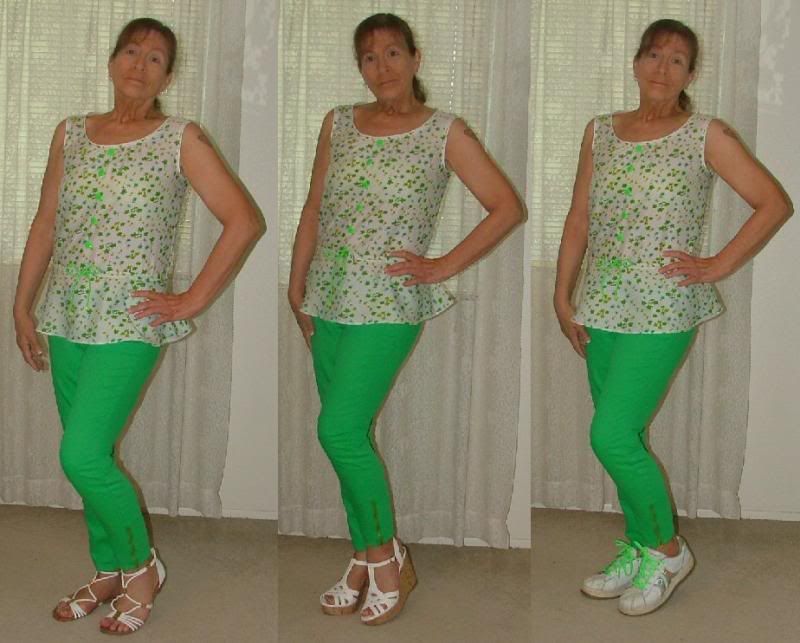 I'm not sure I'm loving the buttons. Oh, I love the button color and flower shape. I like how they contrast and add interest to my otherwise plain looking front. It's just the gathering at the top makes the top button all wonky, which makes all the rest look crooked to me. I might go back and remove them or flatten out the gathers under the top one.I'll wear this from time to time. I love the green, it is really my only green outfit. I'll have to make more!
~Originally posted on June 04, 2013, by Stef~