Saturday, June 22, 2013, our first hike now that is officially SUMMER! Yeehaw! The Lime Kiln Trail is carved out of the Everett & Monte Cristo railroad grade and features gurgling creeks, an historic lime kiln, twisted iron railroad railings, and a walk down to the banks of the thunderous Stillaguamish.
Rick and I headed up with Vic, Joe and Shannon. I had been looking forward to Lime Kiln since last fall. My injured toe caused us to cancel a more difficult hike last weekend. This weekend, it's still injured, I just taped it up and hoped for the best. The elevation gain is less on Lime Kiln Trail, so I'm thinking it'll be alright!
790 foot total elevation gain and 8.54 total miles. A beautiful hike! I had looked forward to this hike for months. I was not disappointed. It was awesome! The weather could not have been better if I had ordered it this way. The company was stellar, Rick of course, Vic, Joe and Shannon. Joe and Vic are brothers, Shannon is Joe's lady! Of course, I was there too. Tomorrow, June 23, is Vic's 38th birthday. So, this was his birthday hike. Happy Birthday, Vic! So glad we could spend it with y'all. Such great people and fun to be with. Satisfying day, to say the least.
The Lime Kiln Trail not only takes you deep into a lush and remote canyon carved by the South Fork Stillaguamish River, but also leads you deep back into history. Developed almost entirely by volunteers, this delightful trail serves up a unique journey into the heart of Snohomish County's 970-acre Robe Canyon Historical Park. The fairly new park protects over 7 miles of frontage along the South Fork Stillaguamish, as well as preserving an old townsite and a century-old limekiln. The kiln, located 2.6 miles up the trail, is a 20-foot tall stone structure once used to cook limestone. The powdered lime was then transported by the Everett and Monte Cristo Railway to smelters and mills in Everett. Built in 1892 and abandoned in 1934, a section of this rail line has been resurrected as part of the Lime Kiln Trail.
Vic, checking out the path, at the trail head.
Starting our day. We began at 10:00am and hiked 4 hours total. 2 hours in, 2 hours out. We spent 30 minutes or so at the river.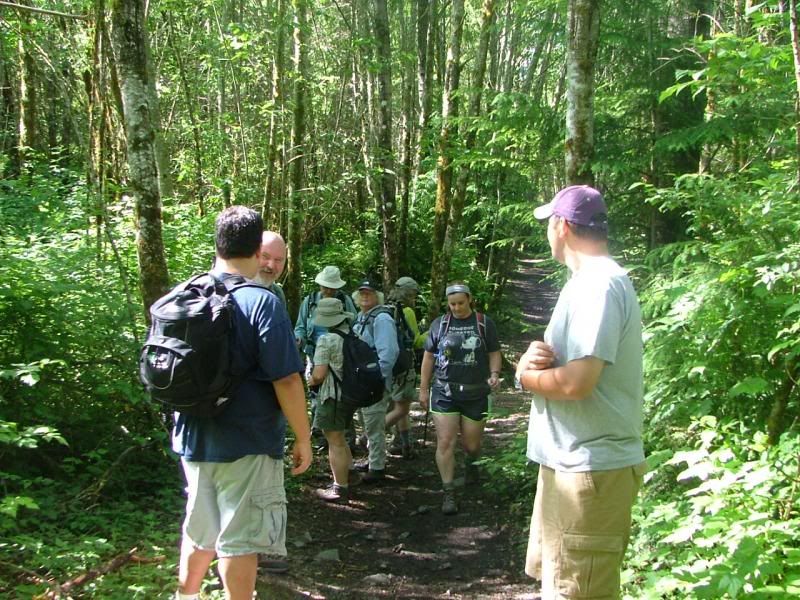 Joe, with Vic and Rick behind.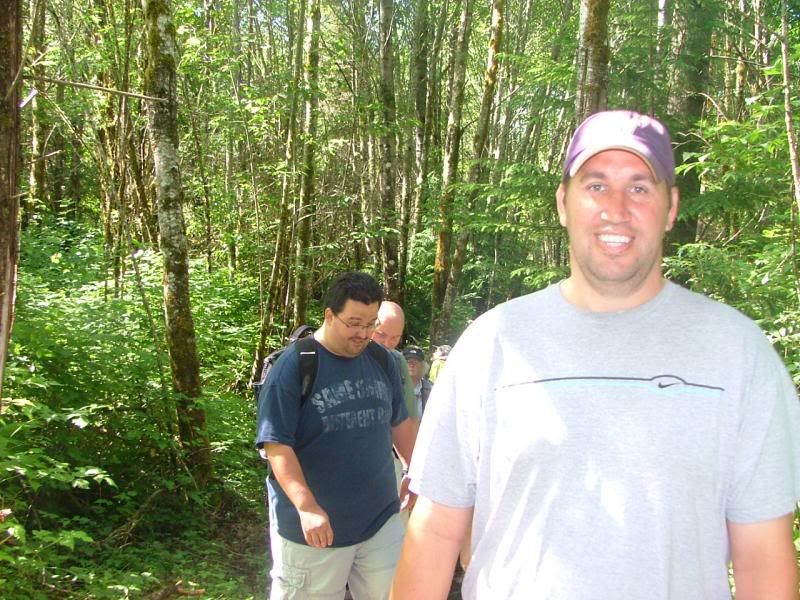 Signage!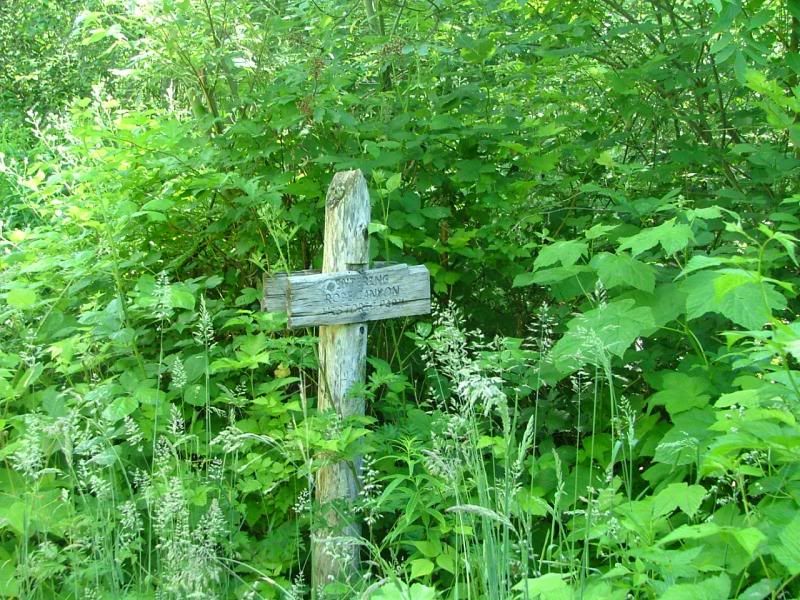 Vic and Rick! Trying to hold hands. We finally had to separate them! haha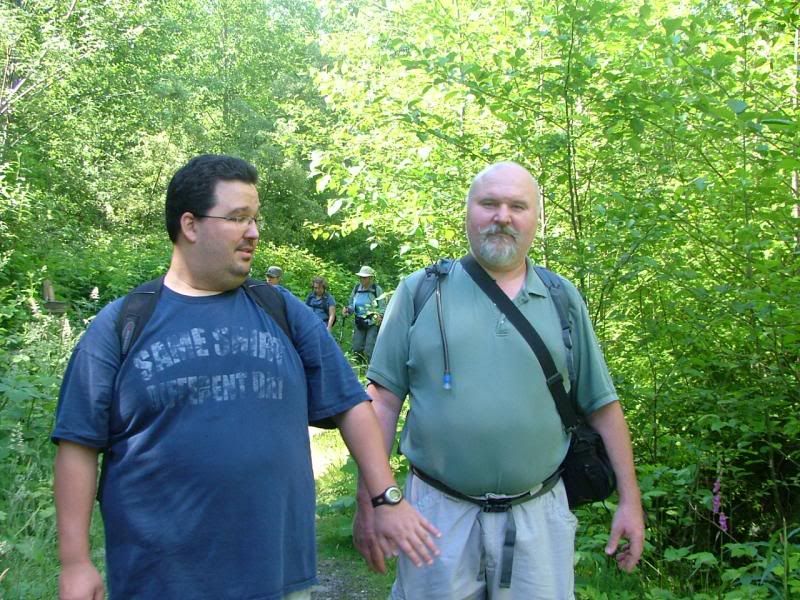 Joe and Shannon, leading the way. Shannon was our Navigator for most of the day. We all took short turns at it, but Shannon led the most!
Rick and Vic, playing with Rick's new "Evidence Cam"!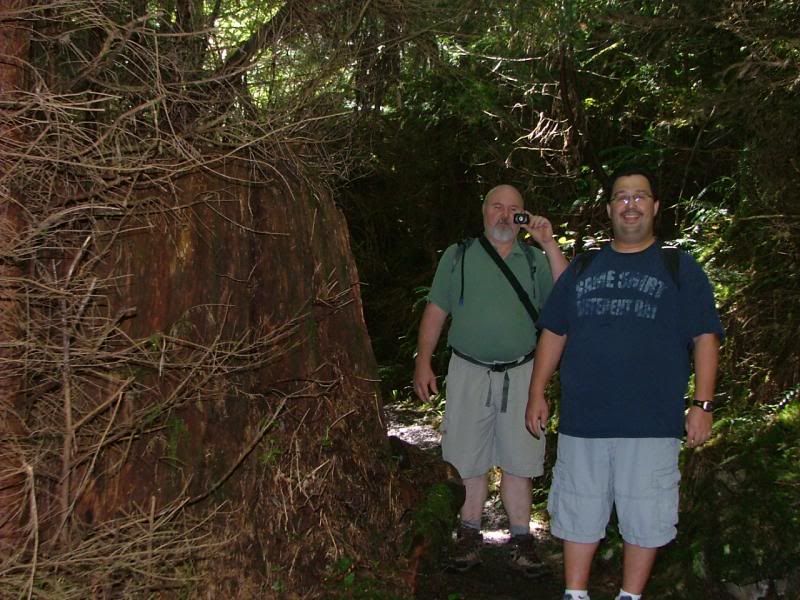 One of many bridges.

Some were very narrow and small.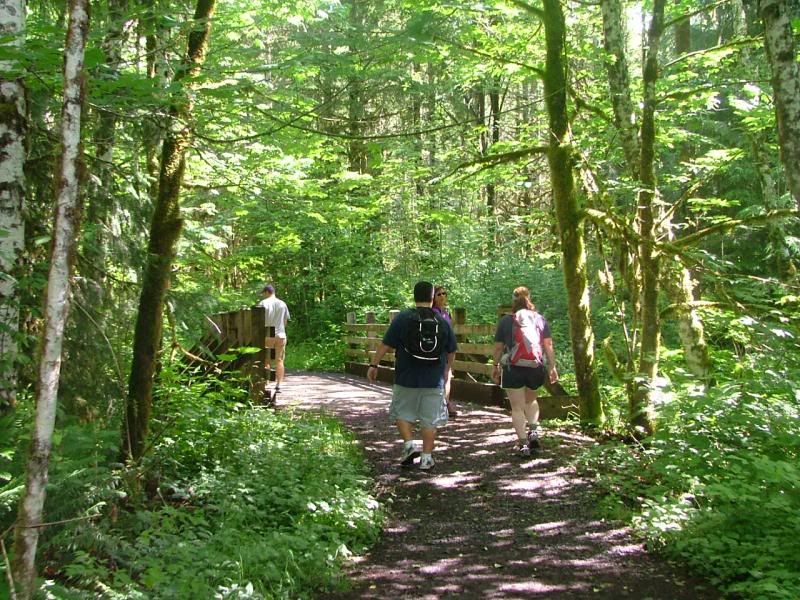 Is there water down there?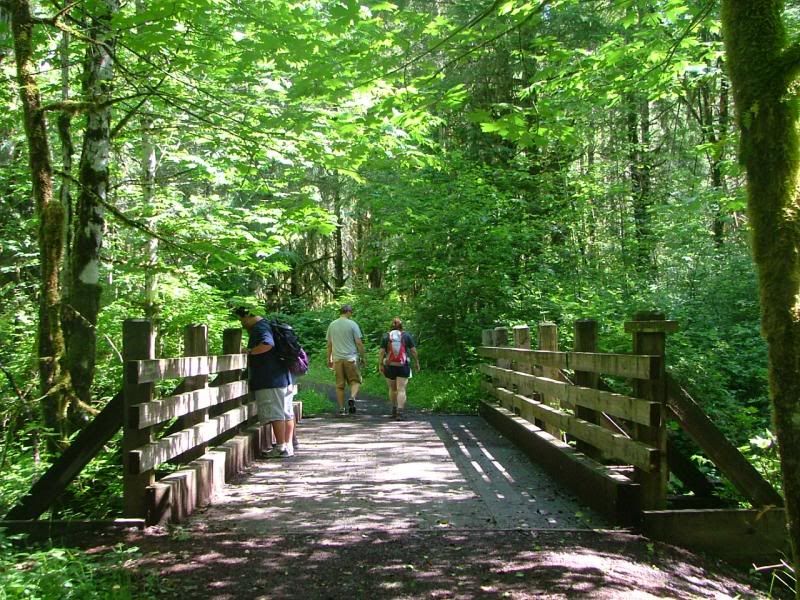 Stef, all fuzzy!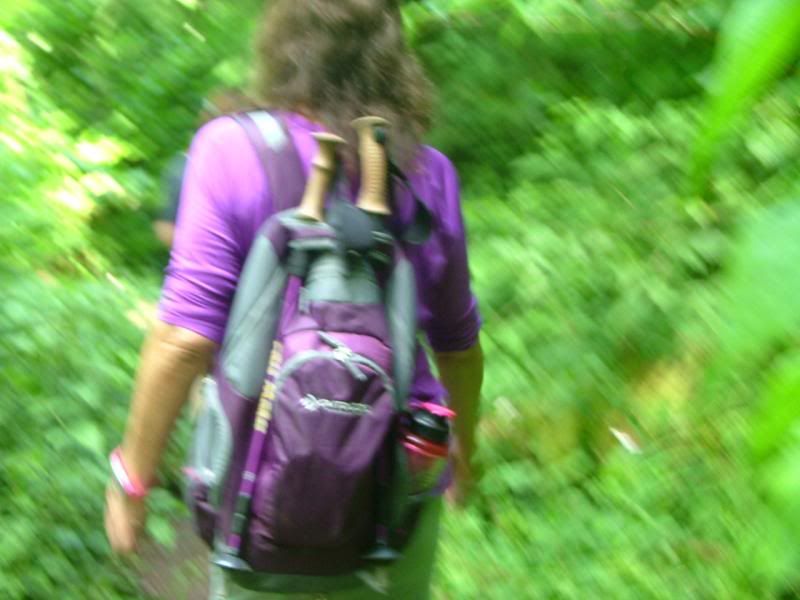 Salmon berry!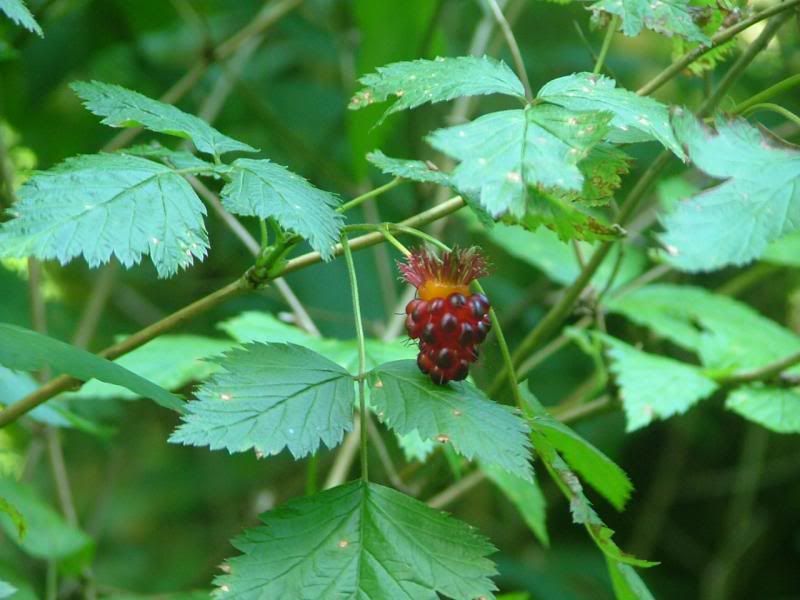 Most of the trail was very narrow and grown up quite a bit. A machete would have come in handy!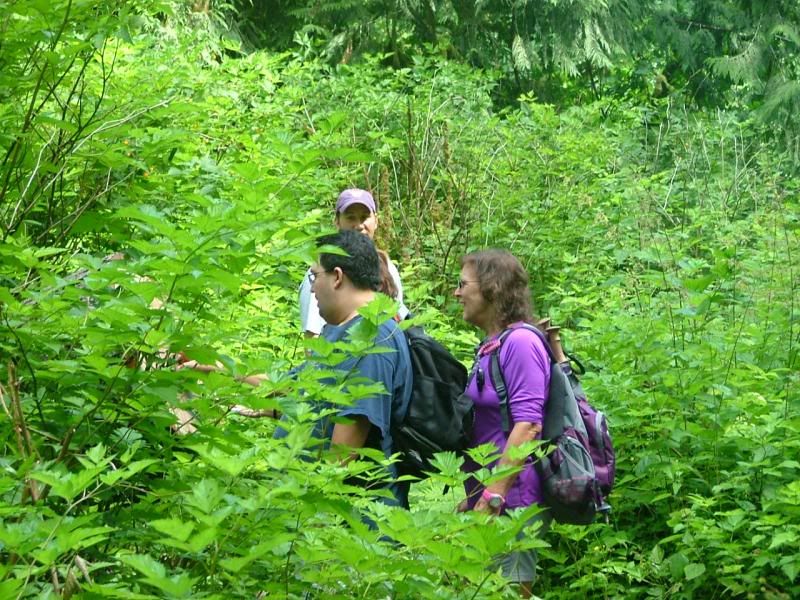 Stef on another bridge.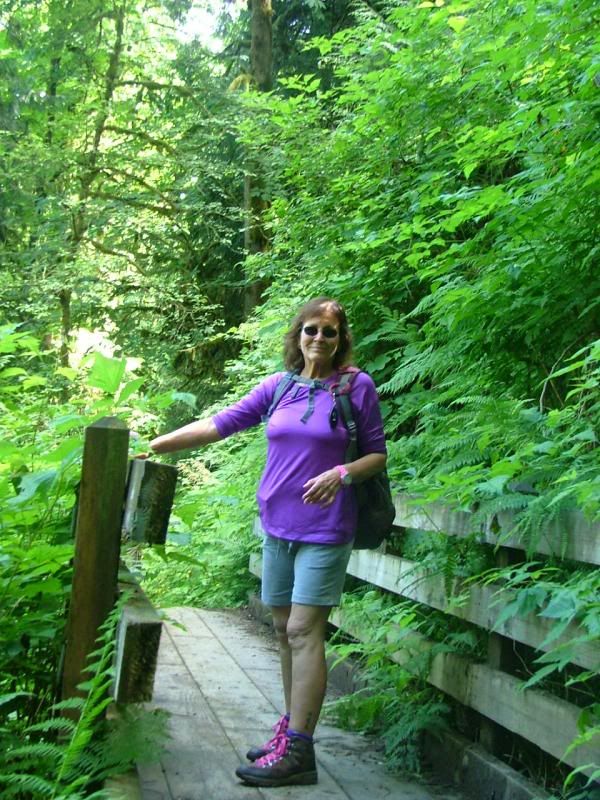 The Birthday Boy!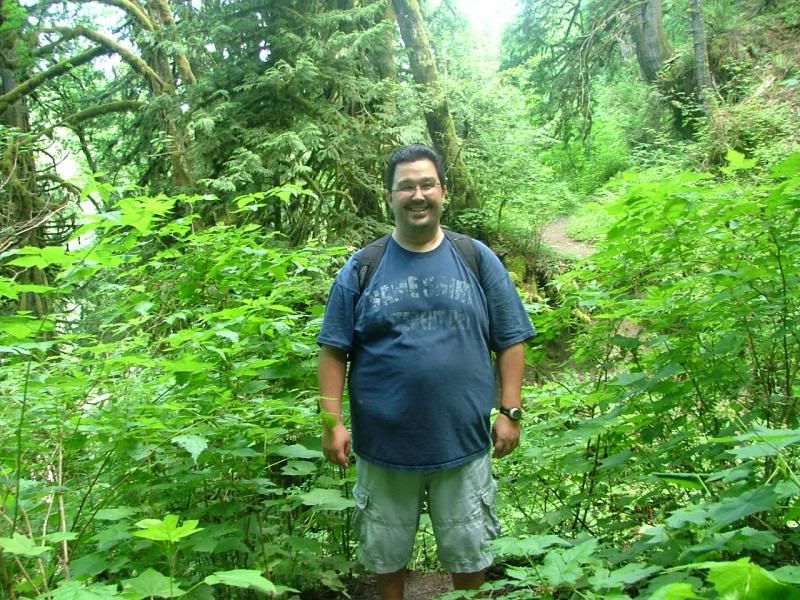 Victor! Look! Ooooooh Shinies!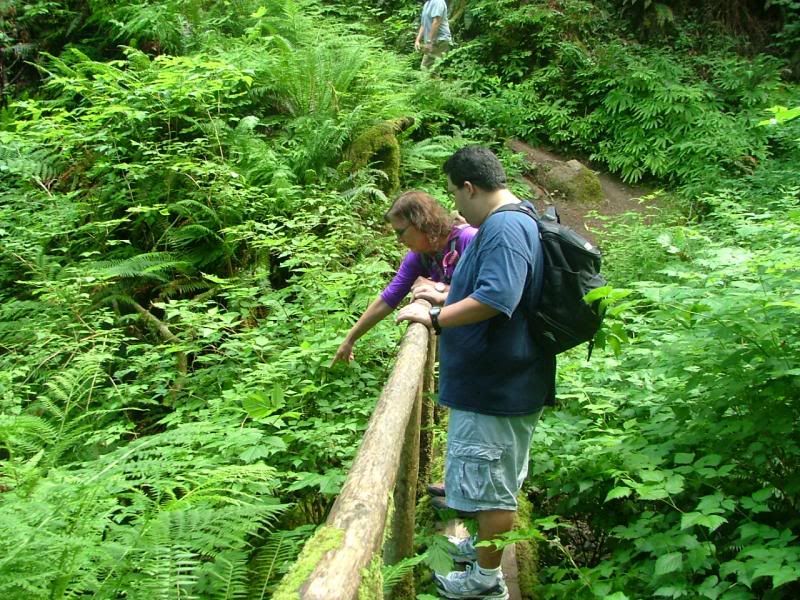 Nearing the river, below us.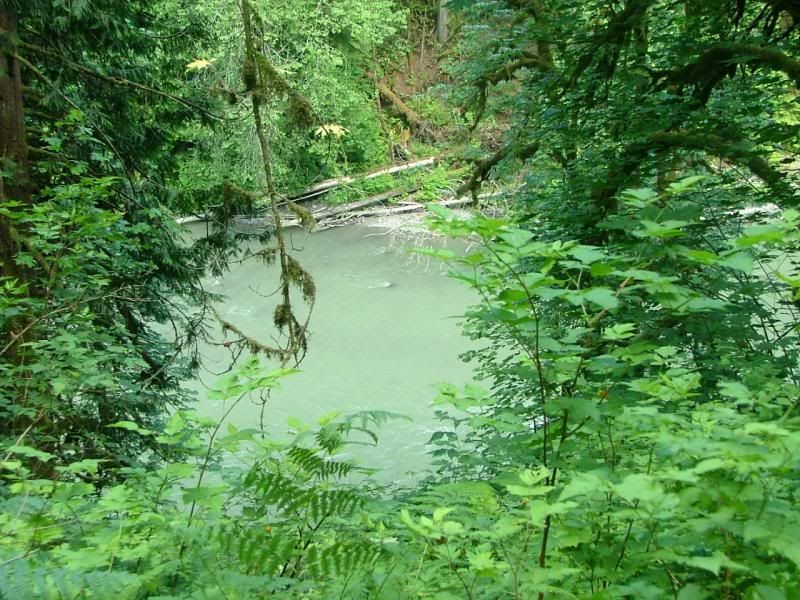 Stumped?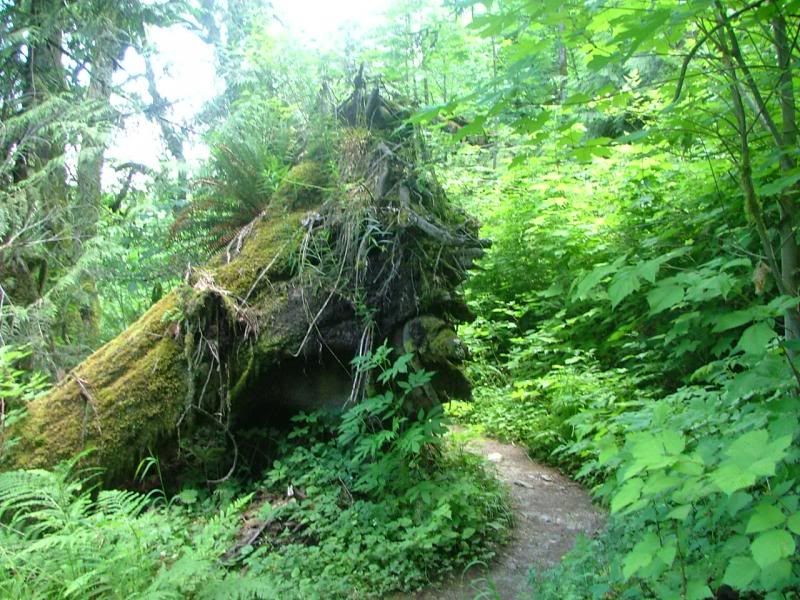 One of many blow downs. Most were pretty easy to get, around, under, over.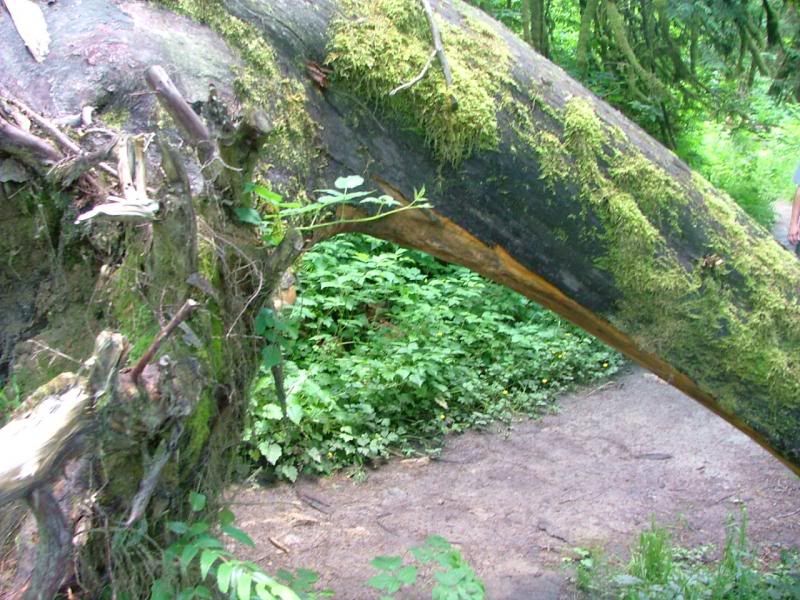 Berries. I wonder if bears like these?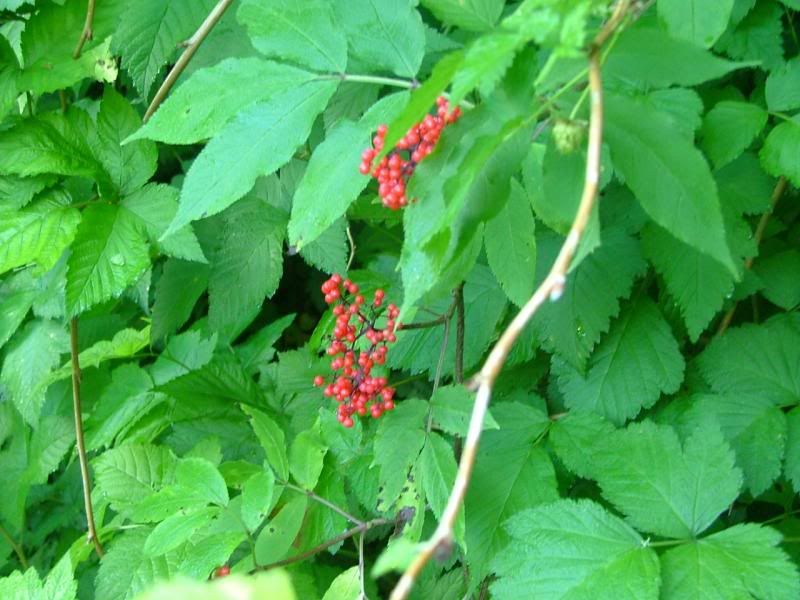 Stef and Vic.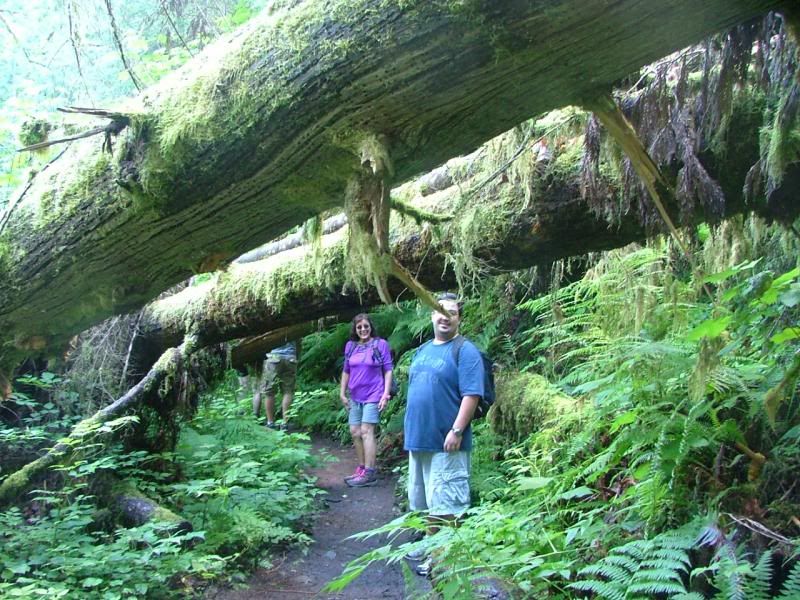 An old abandoned saw blade.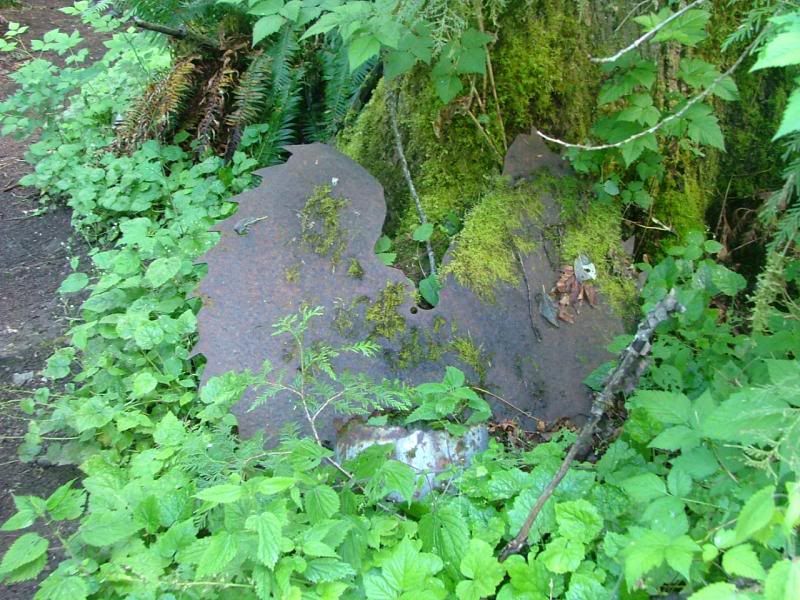 Stef and Vic, approaching the old lime kiln.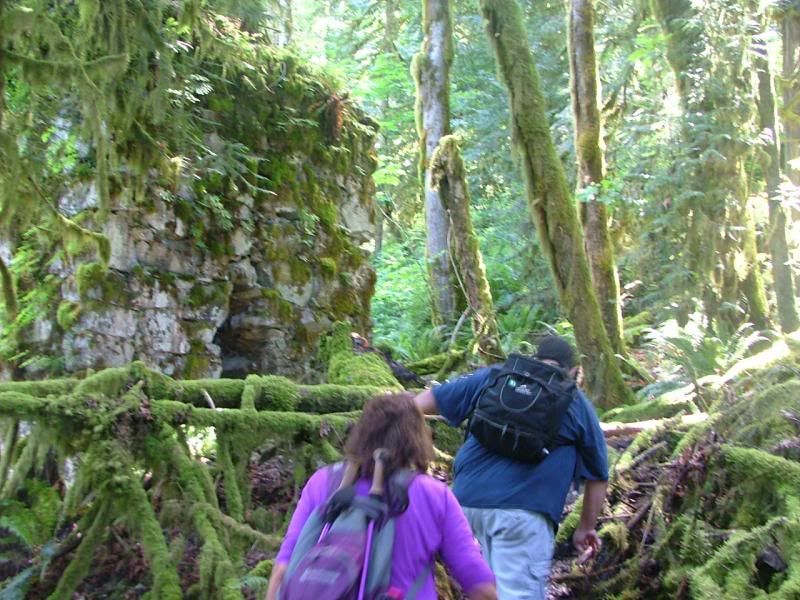 It's very large.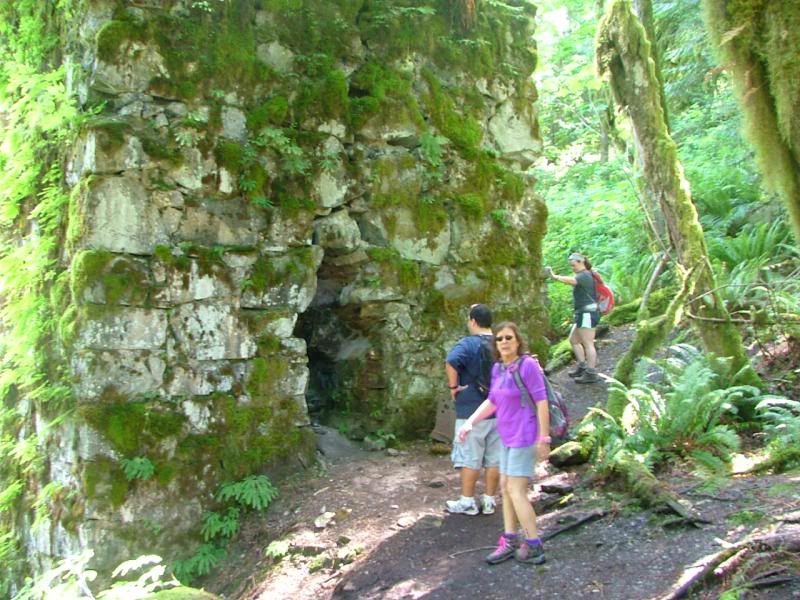 Stef and Shannon at the kiln.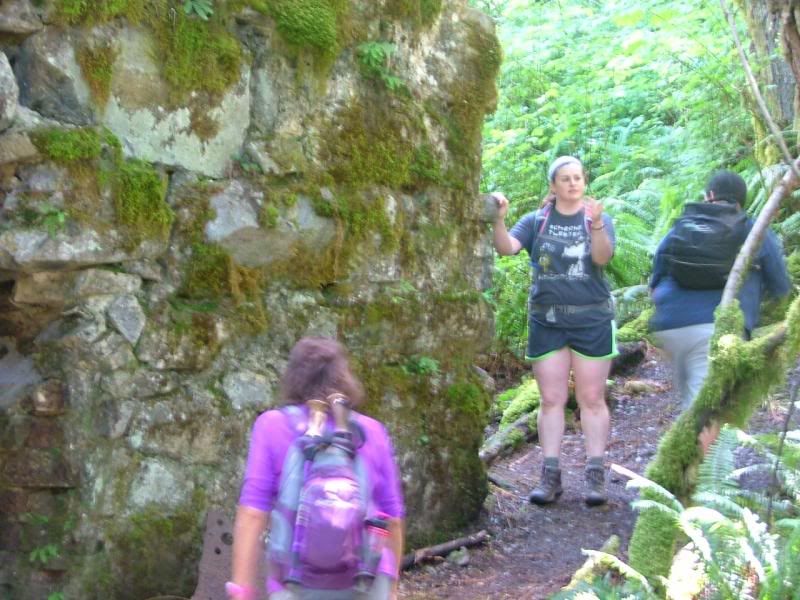 Stef, in the kiln. haha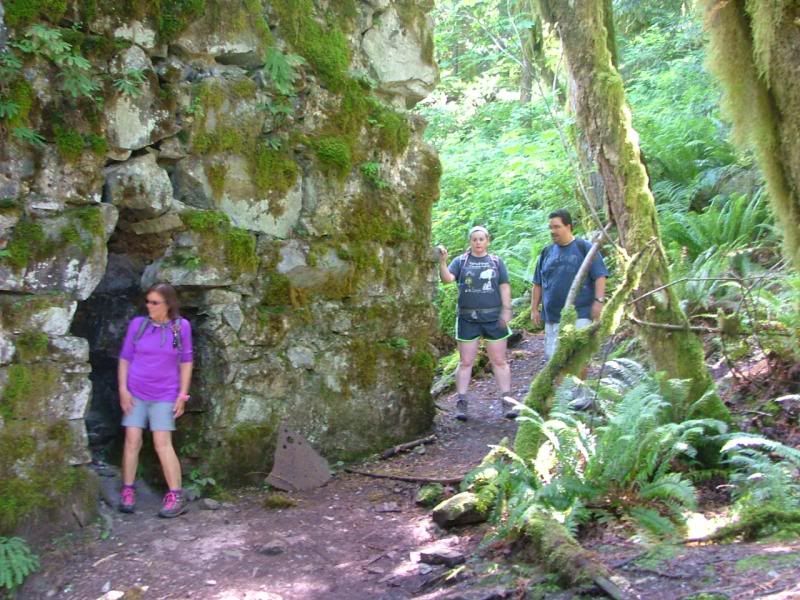 It was pretty rickety, I held it up. =D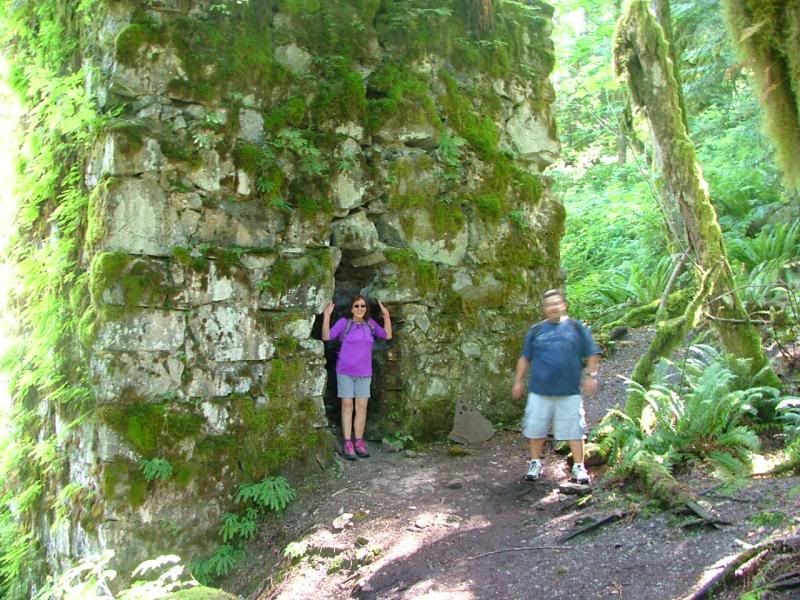 Blurry =( Vic and Rick.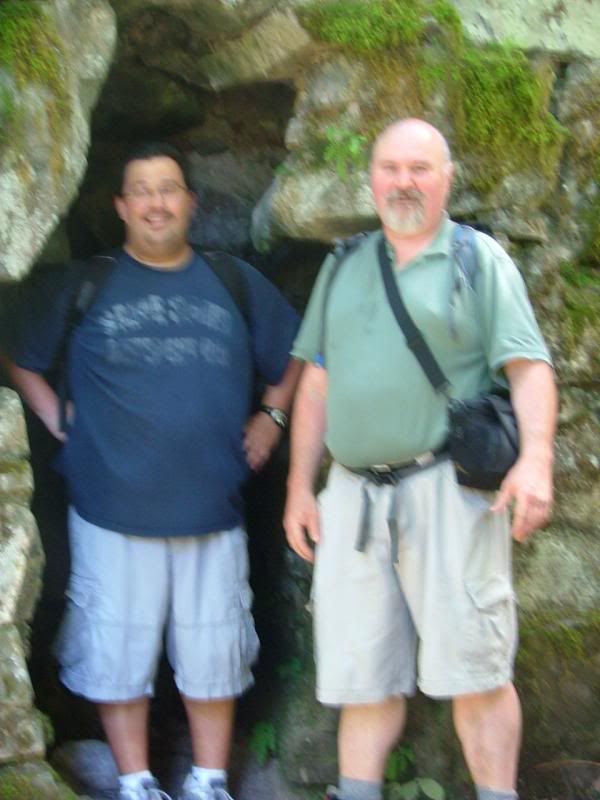 Joe, exploring.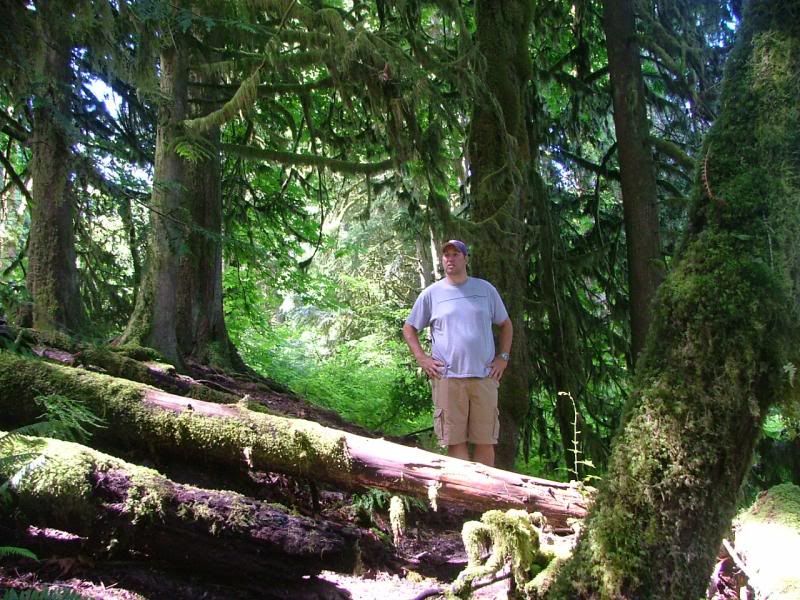 Joe in the kiln.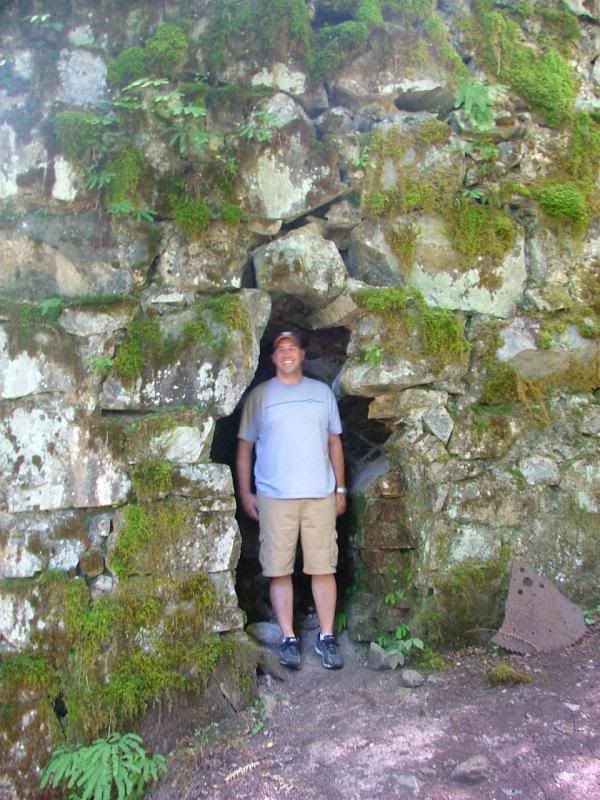 Shannon, exploring.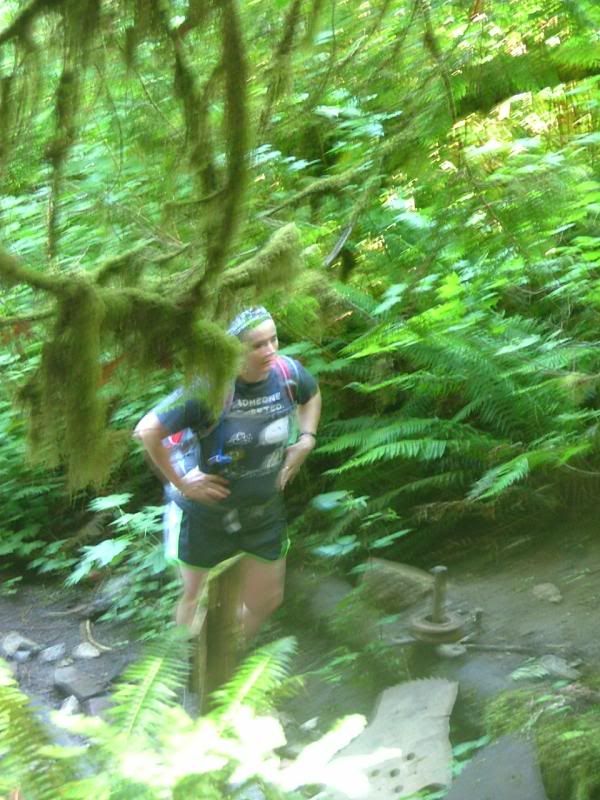 The side of the kiln, grown over with ferns and mosses.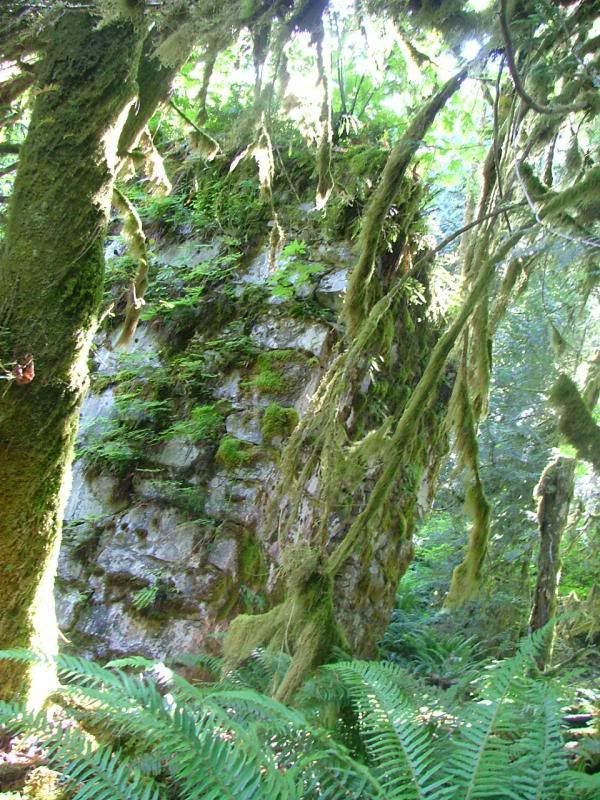 The main kiln.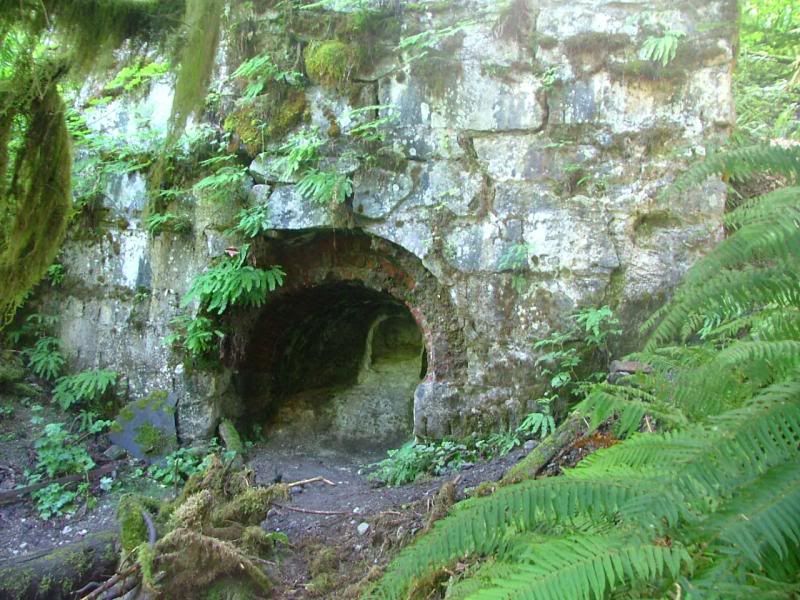 The entrance to the main kiln.
Vic and Stef, getting baked! Muhammad!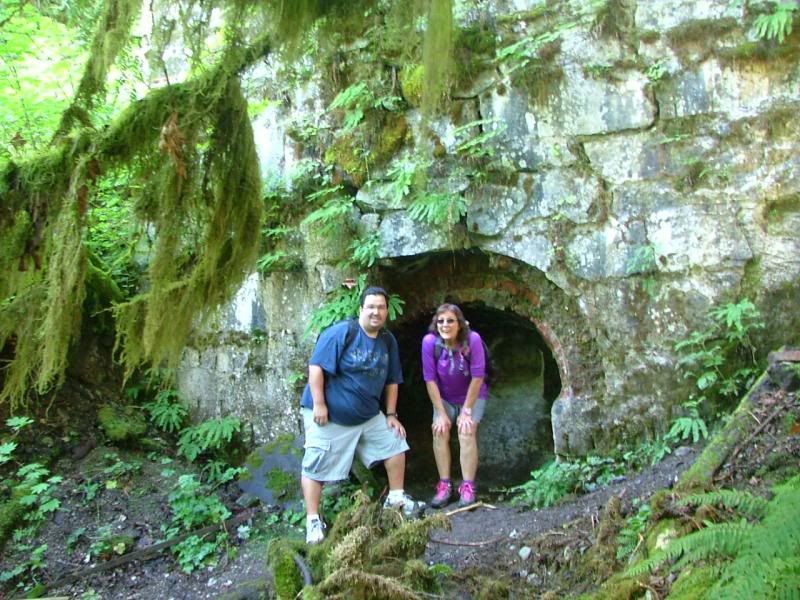 Random

Stillaguamish River photo.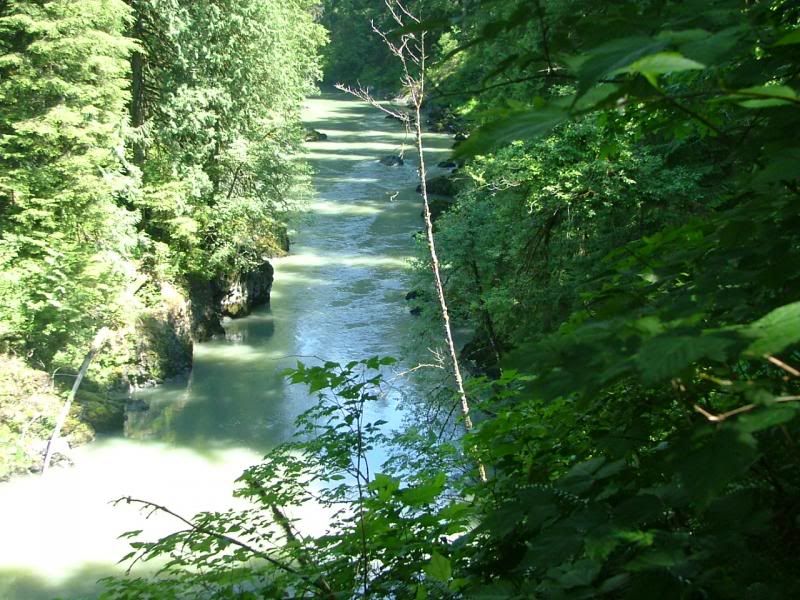 It was raging and loud!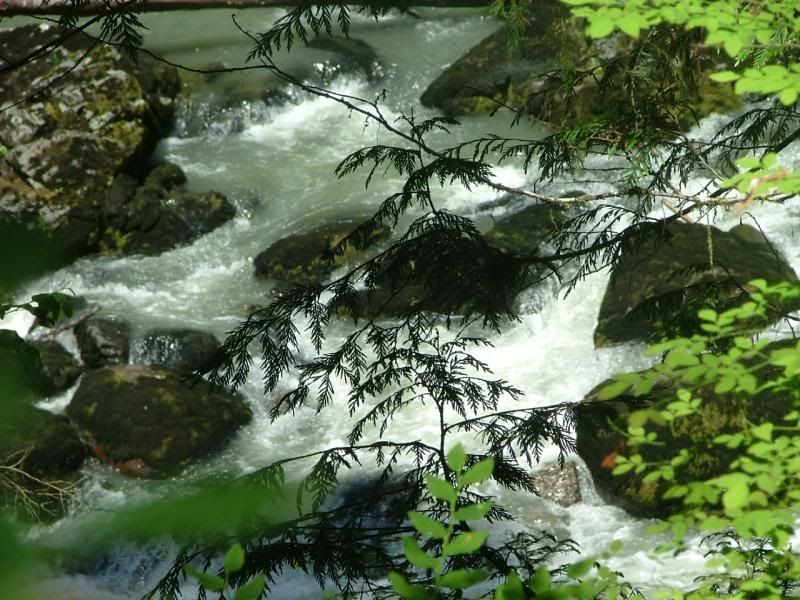 Approaching the water's edge.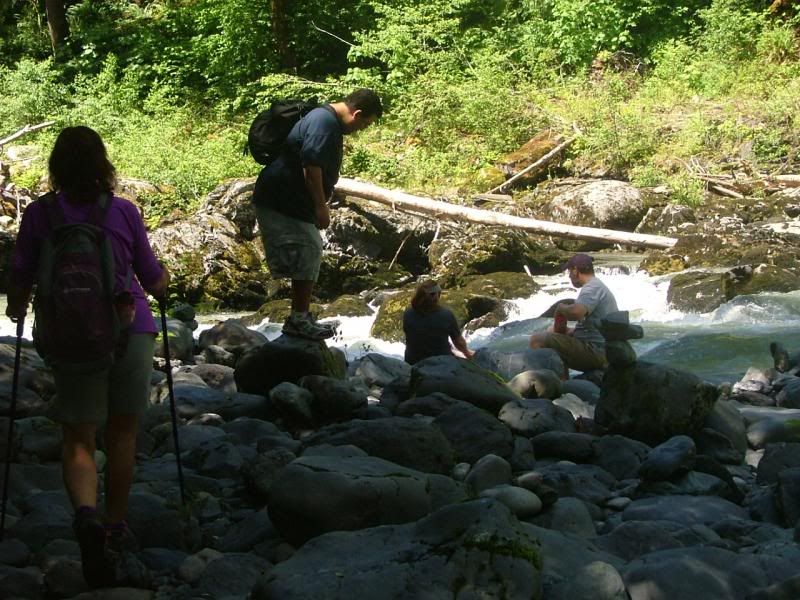 Random

Stillaguamish River photo.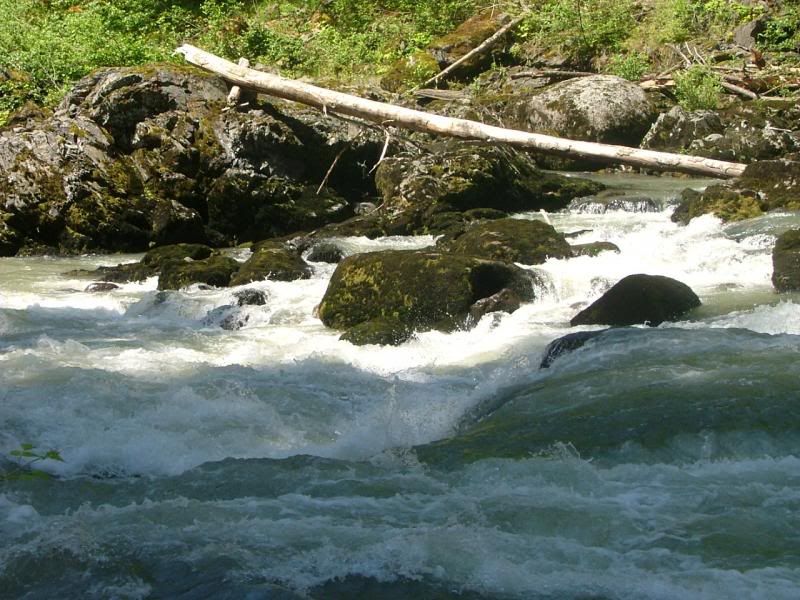 Random

Stillaguamish River photo.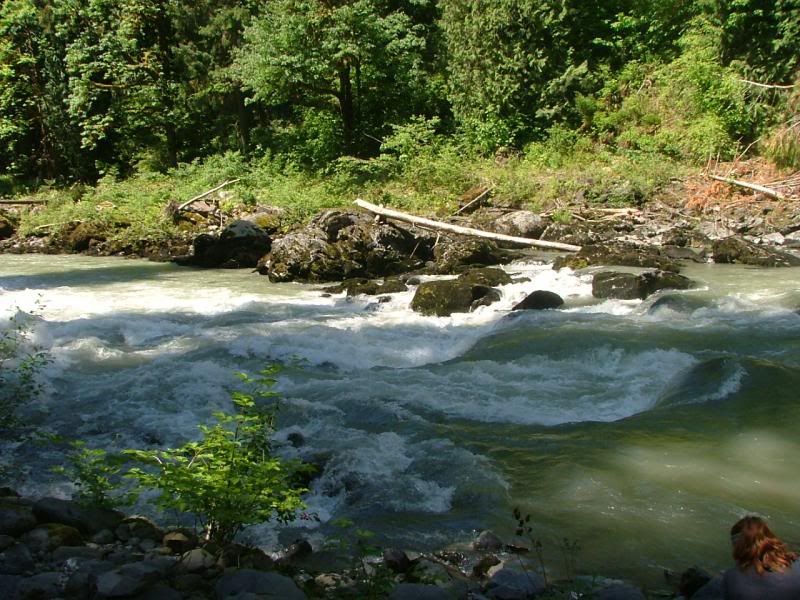 Random

Stillaguamish River photo.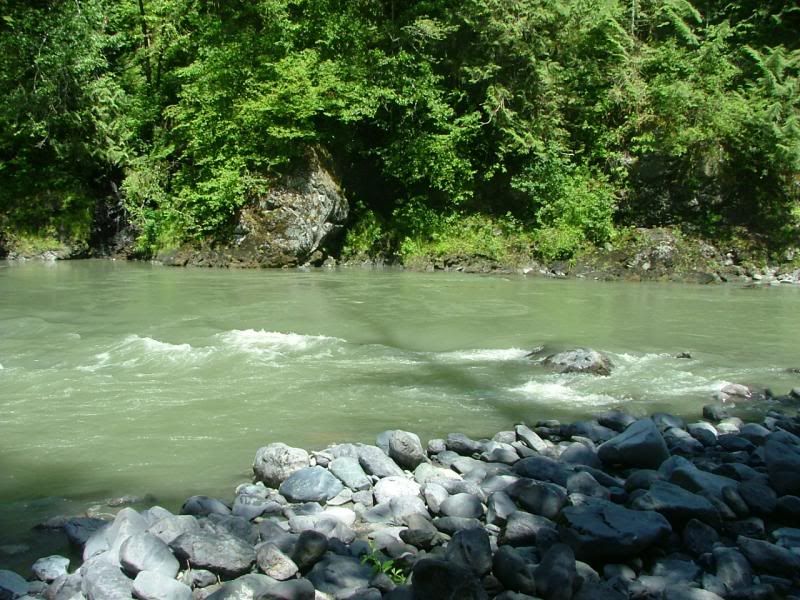 Don't fall in, Pinkie!
Pinkie loves it here!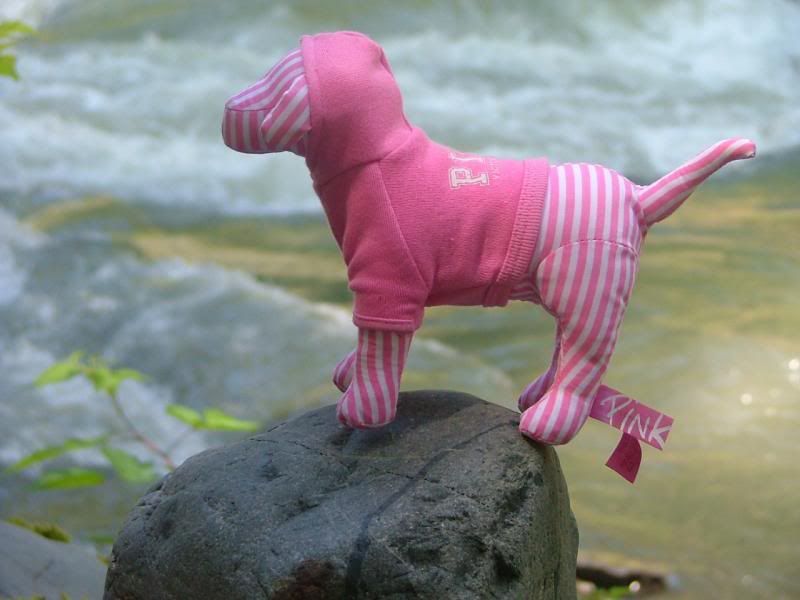 Pinkie's Wilderness Adventures. Beautiful setting.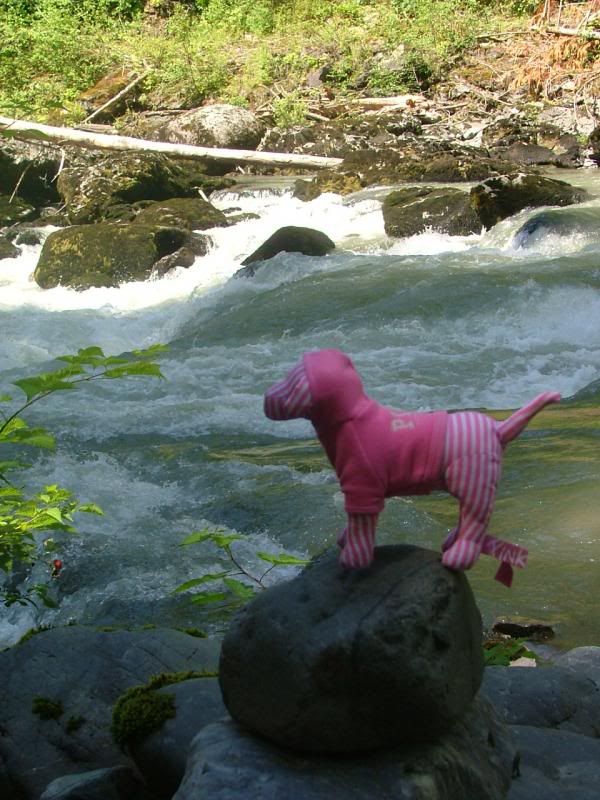 The Brothers!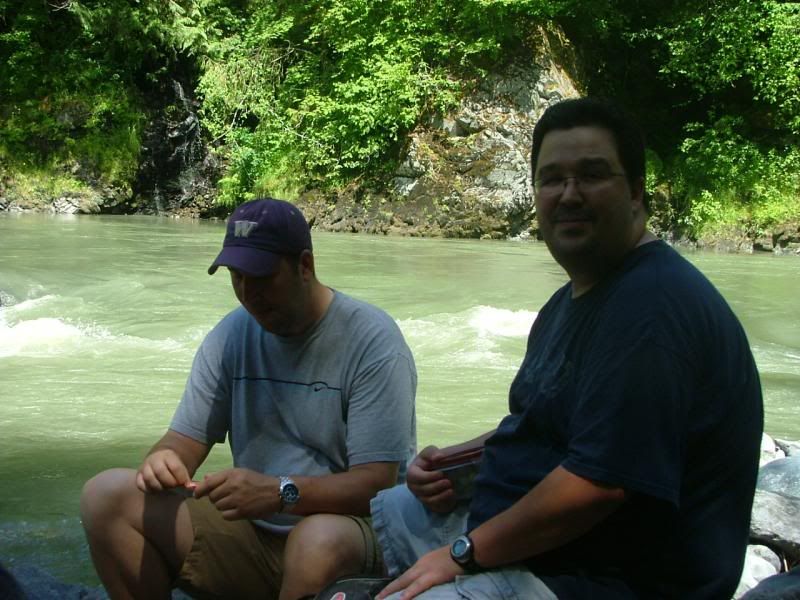 Shannon, Joe and Vic, enjoying the down time.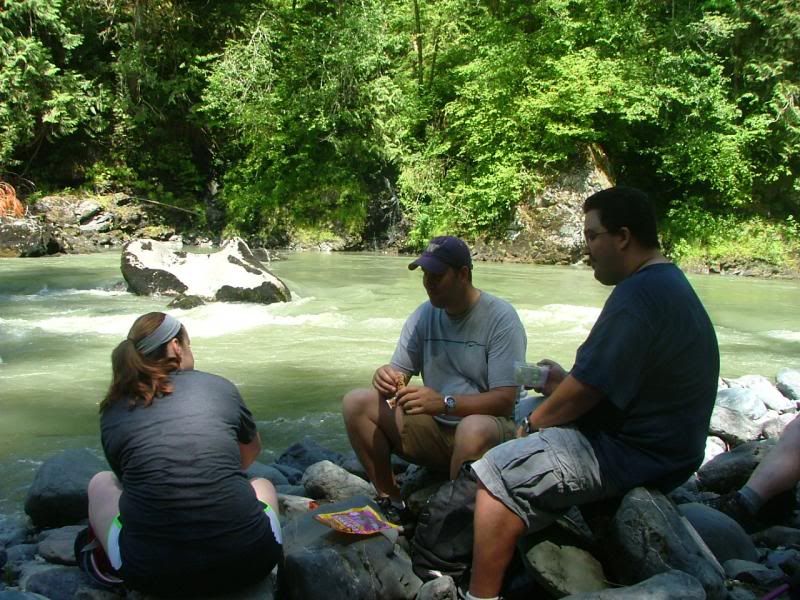 Random

Stillaguamish River photo.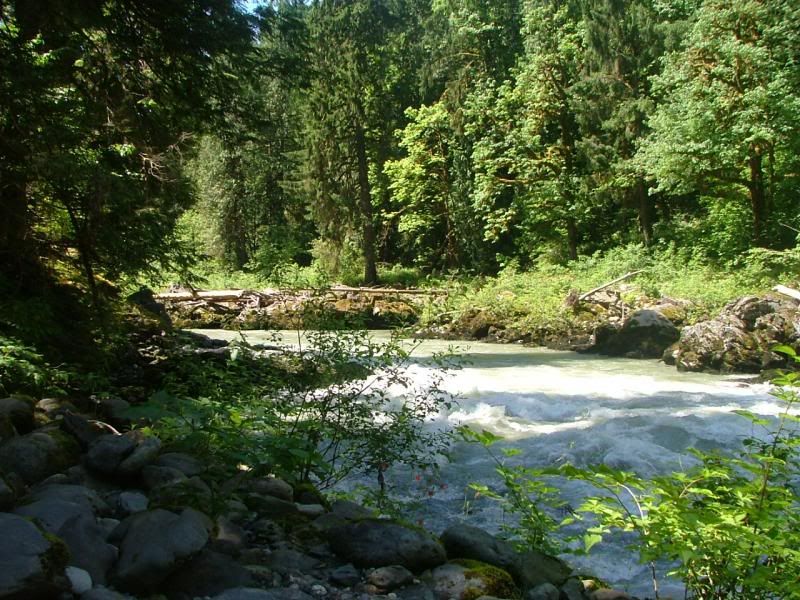 More hikers.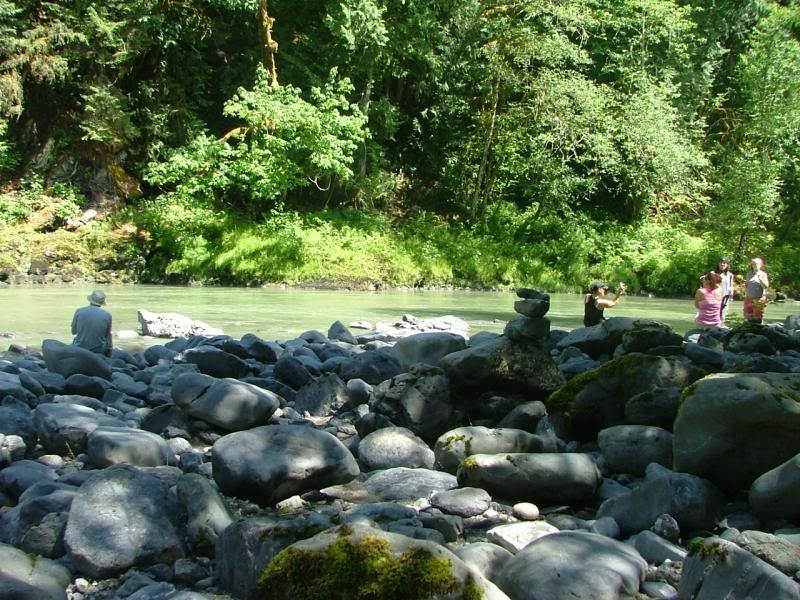 My gear, off my back finally!
This rock reminded me of an Orca.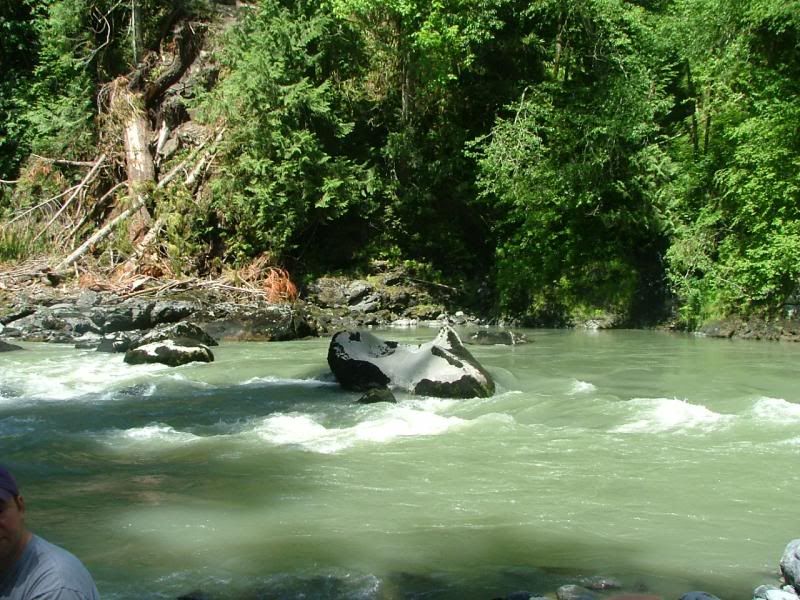 Orca Rock.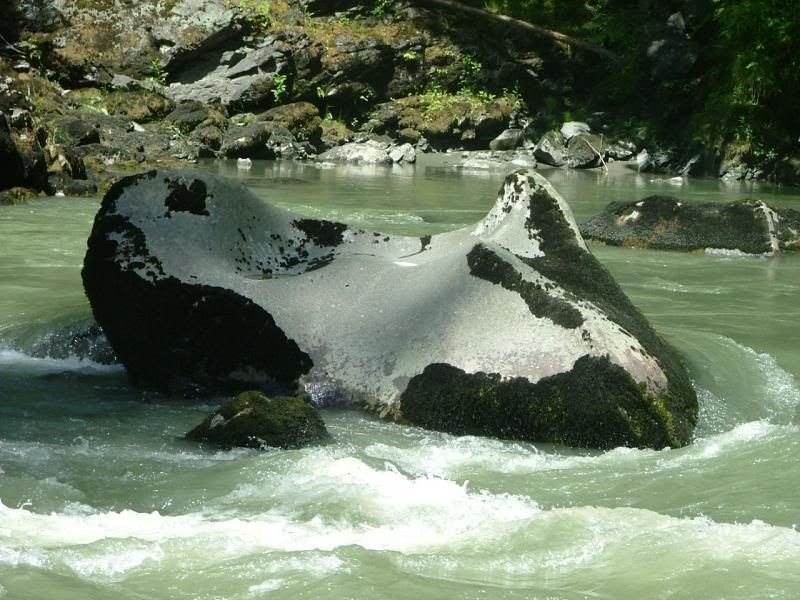 Random

Stillaguamish River photo.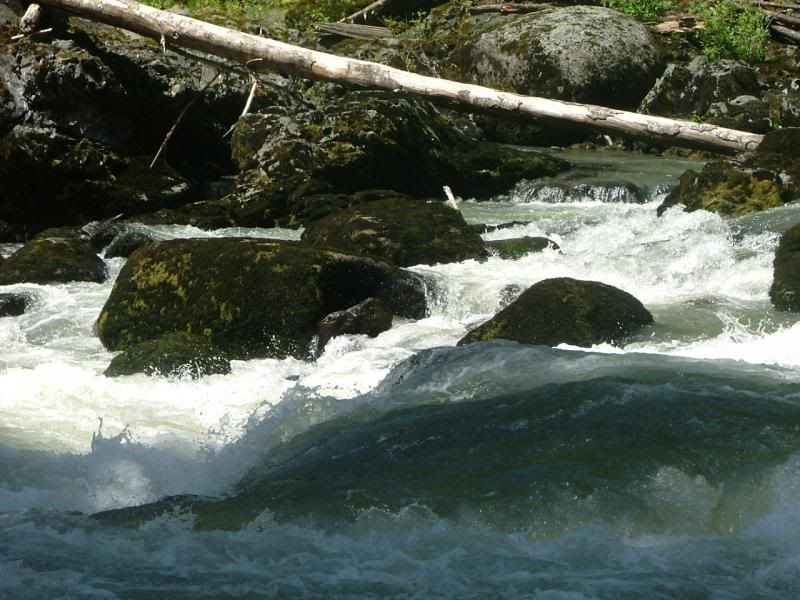 Random

Stillaguamish River photo. Shannon and Vic.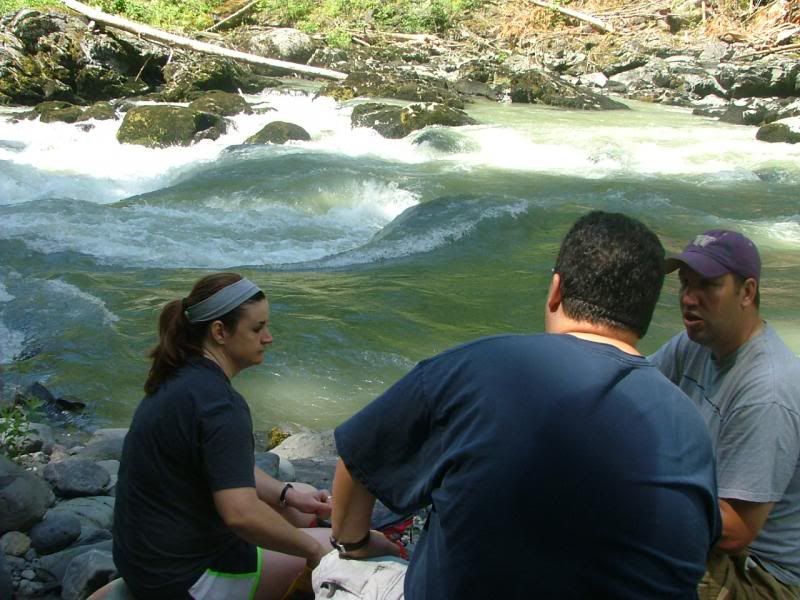 So beautiful and serene!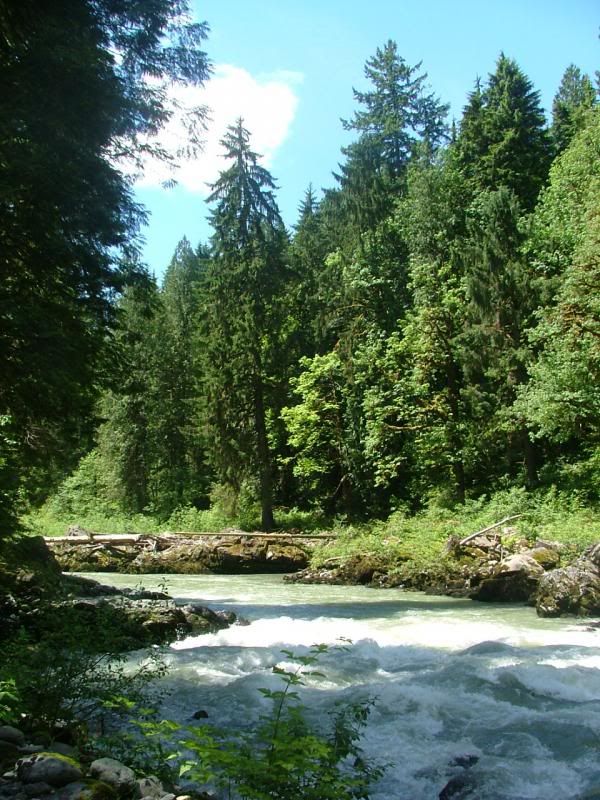 The bank on the other side.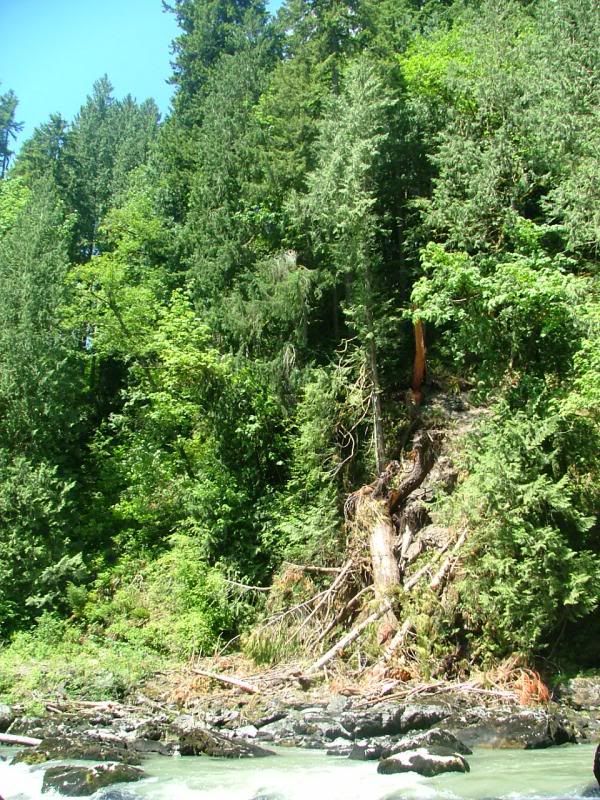 This is a popular hike.
We shared the banks with at least a dozen or more other hikers. They were all doing what we were doing, taking in the beauty, resting after the hike in, snacking on fruit, some were even taking dips in the frigid waters.
Random

Stillaguamish River photo.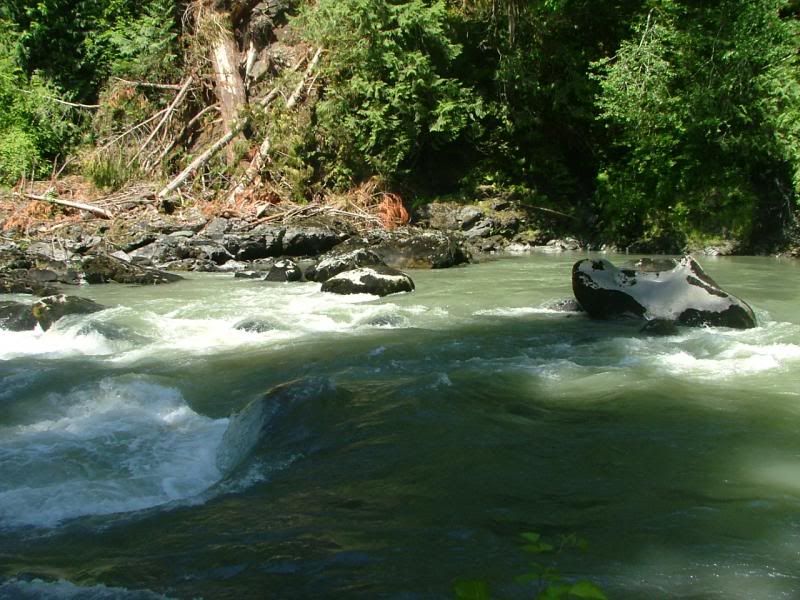 White water! Where is my raft when I need it?
More raging rapids.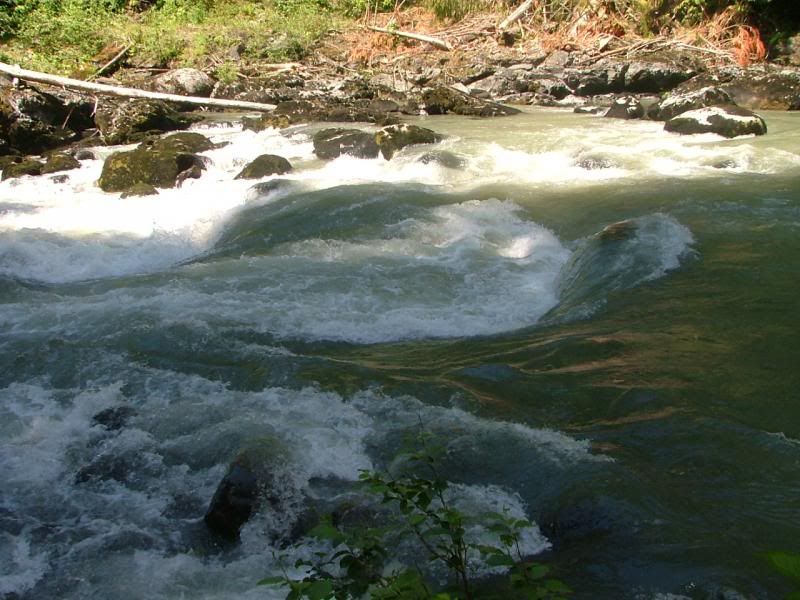 Random

Stillaguamish River photo.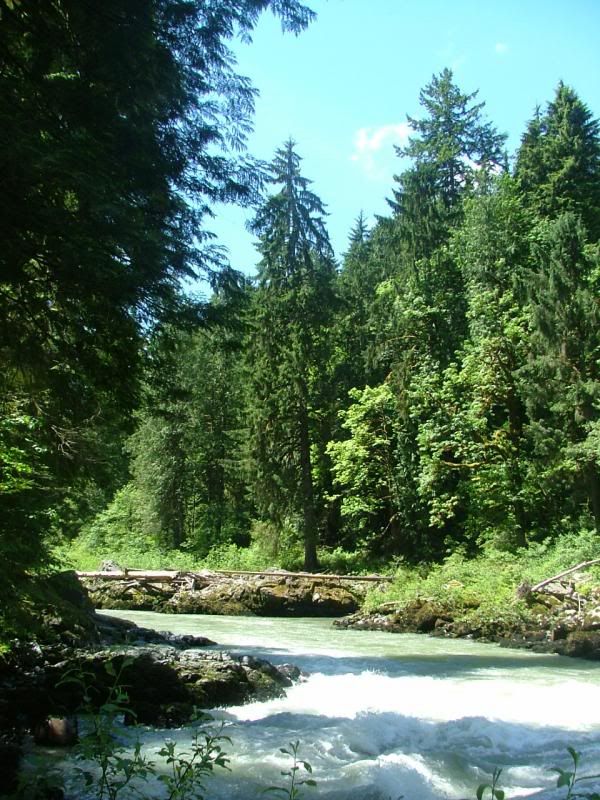 Starting to hike back out.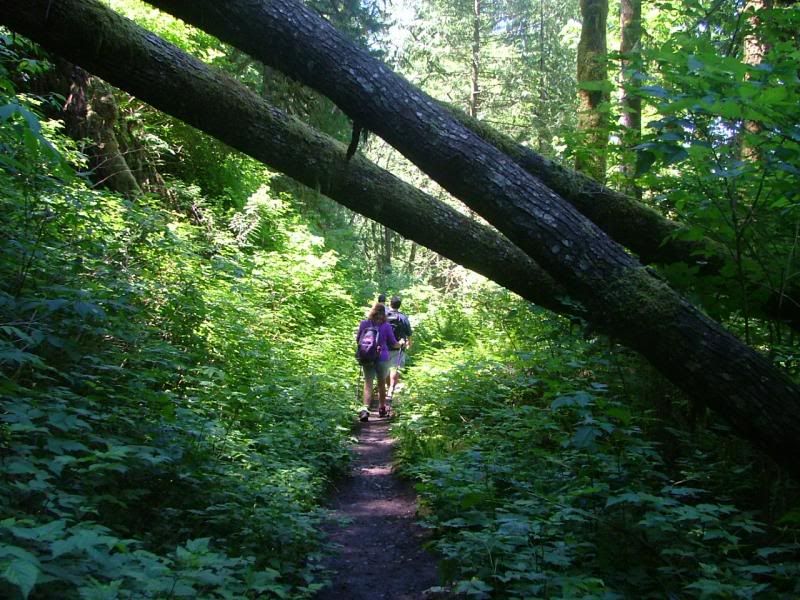 Some blow downs are a bit low. Gotta watch your noggin!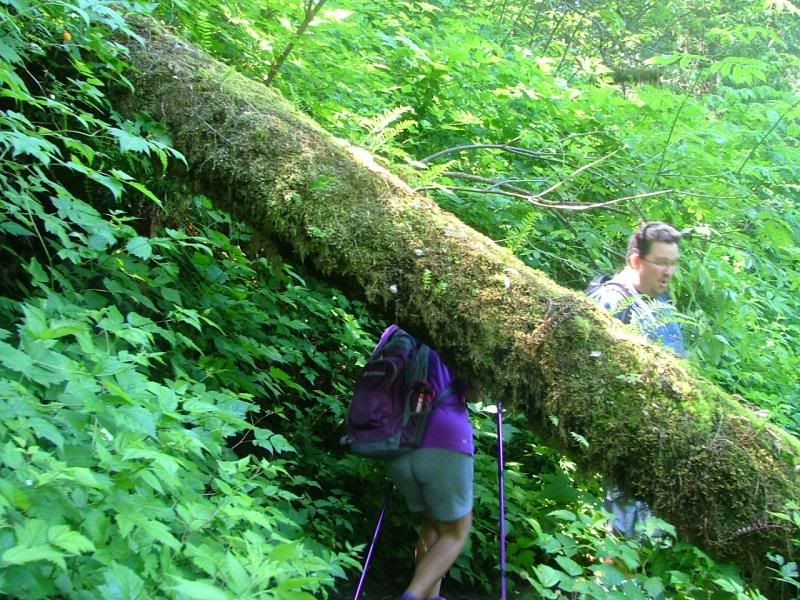 OUCH!

Someone wasn't paying close attention and whackered her noggin on a blow down. I knew I smacked it hard, but I didn't think I really hurt myself and kept hiking. About 3-4 minutes later, I feel what I assumed was sweat, running down the side of my head, past my ear and down my jaw. I reached up to wipe it away and pulled back a bloody hand! I got a pretty healthy scalp, it bleeds good! Yeehaw!

This was after it was cleaned up! Missed some of the multiple blood trails down the side of my cranium!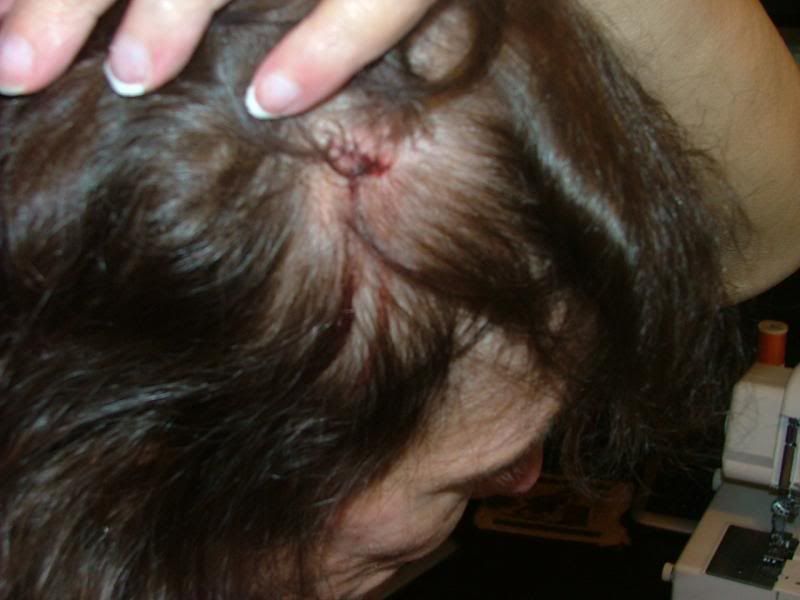 Limbo anyone?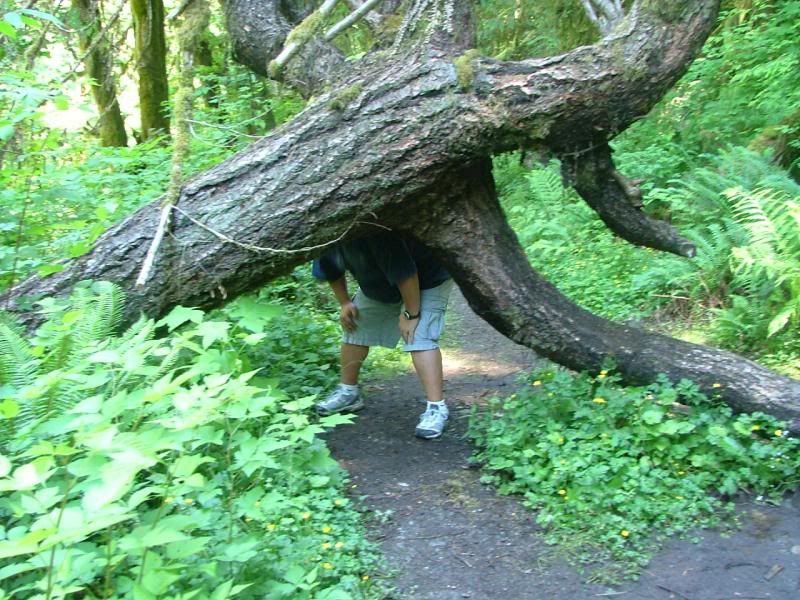 Vic...I'm game!
More signage!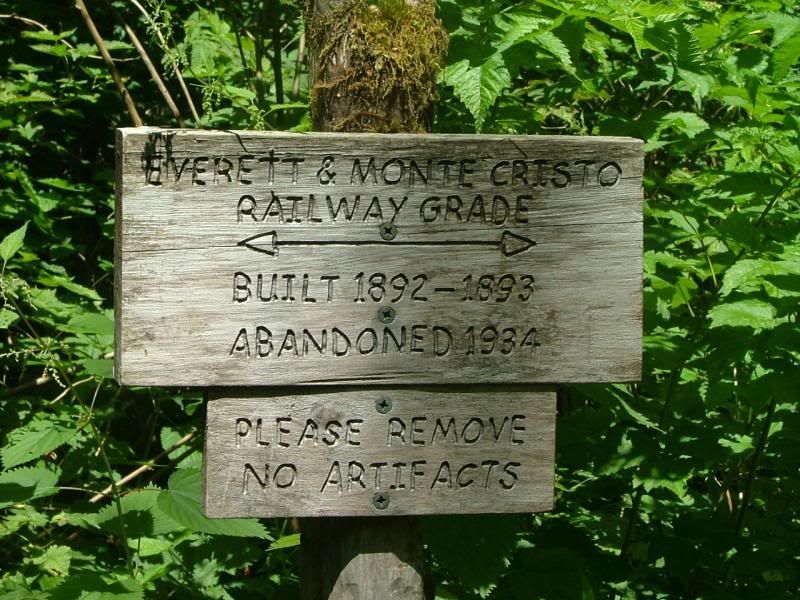 Stay on trail. Some was so overgrown, we had to search for it. You'd hear the leader say..."Lost the trail again!" It was funny.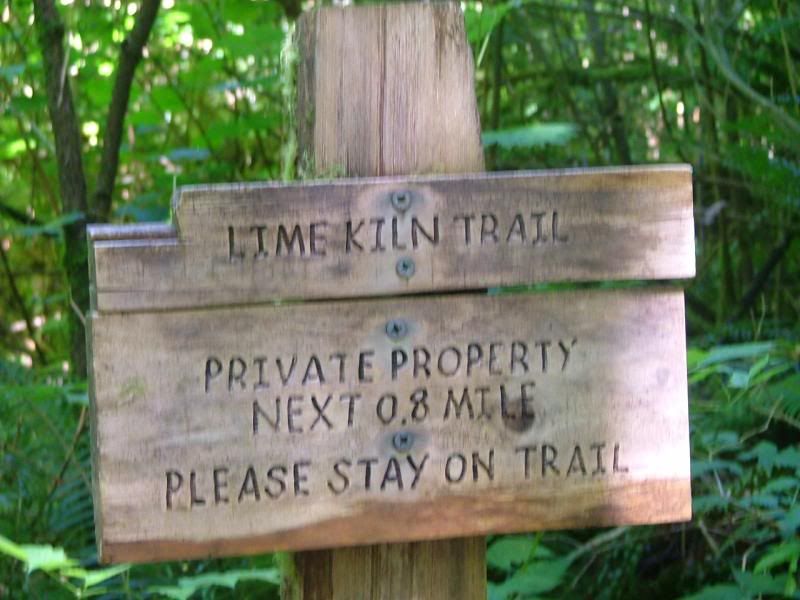 For Barb! A picture of your lovely boys!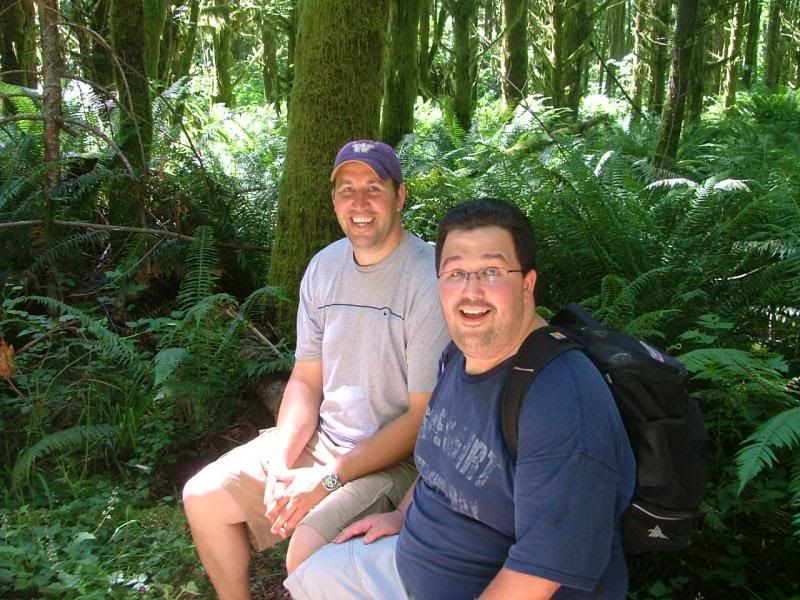 After the hike, we all headed to Playa Bonita, in Grantie Falls, WA. A yummy Mexican restaurant that we have eaten at before. It was YUM! We will be doing this as often as we can. I'm looking forward to the next one, a couple weeks out.
My toe held up rather well too, I ripped my entire big toenail off about a week ago. I taped it up and tried to be mindful of it.
I'm pretty tough like that! =D
~Originally posted on June 22, 2013, by Stef~