I have been longing for another dog for quite some time. We always had many animals as I grew up and into having kids of my own. Since leaving Arkansas, almost 9 years ago, we have been lacking in that department. We did adopt Flav and Icey 6 years ago, we lost Flav last year. But, they had been through such a traumatic life before they came to us, that they were just not ever going to be the little cuddly, happy, on your lap, in your face, froo froo pets that we long for. We love Icey very much.
When talking about getting a new pet, we always say "I want a pet I can touch!". Icey is still kind of standoffish to most people besides me. This includes Rick and Sammye. It's sad. =( I have been on a mission to change that. A friend of a friend of a friend happened to have a sweet dog they needed to let go. She works a lot and said it would be more selfish to keep him, as she couldn't devote the time he deserved, to him. I think that makes her one of the best pet owners I know of. It couldn't have been easy for her to let him go, she had loved him for the last 4 years of her life. Thank you Amy, we already love him.
Where do I begin? Charlie, the Mighty, Super, Rockin, Wonder Dog! There are many more I could use, but geez, it's just the first night. I don't want to get carried away. He is 7, almost 8 years old. He is half Bichon Frise and Half Maltese. It's really quite a nice combination, he is quite adorable! He took right to me and my family. He rode on my lap back to Renton from the city, where we picked him up. We took him to Pet Smart for some dawgie necessities. He was well behaved on the leash, playful and content. We got home and after peeing all over the front yard, he came in and just took up residence! It feels like he was meant to be here. I already love him so much, I can't stop smiling. Neither can Rick or Sammye. Following are a few pictures and videos, taken during our first day.
The ride home. Icey had been in the back seat and had to jump up to share the seat with Charlie and me. They actually got comfy and were snuggling a bit!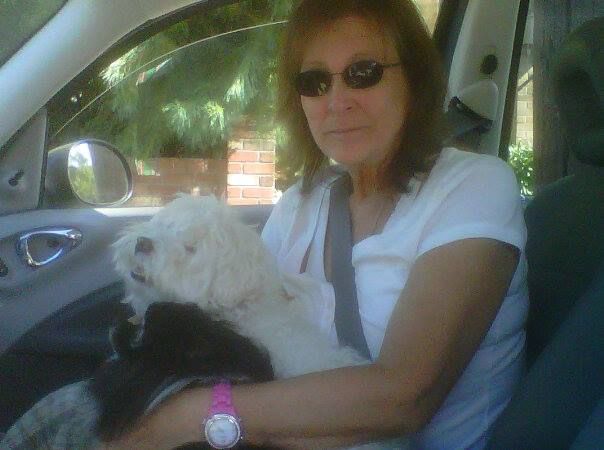 Two of my Boys!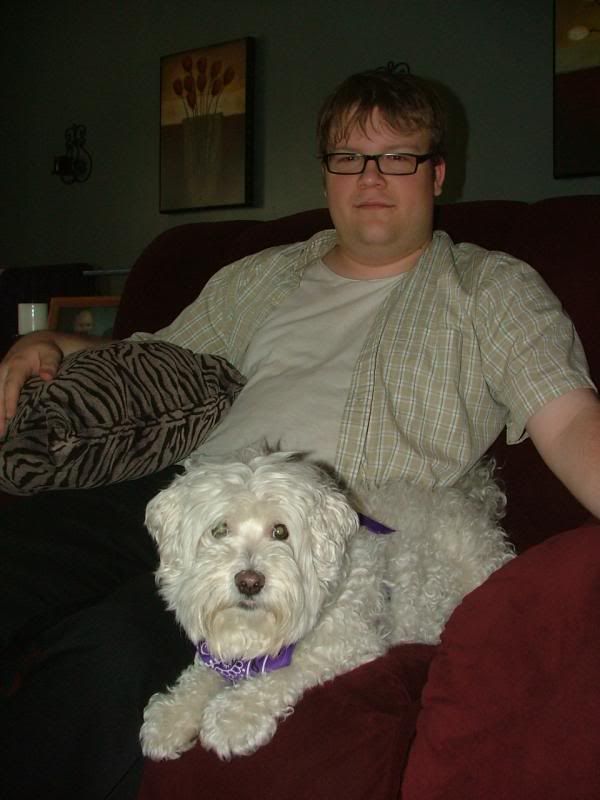 This video was shot about three minutes after arriving home. I have been babysitting a friend's pets for the last 5 days, while she and her family are on vacation. The smallest dog is Icey, The largest dog is Charlie. They are mine. Cooper, the Black Chihuahua mix and Shakeena, the white beauty, go home late tonight. =( I am going to miss them both. They are simply, the best behaved dawgs, ever! I sure have loved having them here. We will see them again soon!
As I sat and sewed, he found a spot in my space to keep guard. Icey always lays on the other side. Now, I have fuzzy bookends!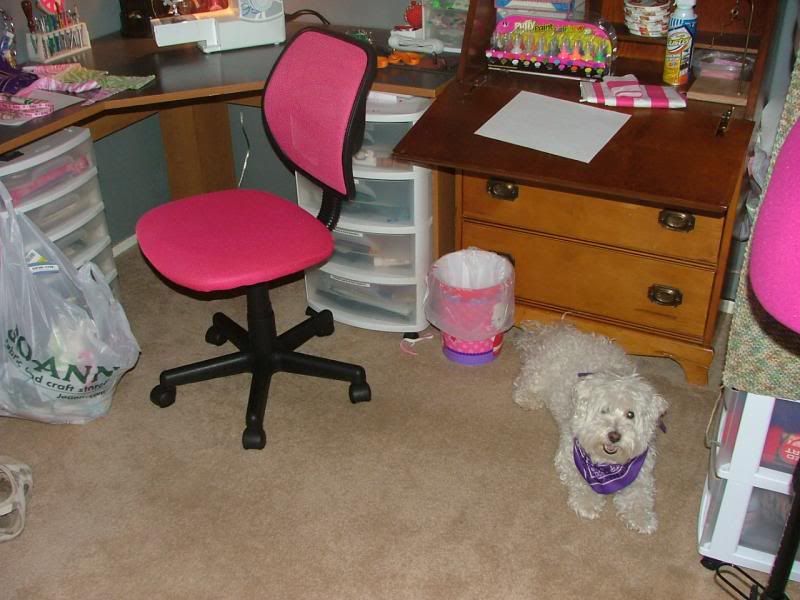 What I was working on as he laid there, waiting. He got to wear his while I made an Icey sized one. I cut up one of my favorite bandanas and got both out of it. I sewed all the seams securely, added a long tie that doesn't actually tie. It's a faux tie! Muhahaha. I sewed a small bit of Velcro to secure it around their necks, without being tied around them. It will tear loose easily, if need be.
Icey, in his new threads.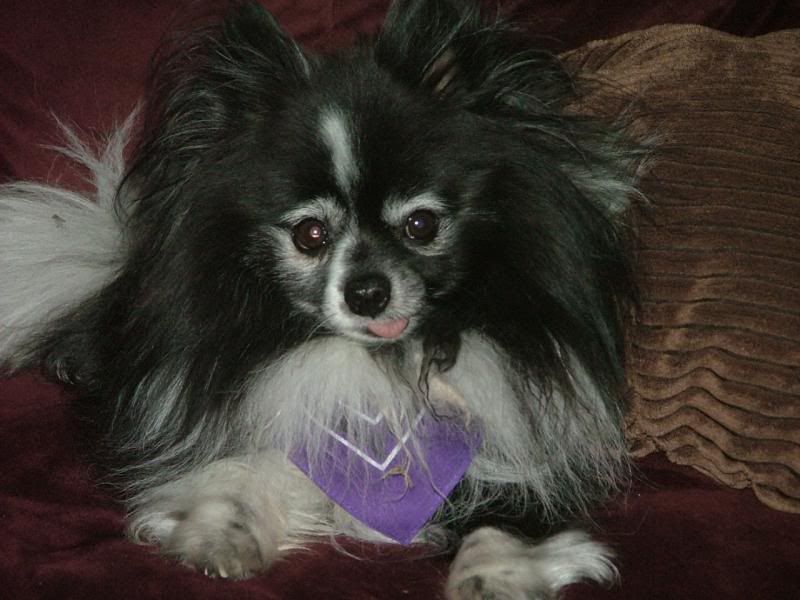 Charlie, looking pretty dapper. Next, I bathe him and give him a nice haircut.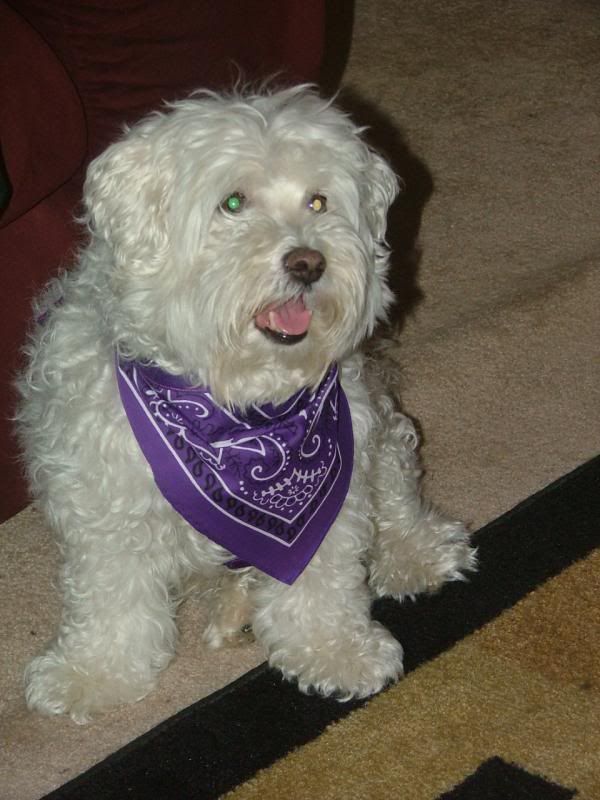 Charlie is a super smart dog. He knows several commands and already minds me, like he should. He'll sit, lay down, stay, come, stop, among other things. This video is just one trick he does well. He will be the best dog; smart, obedient, fun and playful as heck! How did I get so lucky?
A girl and her dawg!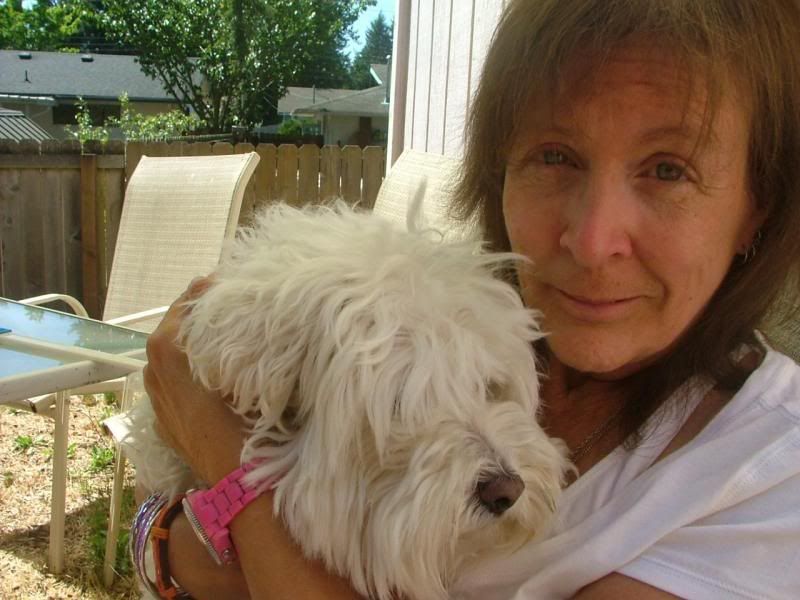 You know me, there will be many other things, now that I have 2 dogs to keep up with. Isn't it grand? It is!
Sammye gets off work soon. I am going to get leashes on all the dogs and walk down to Dominos, to walk home with him. It's only a couple miles, at most. We do it every night that Sammye works. More super dawgie stuffs later, as Charlie gets more and more incredible! Ok, I'll STFU now!