I made 'Healthy" Oatmeal Raisin cookies, recently. They were a big hit with my husband Rick, son Sammye and the neighborhood kids. I have been thinking about tweaking it a bit, so I would like it more. Today was a tweaking day. I decided to omit the raisins and replace them with coconut! Oooooh yum!
I had 6 almost over-ripe bananas that I needed to get rid of. So, I made a double batch and used all 6. I started by pulverizing them with my potato masher. Once they were all liquidy and smooth, I added 2/3 cup of Unsweetened Seneca Natural Apple Sauce, 2 teaspoons of Vanilla Extract and 1/2 Cup of Unsweetened Vanilla Almond Milk. I mixed it all together. Then, I added my dry ingredients: 2 Cups of WinCo Unsweetened Coconut Flakes, 2 teaspoons Cinnamon and 4 Cups of Quaker Quick Oats.
I dropped them onto a cookie sheet, in 2 Tablespoon scoops. I mashed them down quite a bit. They really do not spread as they bake, so mash them down to the size you want. I baked them at 350 degrees, for 15 minutes.
Can you say yum? I knew that you could! They are really tasty! Not too sweet, but sweet enough. I suppose you could add some artificial sweetened of some type. But, my taste buds say they are perfect the way they are. They are chewy and good.
Hence the name, Oatmeal Chewies! =D The taste made my mouth happy! The smell in my kitchen even made my nose happy!
I got 43 cookies! I'll be snacking for days! Oh wait, I'll bet Rick and Sammye will think they need to eat some too! haha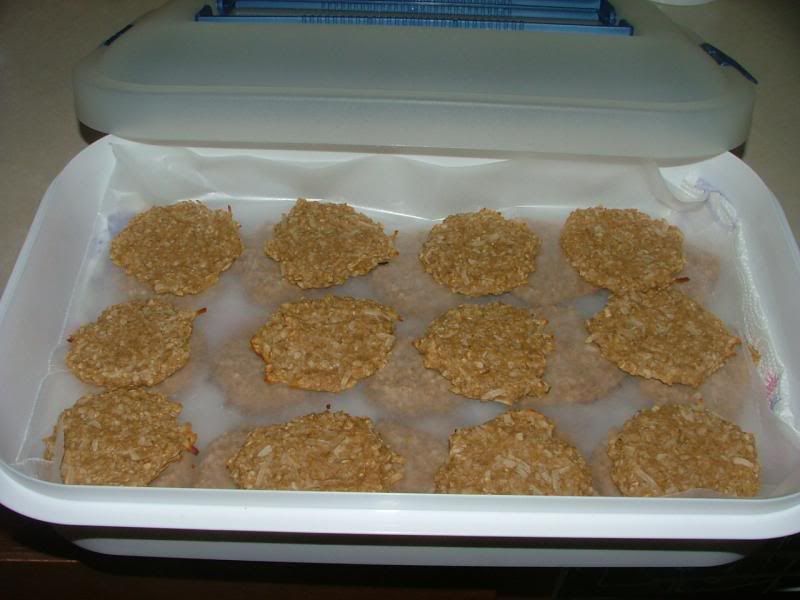 That's a pretty good sized cookie. Funny thing, it mysteriously disappeared, as soon as the photo was taken.
The best part, besides the Yum Factor is...76 Calories per large cookie and only 2 little grams of sugar. But, the sugar is naturally occurring in the fruit, not added or processed!
And no flour! By comparison, a Nation Brand oatmeal cookie, just plain, no coconut, raisins or anything, will have approximately 120 calories, 20ish Carbs and 8-9 Grams of Sugar. This is quite an improvement, I'd say!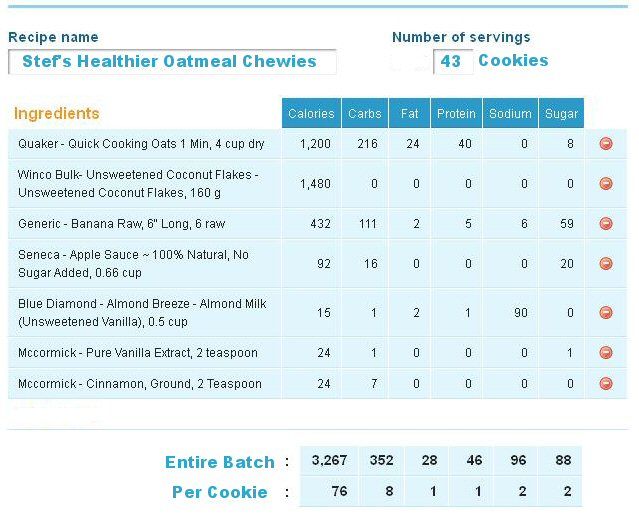 I will definitely be making these again. I will just have to limit myself to one or two as a snack. I could easily get carried away on these! Muhammad!