Eight of us started the adventure. Two of my companions, Lowell and Marla, were running a bit late and both told me they'd catch up. On Friday, July 5, 2013, we discovered a Rustic Gem in the Heart of Kent! We took a lovely hike to Clark Lake. This time, I had the idea to combine 2 of my Hiking Meet Up groups and see if we could get more people to go. Did we ever! We ended up with 10 people and 5 dogs. It was a terrific walk, plenty of company and conversation.We hiked 2.6 miles with a minimal elevation gain of 120 feet. We even banded together to clean up a huge mess that others had left. It was a good morning.
From left, Dianne, Craig, Connie, Doug, Mary, Monty, Tracy and Stef.
We arrived at the lake and discovered the pier was covered in debris from the previous night's fireworks.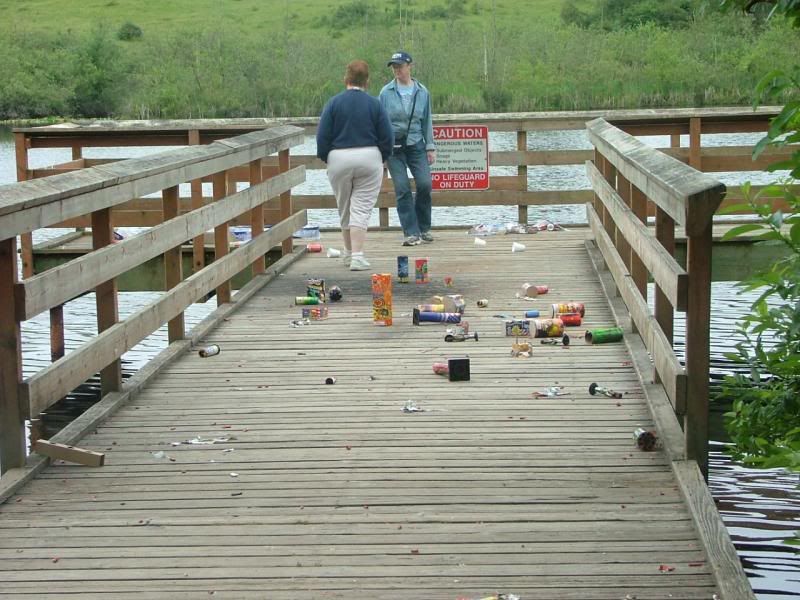 It's pretty sad that others like the place enough to come here and celebrate, but don't have enough respect for it, to carry out their mess. There are trash containers located in several places, nearby.
Nobody had to say a word. We all just started cleaning.
Luckily, the people who littered it, left behind empty ice bags and boxes. We used them to contain all the trash.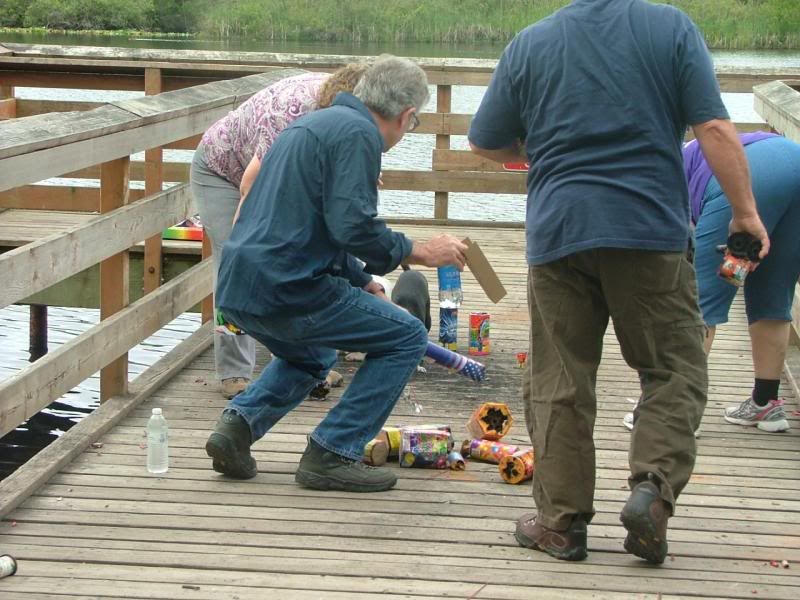 Craig used his trekking poles to retrieve debris from the bushes that surround the pier. There was also trash floating in the water, out of reach. We had to leave some there. =(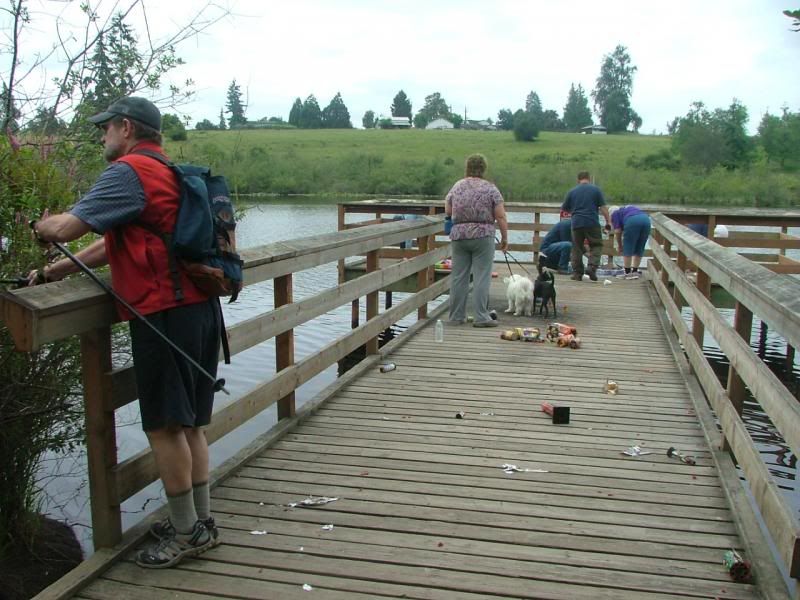 Good as new! Well, almost. We had no way to remove the gun powder from the surface of the boards. There was quite a bit of the black dust that remained. It will blow away eventually. We didn't want to sweep it into the water.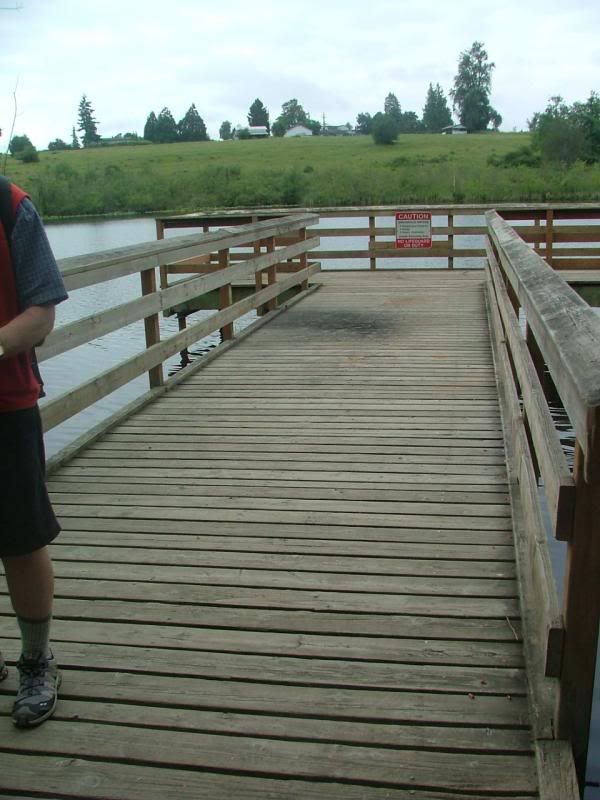 What would not fit in the can, we left neatly next to it.
Back on our way, after performing our community service. It really does take a village.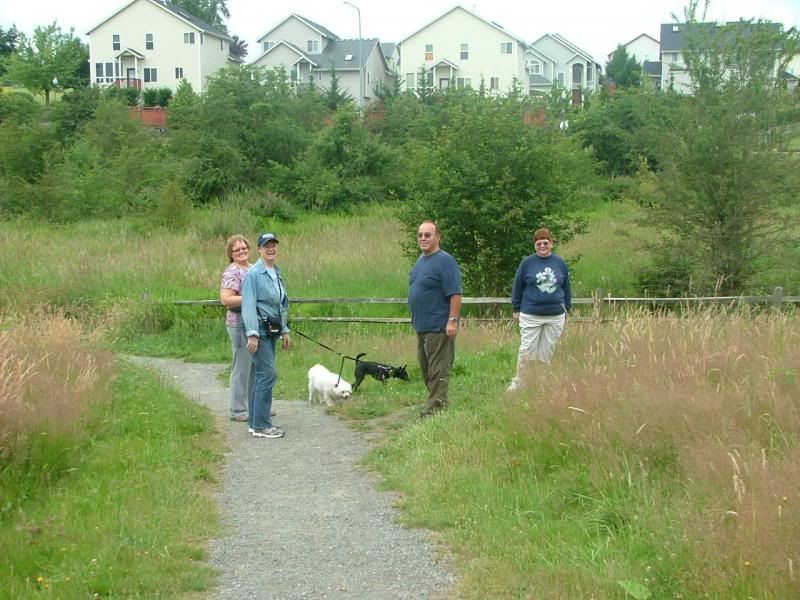 Doug, pointing out something in the landscape, to Craig.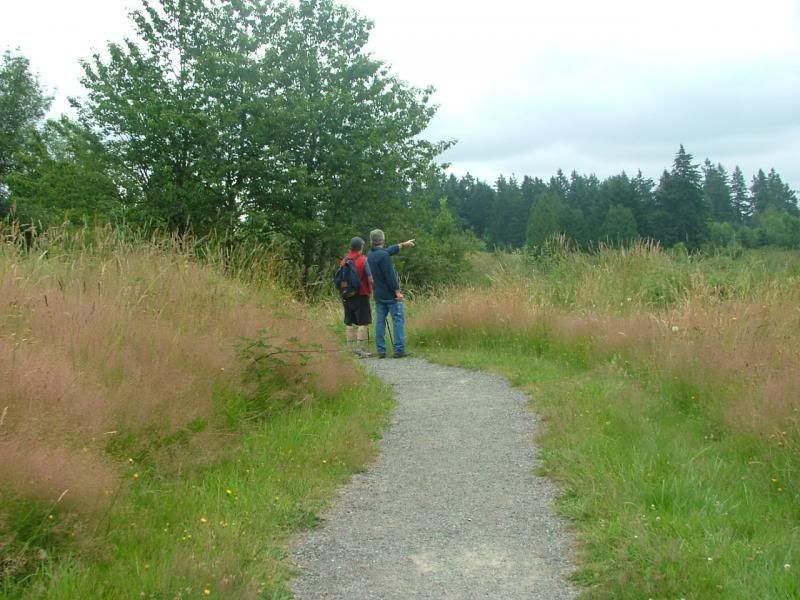 Craig and Doug.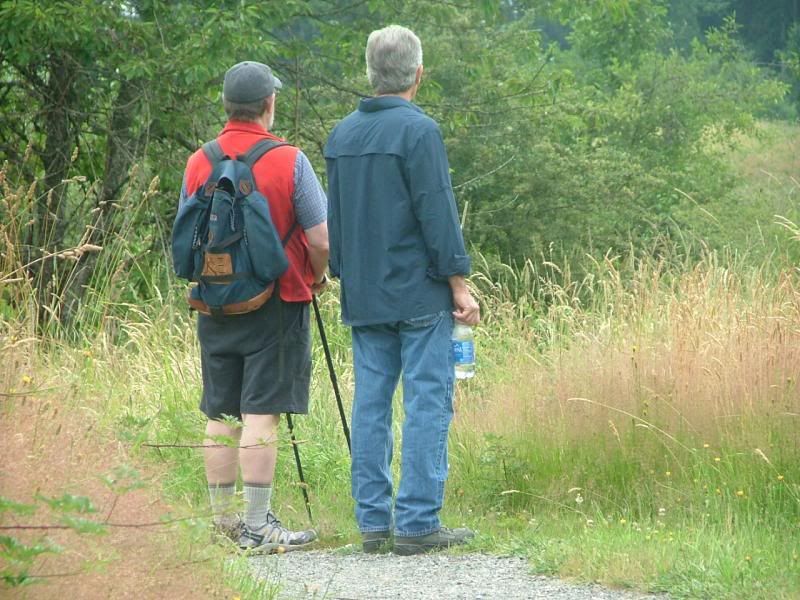 As we were hiking along, about an hour in, we spotted Lowell riding to meet us, on his bicycle! He was sweating and out of breath. He said some of the hills he peddled up, to reach us, were almost too much! I would have gotten off and pushed my bike. I'm a bigger pansy than Lowell. He does not drive, he rides his bike everywhere he goes.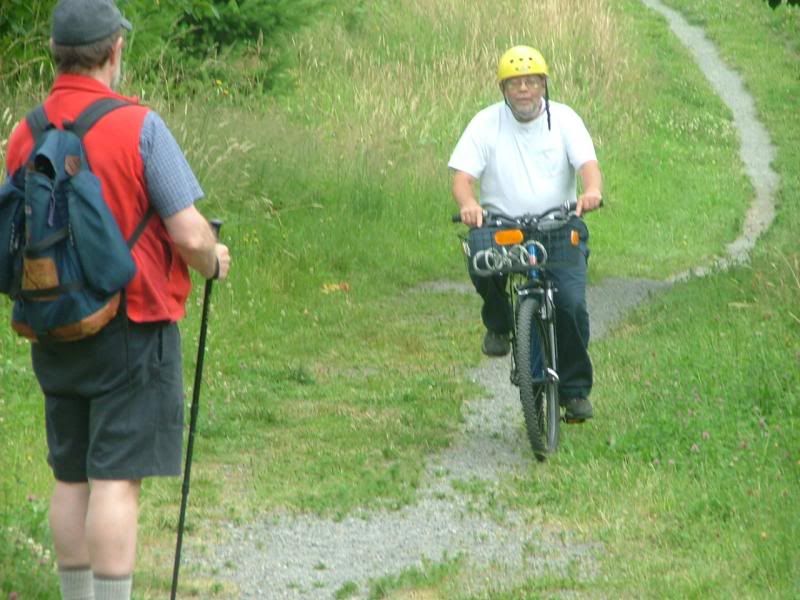 The view of the lake below up, from the ridge above.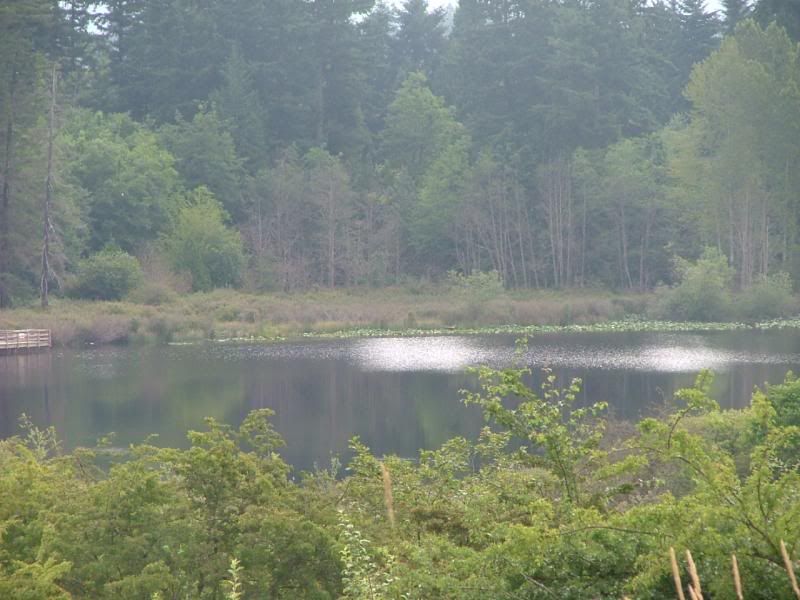 Part of our group on the trail. Marla is on the left. She finally made it. We played phone tag for a bit. Doug doubled back to find her and lead her and her dogs, Mack and Scooter, to our location.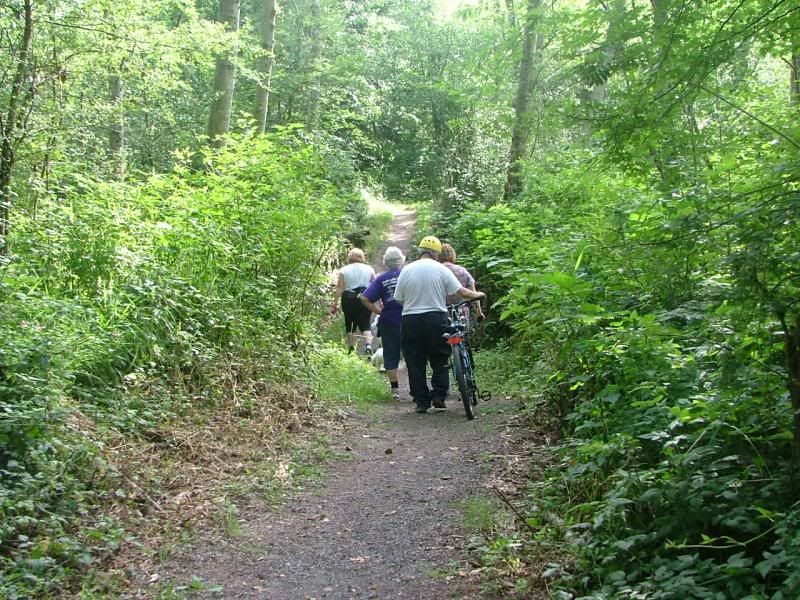 Icey has to look back for reassurance, every once in a while. He certainly should know by now, that I would not leave him. He is my weekday hiking companion. Rick can only hike on the weekends. We save the major hikes for those times!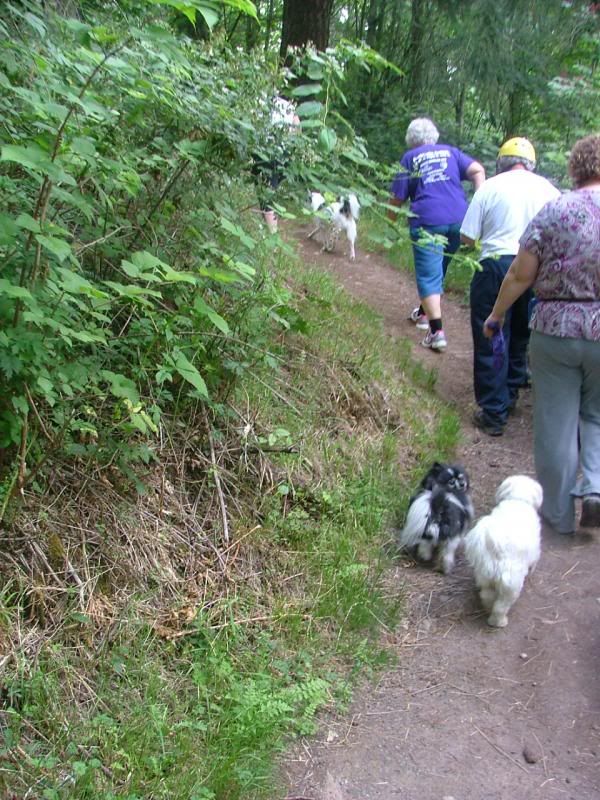 Three of our 4 legged companions, Icey, Shakeena and Scooter. Mack and Cooper were also with us.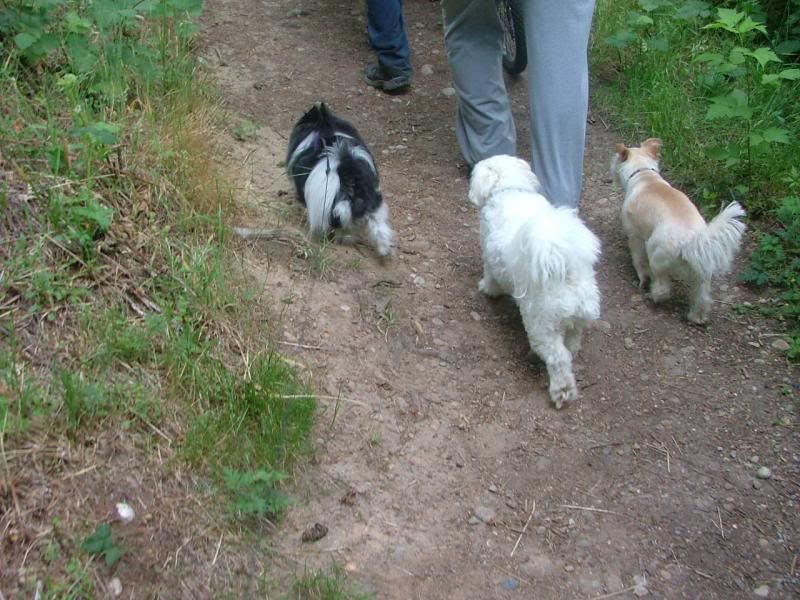 One of the boardwalks we traveled across.
There are several built above the wetlands. It's nice to walk on, instead of wading in the swamp below.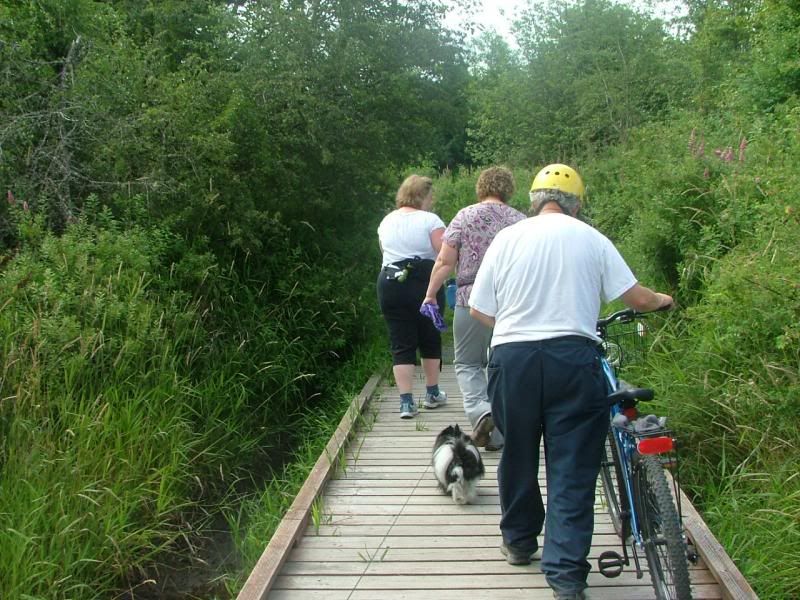 The wildflowers are blooming in abundance everywhere! They are really gorgeous!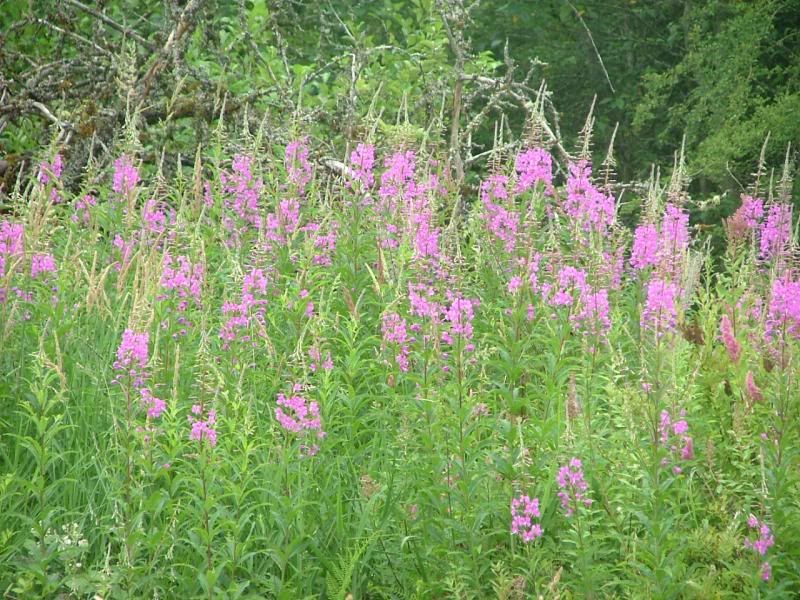 More wildflowers! <3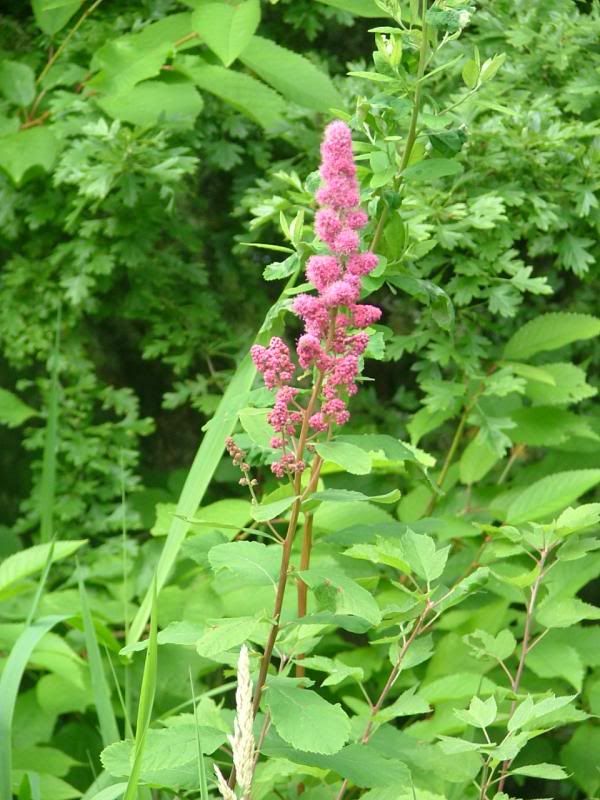 More wildflowers! <3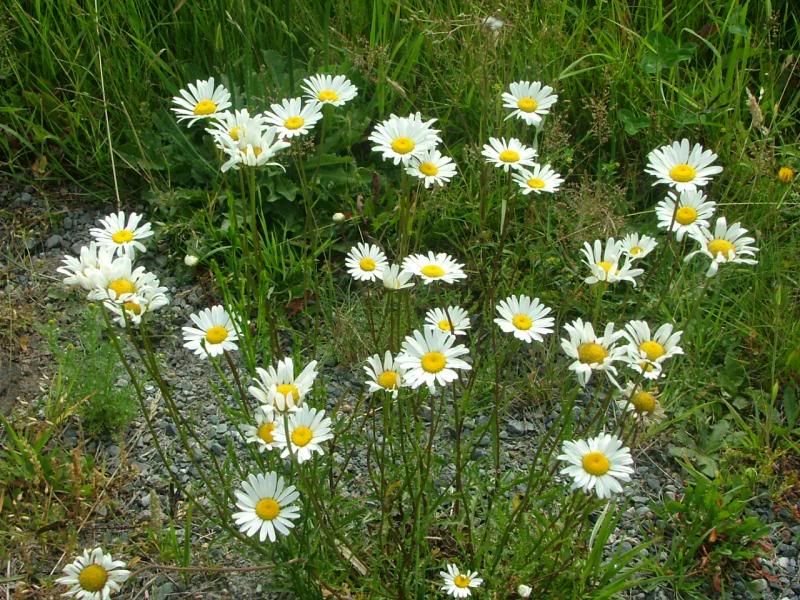 More wildflowers! <3
More wildflowers! <3 My favorites!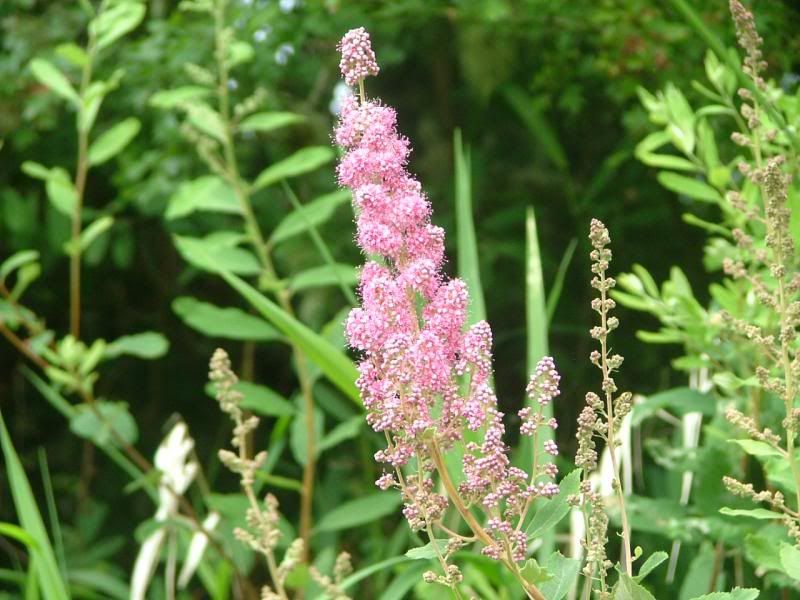 It was a very nice morning. We had started at 8:30am, to beat the heat. The weather cooperated and was perfect! The company was wonderful, the conversation was lively and fun! The teamwork in taking care of the pier, was outstanding. I love these people! Next, we head to Lake Fenwick, on Monday, July 8.