The most popular trail in the Stillaguamish Valley climbs through ancient cedar trees, past picture-perfect waterfalls and up an old rock slide overgrown with bright vine maple to a cliff-bordered sub-alpine lake. The years have been hard on the trail. Between the effects of water erosion and thousands of boots, sections are nothing but roots or rough rocks that can be very hard for some. The trail has some steep places but is generally gradual. To some people, the hike to Lake Twenty-Two is grueling. It is classified as a moderate hike with a rocky, narrow and, at times, steep terrain.
On Saturday July 20, 2013, we met in Lynnwood at 8:00am and all rode with Jay to the trail head. We arrived and started hiking at 9:00am. We reached the bottom at 2:20pm. It was a good, long day of doing what we love, hiking the beautiful PNW! The usual suspects joined me, Rick, Vic, Linda and Jay. This hike took us approximately 6.5 miles with an impressive elevation gain of about 1450 feet. We have been doing grand hikes with Jay and Linda since last September 29, 2012. We have done many hikes with them, since then. Vic works with Rick and started joining us a few months ago, joining us for a few nice hikes already. We look forward to doing many more!
So, we begin. =D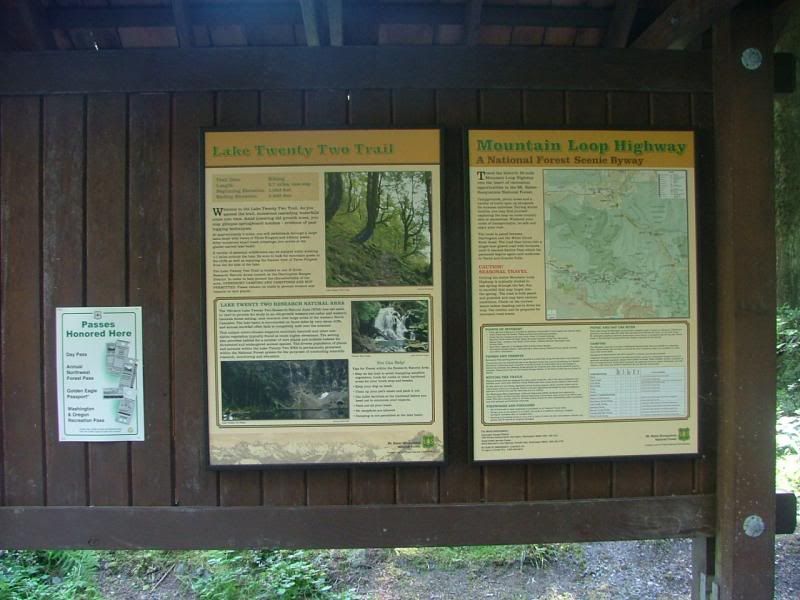 My choice of attire was very popular today. At the very least, 20 different people made mention of my Superman shirt, throughout our ascent and descent. Some just called out, Hey Superman, or Hey Superwoman. Others referred to me a 'Super Hero"! It was quite entertaining. Everyone saying they need a Superman shirt because it caused such a stir! "I wanna be popular too!" hahaha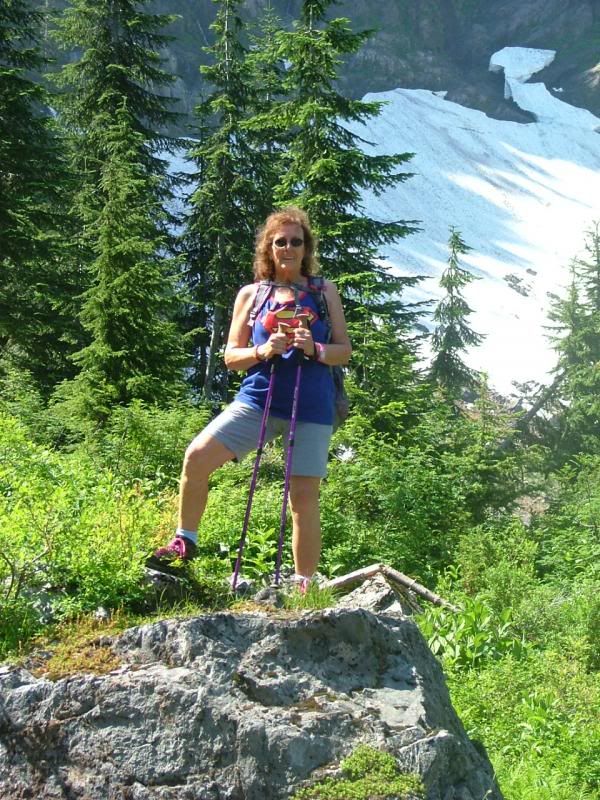 There were a few stretches of boardwalk. Most of the trail was natural.
Most of the trail was very rocky and a constant elevation gain. The last mile or so toward the lake, we gained approximately 500 feet. That is quite a climb!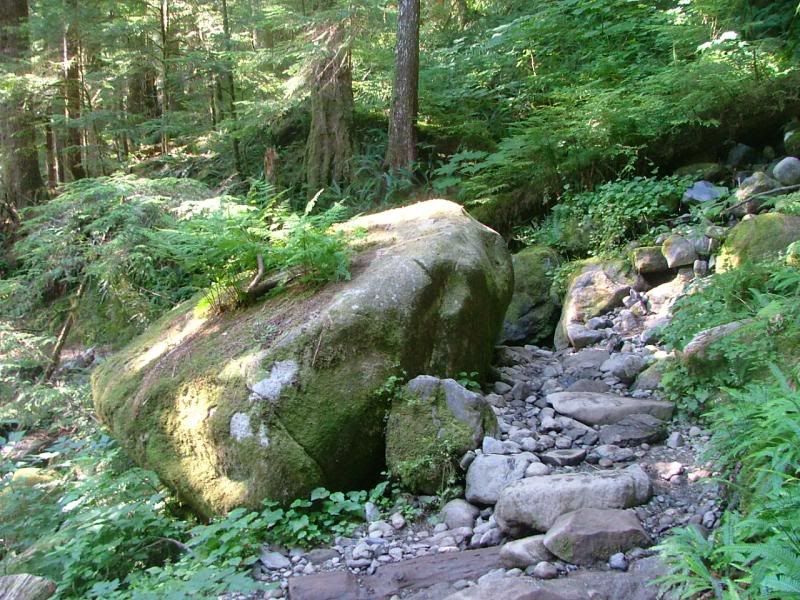 We were having a wonderful day. The chatter was constant and the laughter was loud!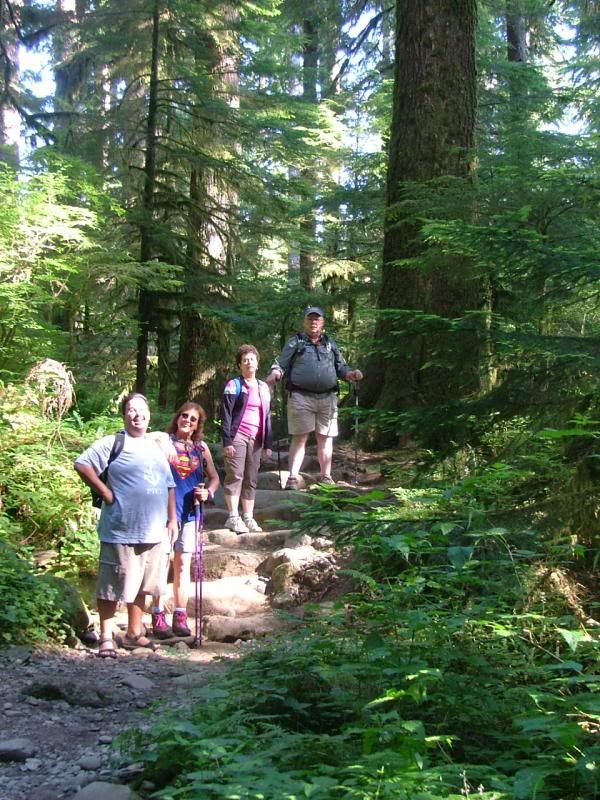 Trees so tall, they almost reach Heaven.
Some bridges were short.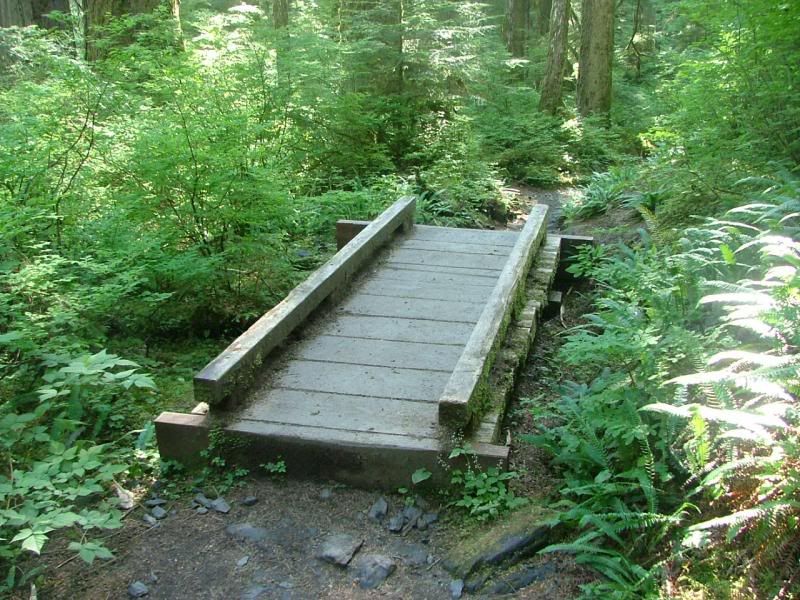 Others weren't short, the better for us to linger longer! =D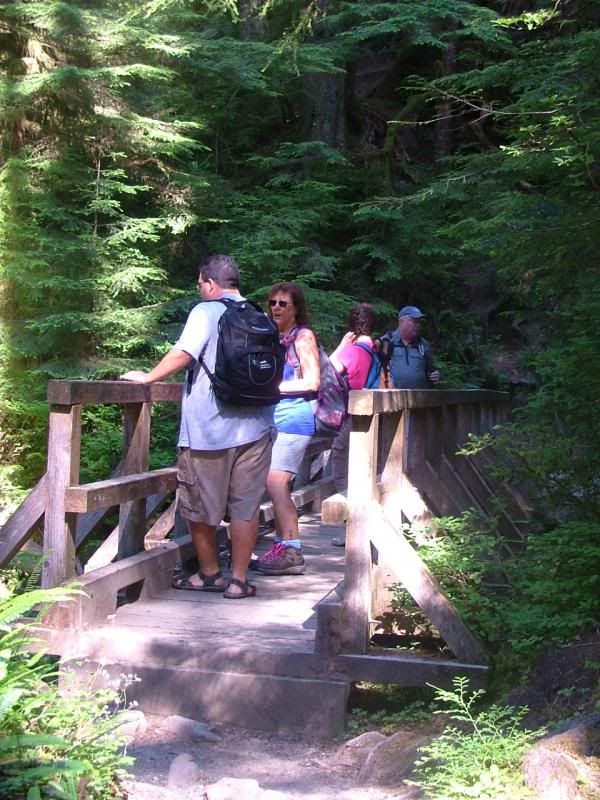 We passed a few waterfalls, on our way to the top.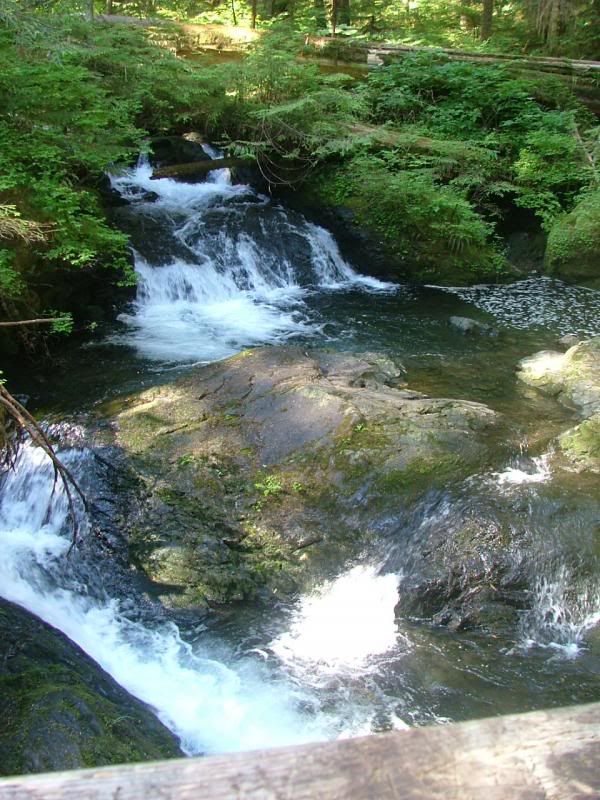 The runoff from melting snow fed a constant stream, falling down the mountain. Water visibly seeped through the ground in many places.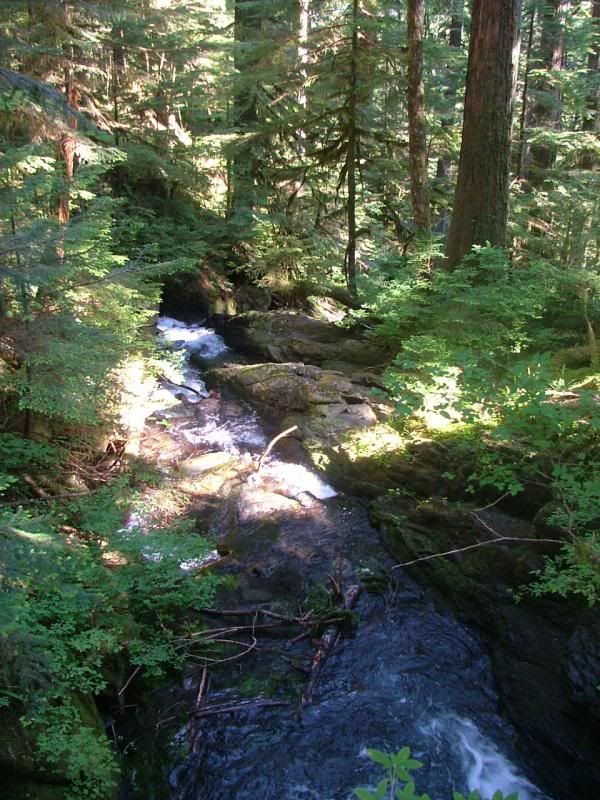 Big Daddy! He is not quite the "Big Daddy" he was anymore. He has lost 65 pounds in recent months and continues to lose.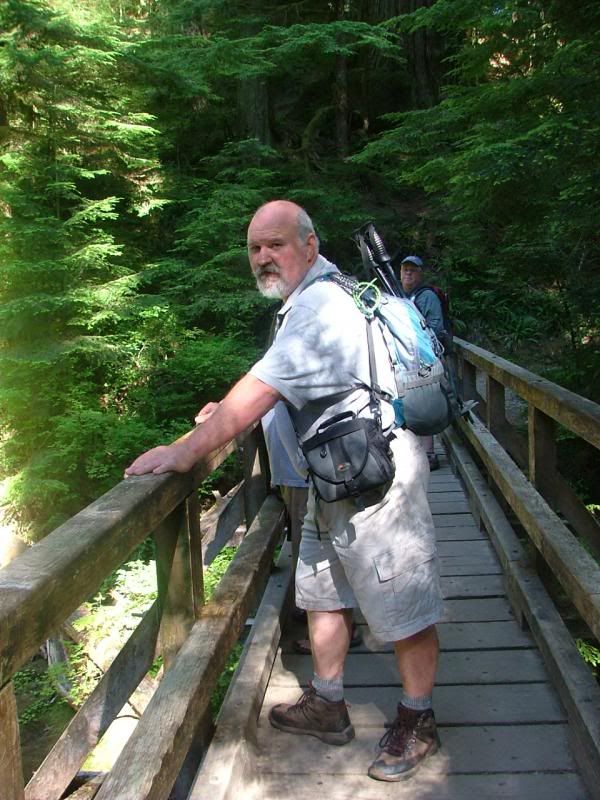 Dead wood!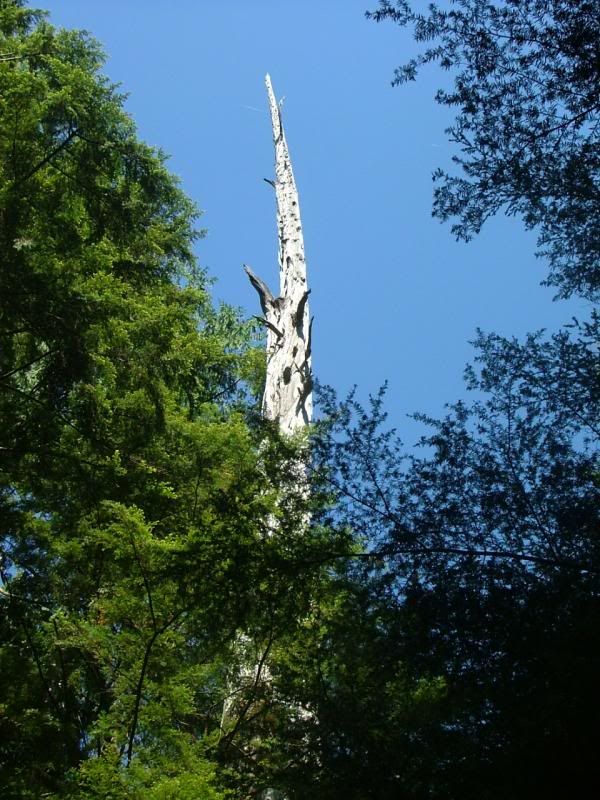 Making our way up one of many switchbacks.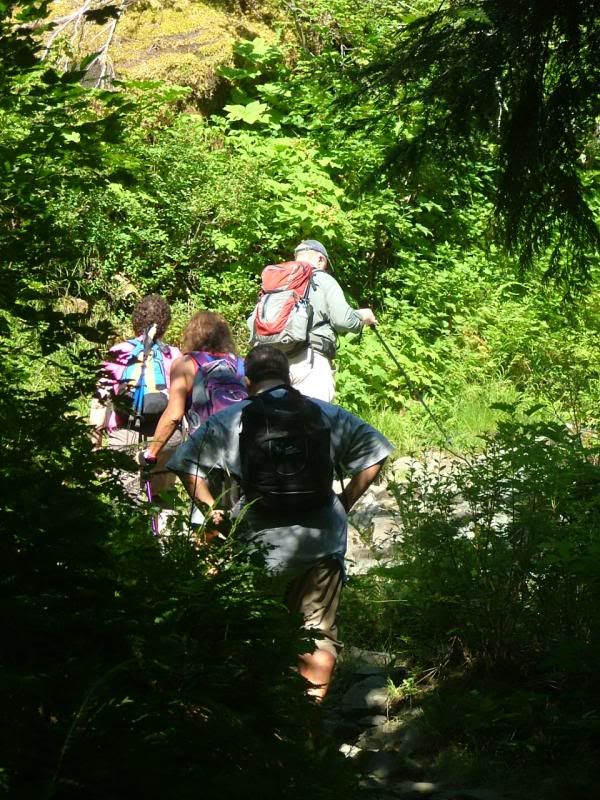 Our view across the valley as we hiked up.
Linda and Jay taking a brief break, as we ascend.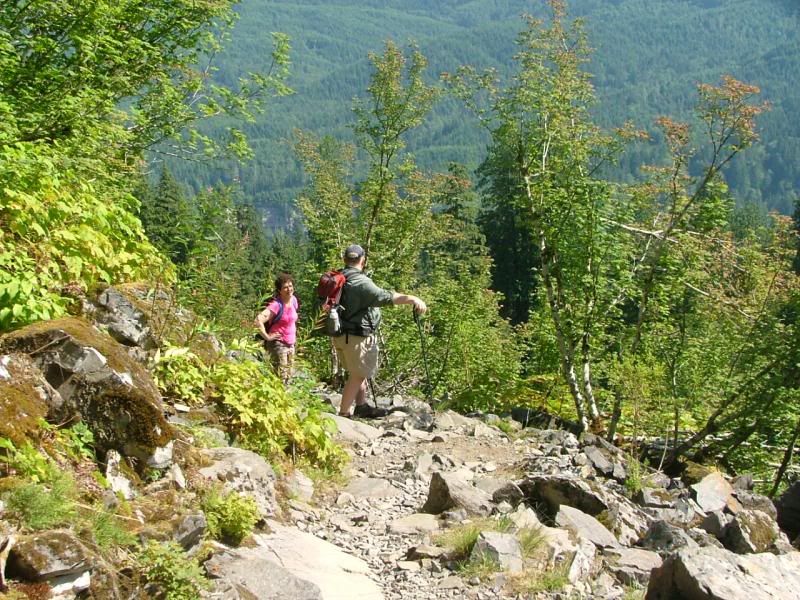 Snow, below us.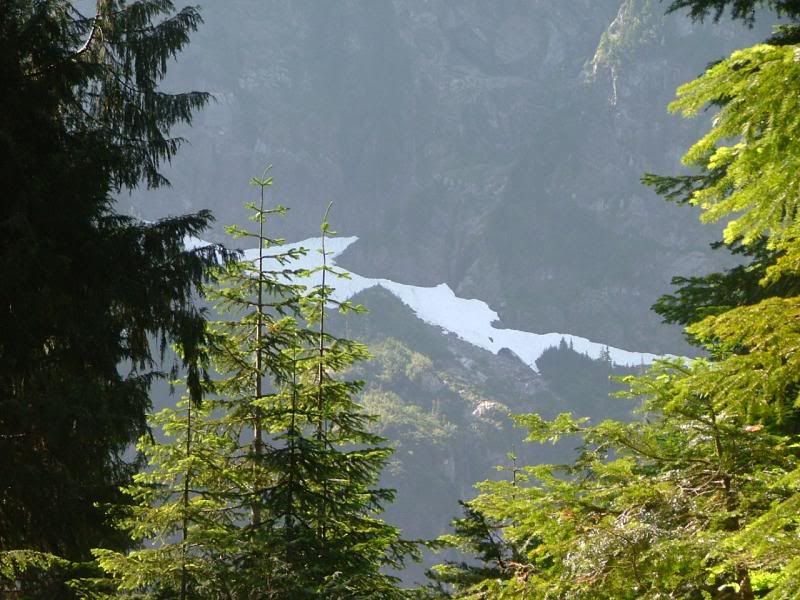 Lake Twenty-Two.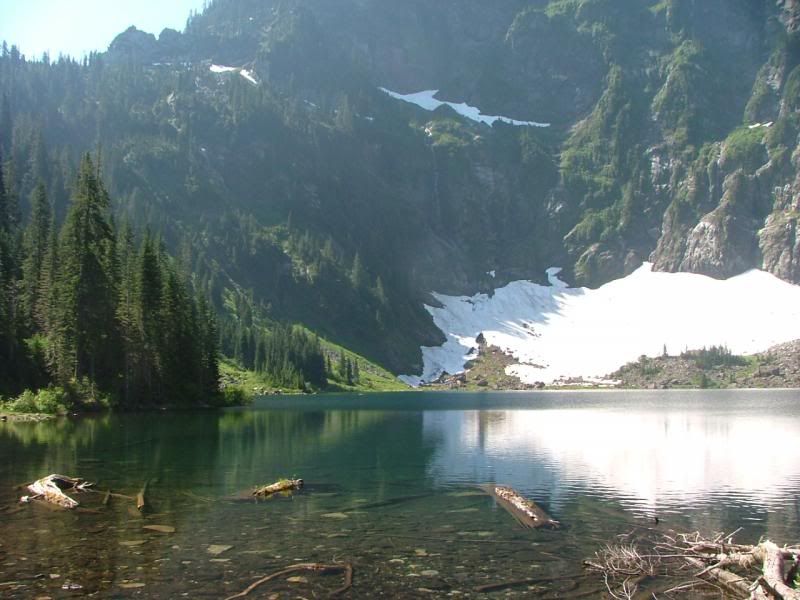 A group shot. Looks album cover worthy, to me. From left, Rick, Stef, Vic, Jay and Linda.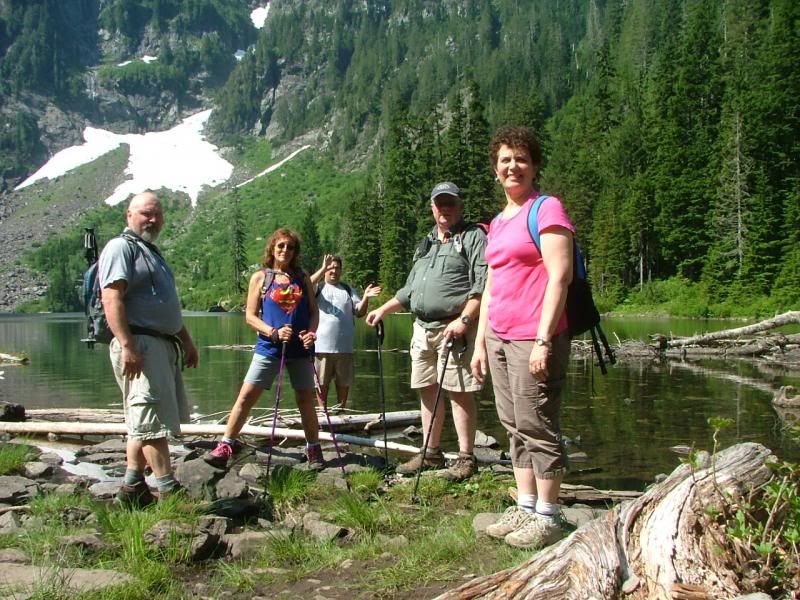 It's pretty warm here, considering how close we are to the snow.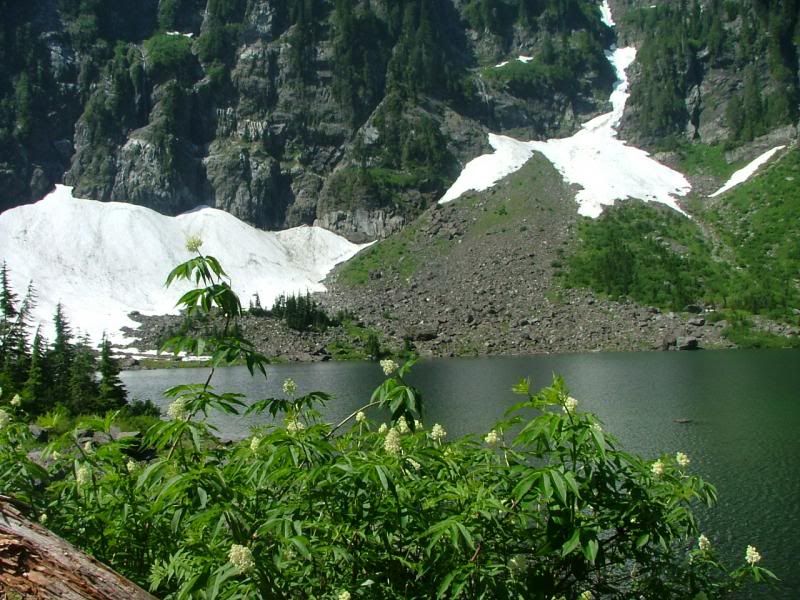 Vic!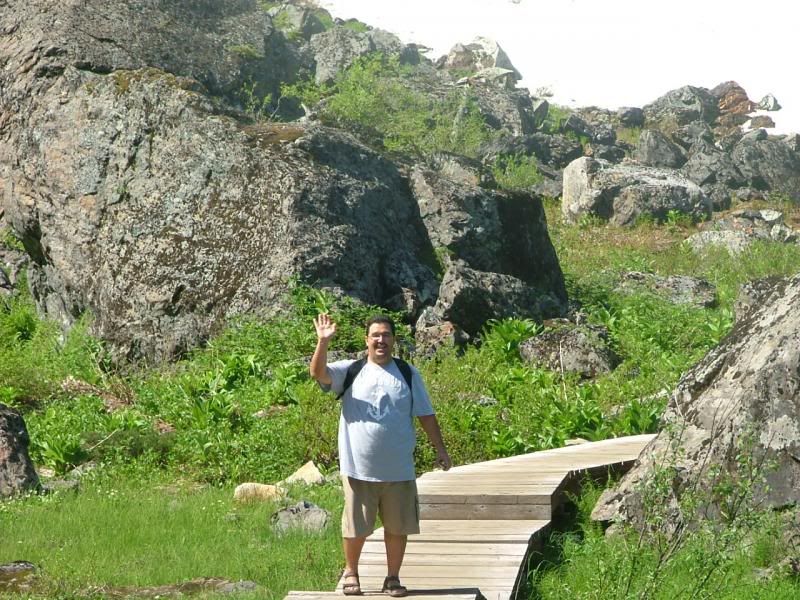 We relax, cool off and enjoy a snack, near the snow line.
It was a nice spot, the snow cooled us off nicely.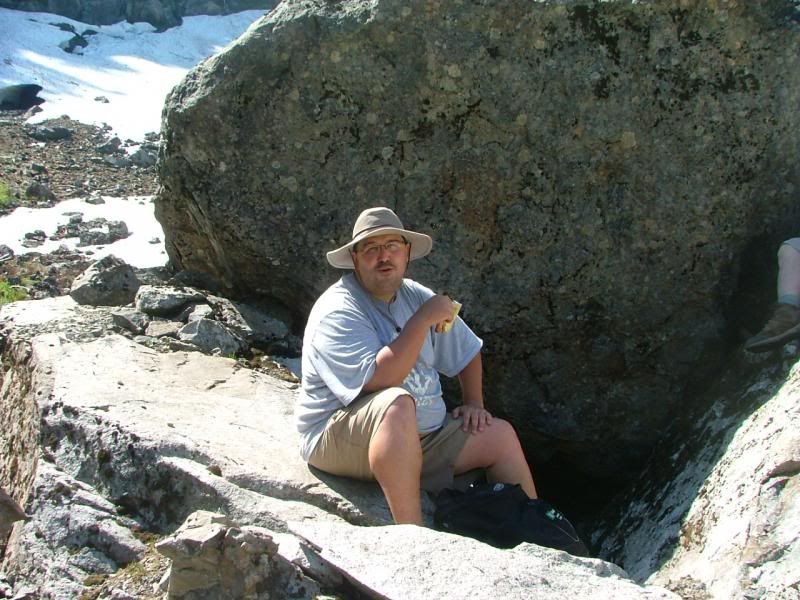 Cheers, Jay!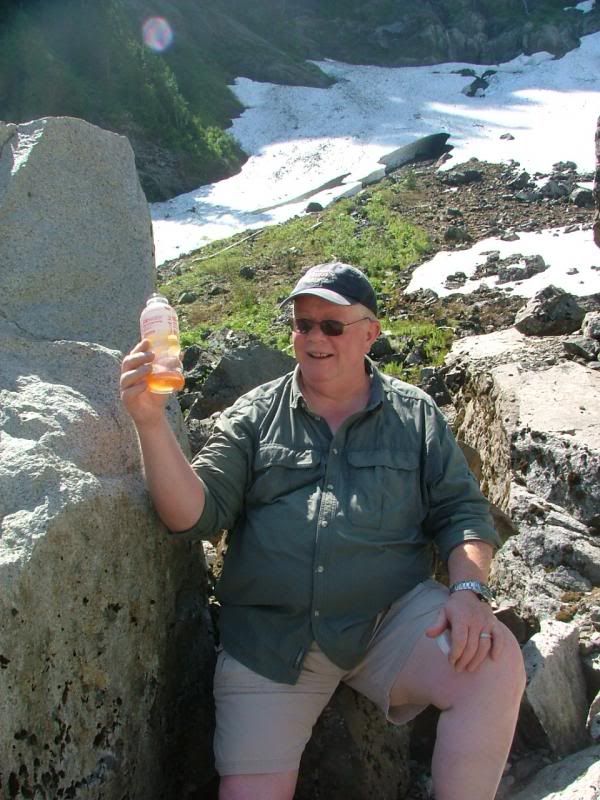 Linda, in some nice scenery.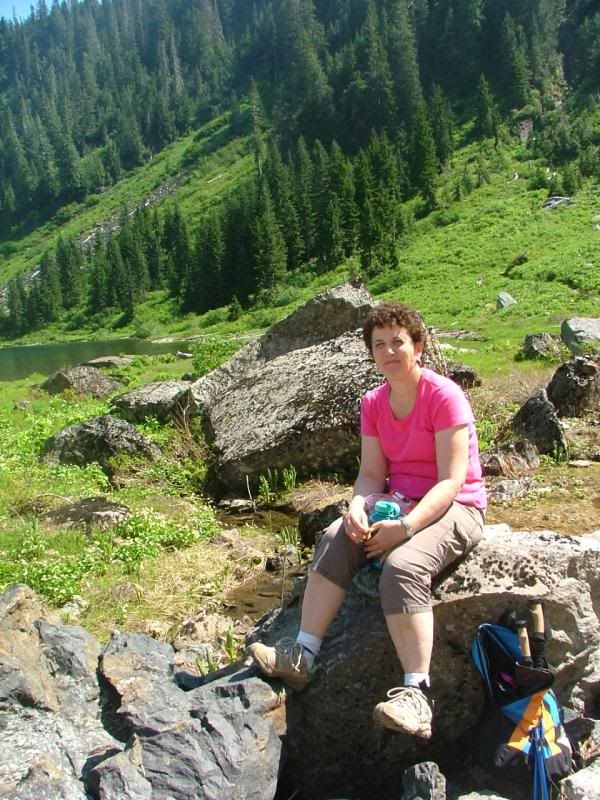 Some of us might have rested a little closer to the snow, than others. lol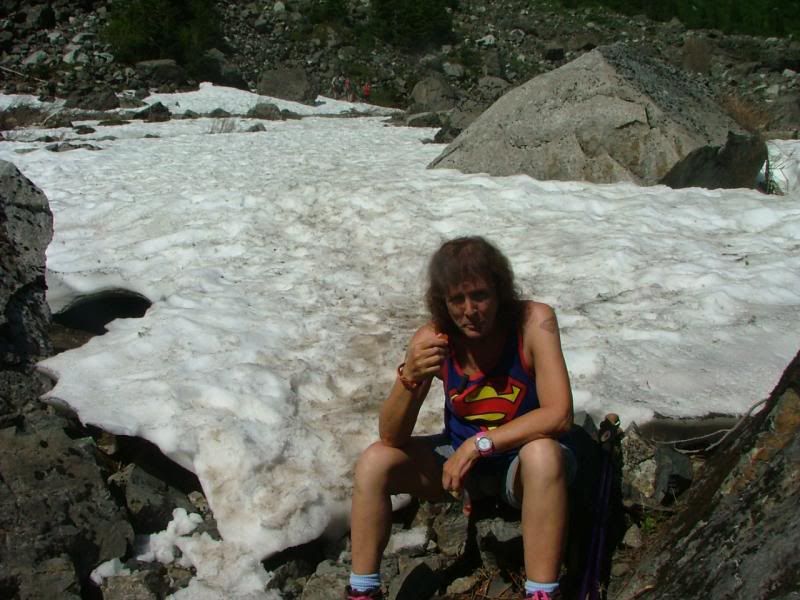 Vic had sandals on. It was an experiment. The snow wasn't really cold. It was very warm, about 80-85 degrees on this day. We had been sweating as we hiked up the mountainside.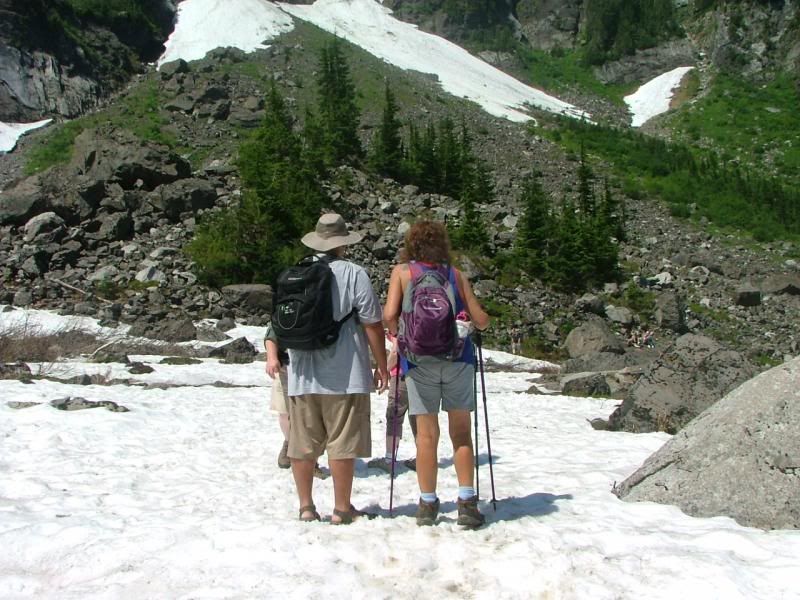 Lake 22.
Rock!
A nice view .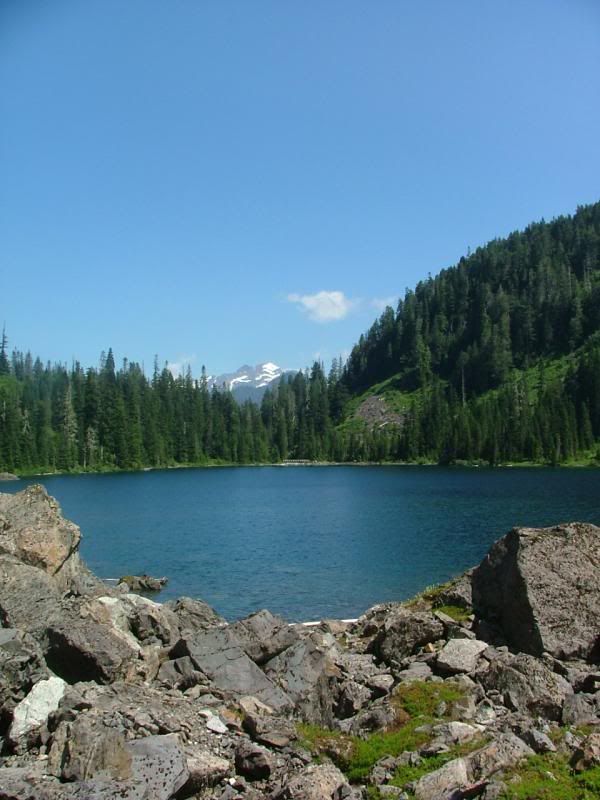 I'm the King of the World!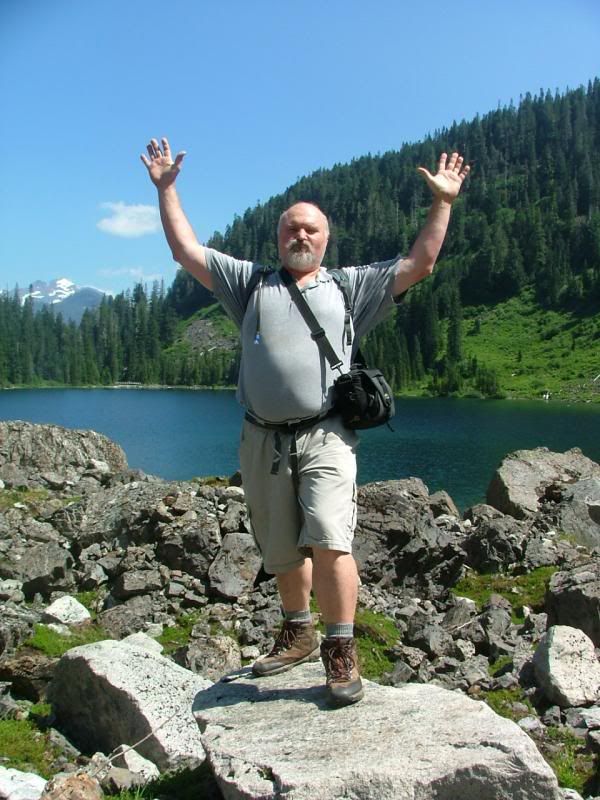 We are about to leave the area and start our descent.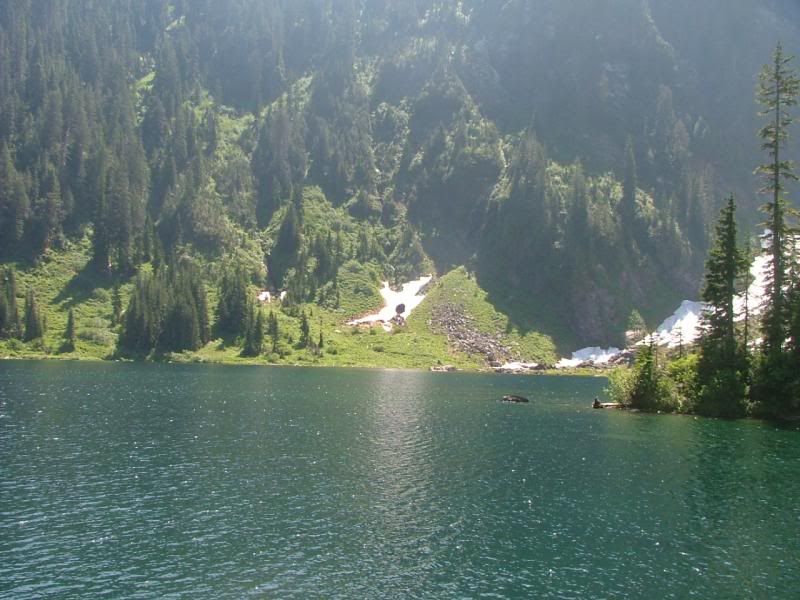 Our last lovely view of the lake.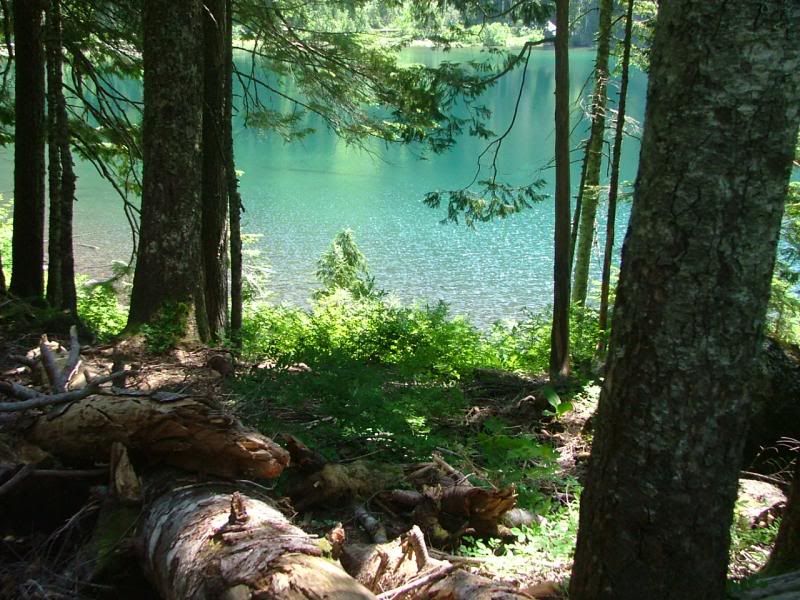 Pinkie wanted just one more photograph!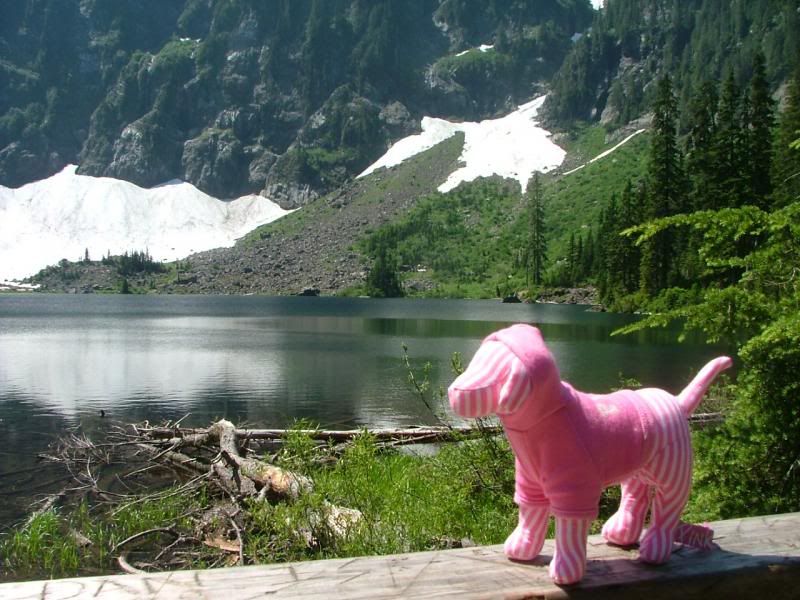 The path to Playa Bonita and our Mexican food reward! Ok, not really. We still had a couple hours to hike down before we feasted.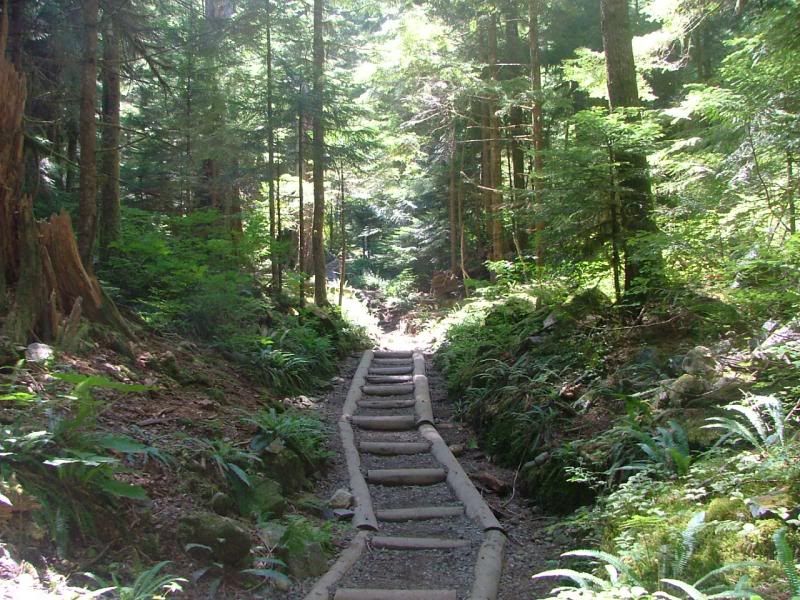 I had heard it was a pretty popular hiking destination, but I had no idea. Popular is definitely an understatement. It took us nearly as long to get down as it did to climb up, simply because there were so many people on the trail. Young, old, infants in backpack carriers, big dogs, little dogs, toddlers, children of all ages. I'll go again someday, maybe. But for now, there are too many more places to conquer!
We are planning our next hike for August 10, 2013. Not sure where we are going yet, gotta decide and plan.